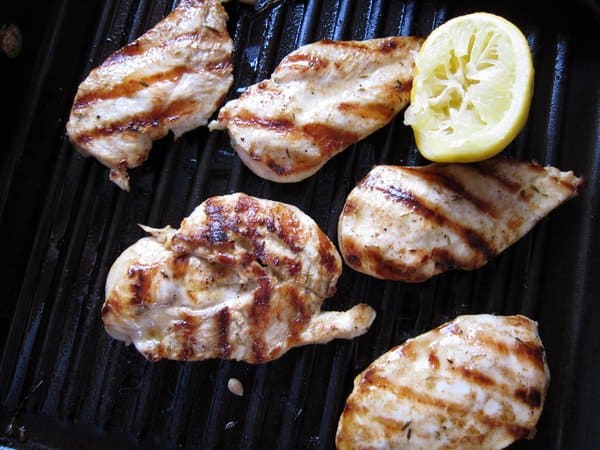 THIS WAS A CHILDHOOD FAVORITE OF MINE. Sort of. The 1980s version involved a bottle of lemon juice and a skillet, and I loved it. Now I use the grill pan and a real lemon, but the idea is the same. Marinated chicken is juicy and flavorful, just as perfect for a fresh summer dinner as it is in winter or fall.
(And also, Yay! This is Foodlets' 200th post.)
There are 3 things that make this chicken so good.
It's all about the juice. Marinate your chicken for at least one night. Overnight. You could even marinate for two nights and it would be even better, though I'm never that organized so I can't actually vouch for it… The point it, when it comes to chicken marinating in lemon vinaigrette, the longer the better.
And yes, it's not just lemon juice. Combining lemon juice with olive oil, salt, pepper and some fresh thyme just enhances the flavor even more (though you COULD simplify by using only plain lemon juice).
Don't overcook the chicken. These are boneless chicken breasts. They're lean, relatively thin pieces of meat and cook quickly. Three to four minutes on the first side, followed by two to three minutes when you flip should be plenty. Remove the chicken and put on a plate covered with foil for 10 minutes where they'll continue to cook plus the juices won't run out the moment you run a knife through the whole thing.
Plus, it's very versatile. I've pared this chicken with salad greens and pesto potato salad. We've had it on sandwiches and dipped it in peanut satay sauce, too. Last week I also used the second half of the couscous I made earlier; a few days later we had couscous with chicken and peas. When it comes to leftovers or strategically reusing ingredients, I'm all for it. But I usually try to skip at least one night so it's not so repetitive. Though I'm probably the only one who would care… (Sometimes this whole blog reminds me of the New Yorker cartoon where a kid walks into the kitchen and asks, "Can you reinvent the classic grilled cheese for me?")
But then again, it's just not easy to make a tasty, nutritious dinner every night. AND to enforce enough discipline so everyone eats nicely but doesn't feel like they're doing so in a minimum security prison camp, you know? That's why I'm enjoying this new book so much, "French Kids Eat Everything: How Our Family Moved to France, Cured Picky Eating, Banned Snacking, and Discovered 10 Simple Rules for Raising Happy, Healthy Eaters" by Karen Le Billon. Part memoir, part how-to manual, it's all at once self-deprecatingly charming and reassuringly full of advice. It makes me feel good to know people are struggling with this — but not giving up — all over the world.
But back to dinner.
Since they're so fresh and wonderful in the summer, we're eating a lot of green beans right now. This time I used water, oil and garlic to cook the beans. Then I topped them with a dollop of butter in the final minutes. It's the same technique that I described earlier, but this time I added garlic. Just stir a few times. Don't over do it. Add salt and pepper and enjoy!
GRILLED LEMON CHICKEN
Don't dirty two bowls. I use the same bowl (or zip-top bag) to make the marinade, then throw in the chicken and store it all together in the fridge overnight.
ingredients
1-1 1/2 pounds boneless, skinless chicken breast fillets (medium or thinly sliced)
3 lemons including zest and juice
1/2 cup olive oil
2 teaspoons fresh thyme, chopped
1 tablespoon salt
1/2 teaspoon pepper
instructions
Prepare the marinade by zesting two lemons and juicing all three into your fridge-friendly storage bowl or zip-top bag.  Add the oil, thyme, salt and pepper. Then taste it. It should taste like an extra lemony vinaigrette. Add more salt, pepper, oil, etc. as you like. Once it's ready add your chicken and refrigerate. If it's not evenly submerged, be sure to flip your chicken a couple of times between now and when you'll be cooking it, just to get flavor everywhere.
When you're ready to cook, preheat the grill or grill pan (even a skillet will work) on medium-high and take the chicken out of the fridge. Let it come up to closer to room temperature while the grill/grill pan heats up. It'll cook more evenly and be juicier in the end. Place each piece on the grill. It should sizzle when it hits the pan; if it doesn't the pan isn't hot enough. Don't crowd the pan, allow an inch or so around each piece and work in batches if necessary.
Flip after 3-4 minutes and cook an additional 2-3 minutes on the second side. Remove chicken to a plate and cover with foil for at least 10 minutes. If you're making this ahead of time and plan to refrigerate, allow to cool completely first then put in an airtight container, pouring the juices from the plate (and grill pan) on top. Serve hot, cold or room temperature.