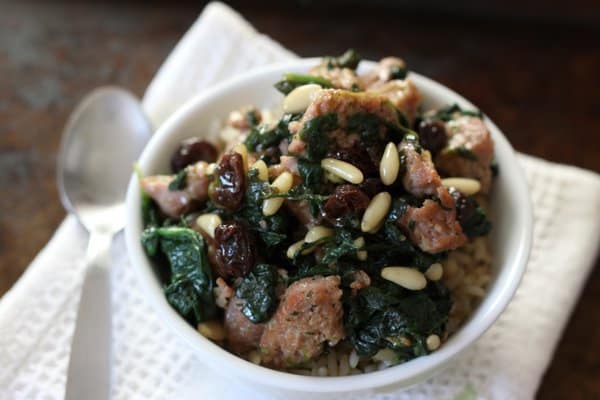 THIS ONE STARTED WITH BUDDY. Do you know the Cake Boss? I'm sure you do but I didn't. In Rome, we have a bit of American TV but it's a small selection and always a bit behind. Anyway, it appears that in the time I've been away from the States, one Buddy Valastro has become a big time baker with three TV shows–even on my own limited Italian version of network programming! Is he the new Rachel Ray by way of New Jersey? I figured there must be something pretty great about him so I tuned in to Cucina con Buddy as his cooking show is called here, and indeed got a great idea for dinner.
I adapted his recipe, even though it's an Italian dish to start with, because I actually couldn't find a few of the things on his list. And yes, if you're wondering whether I need a sausage intervention, the answer is, probably. It's just become my go-to ingredient for flavorful dishes because you don't need a lot and there's no need to add extra spices. Second on my list of favorite pantry staples is frozen spinach in cubes. For this dish, I discovered that you don't even have to thaw it out. Once I got the skillet going with the sausage, I just added a cup of cold green cubes and let the spinach thaw while the meat browned. You have to stir it to prevent sticking but the technique works beautifully–and you skip Buddy's step of steaming fresh greens, without losing any fresh flavor.
This dinner also includes one of our kids' favorite foods: raisins. (The sweetness of raisins is lovely with the salty sausage and bitter spinach.) One of my best tricks for getting kids to try new things is including something they already like. Lemon works well for Phoebe and Estelle is all about raisins these days, so I knew she'd at least try it. And that's really my goal. I know they won't starve and they get plenty of nutrition throughout the week; but I really want to expose them to lots of flavors, textures and eating experiences so they're open to new ideas from here on out. Like my newly discovered kindred spirit Karen Le Billon (whose brilliant book, "French Kids Eat Everything" is being given away right here on Foodlets) Hopefully they'll be the kind of adults who cook from scratch themselves or at least appreciate it when someone else does. In fact, that would be just fine for now.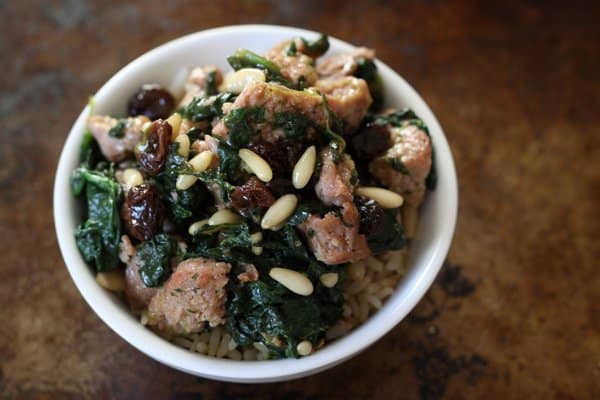 SAUSAGE & SPINACH WITH RAISINS, PINE NUTS & RICE
Adapted from TLC's Cooking Boss
Serve over brown rice or whole wheat pasta
ingredients
3/4 pound sausage (turkey or pork)
1 cup frozen (chopped) spinach, in cubes
1 cup beef or chicken broth
1 cup brown rice
1/4 cup pine nuts
1/3 cup raisins (or golden raisins)
zest and juice of 1 lemon
instructions
In a large skillet, start browning the sausage over medium heat. If your spinach is still frozen and in cubes, add it to the pan and stir every minute or so. (If your spinach is fresh or already thawed, wait to add it at the end. If it's one big block of frozen spinach, it needs to be thawed ahead of time.) Once the sausage is browned and the spinach is thawed and broken up, check your pan. If you've got more than a tablespoon of fat, drain it or use a couple of paper towels to lightly soak up the grease right in the pan. Then add broth and let cook down for 10 minutes or so at a simmer. Once the broth has reduced by at least a quarter, turn off the heat. And add raisins plus pine nuts, lemon zest and juice then stir.
Serve over brown rice.