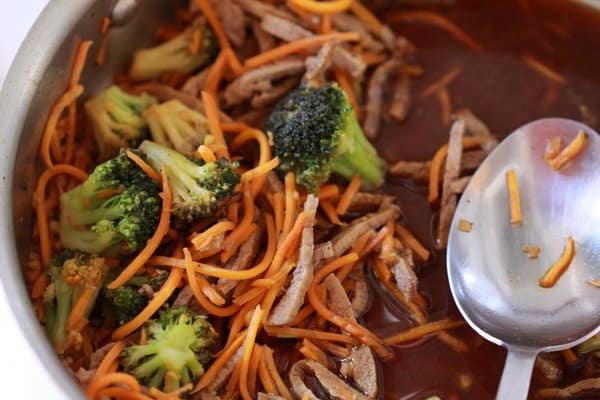 THEY DON'T REALLY DO TAKE-OUT IN ITALY. They definitely don't do a lot of ethnic food either. And even if they did, stir-fry is one of those dishes that's so easy to make at home, plus a million times healthier, why not just whip it up? To make it more kid-friendly I added lots of fresh orange juice to a simple base of ginger, garlic and soy sauce. Oh, and I added carrots too. I couldn't help myself.
First the shortcuts: I used two heaping handfuls of grated carrots straight from the supermarket, pre-grated in lovely cellophane bags. And broccoli isn't in season here yet so I used frozen, which are already in bite size floret form. That left browning the meat, which I marinated during the day in just a bit of soy sauce and a couple grinds of fresh pepper (not too much for fear of hearing "its too 'picy'!"). I had fresh oranges in the fridge so I sliced one open and added the juice here, but you could even add a splash of juice from concentrate. The sweet and salty combination between the juice and soy sauce is just a vehicle for veggies. A tasty one.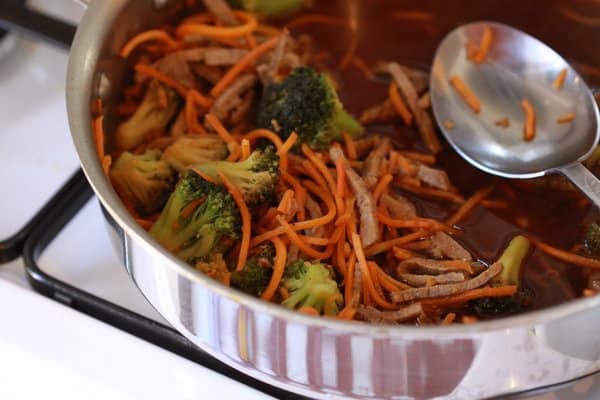 Also, our meat was a four-pack of "minute steaks"; these are thinly sliced small steaks that cook very quickly, hence the name. Though I've also heard people joke that they're so small, it only takes a minute to eat them. Anyway, they were on sale so I used them and I'll definitely do it again. They were indeed done in a few minutes but still buy valtrex online rx juicy and easy to slice up. One thing about cooking meat for little guys: texture is important. They like it soft, like most adults do too, so be sure to not overcook and always let it rest before slicing. Both techniques will really help. Trust me, I've done it the other way many times. For an idea of how that went, just check out the Total Failures category…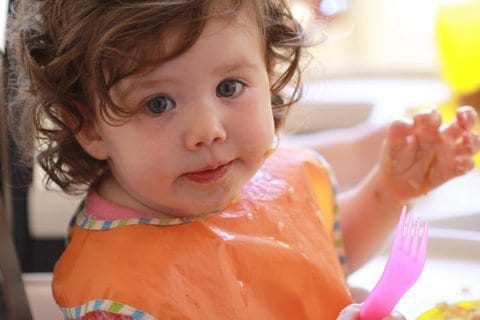 But for now, we've got a simple dinner, done in 20 minutes. Enjoy.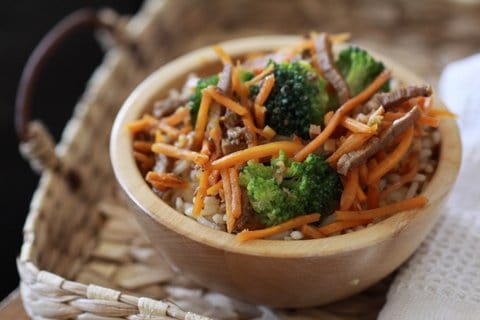 SIMPLE BEEF, BROCCOLI & CARROT STIR-FRY

ingredients
1 tablespoon vegetable oil
1 pound "minute" steaks or thinly sliced beef
2 cloves garlic, minced
2 tablespoons fresh ginger, minced
1/2 cup low sodium soy sauce
juice from 1/2 orange
1-2 cups broccoli florets, fresh or frozen
1-2 cups julienned or thinly sliced carrots
couple grinds of fresh pepper
instructions
In a large, hot skillet, pour in vegetable oil and brown the beef over high heat. Sear on both sides, flipping after only a minute or two. There should be some color on the edges. Remove from pan, set on a cutting board and cover with foil. In the same pan, now cook the garlic and ginger, soy sauce and orange juice. Bring to a simmer and cook for 2 minutes, scraping the bottom and sides of the pan to pull up all pan drippings from the meat. Add veggies and cook for another 2-3 minutes; not too much if you want the veggies to stay crunchy. Thinly slice the meat and return to the pan. Serve over brown rice or with whole wheat noodles.