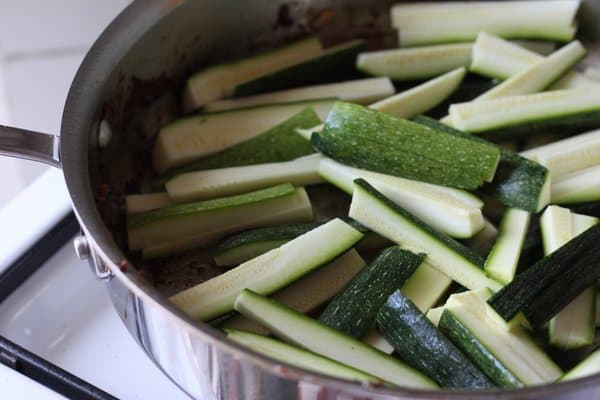 ESTELLE IS ON A ZUCCHINI KICK. And by "kick" I mean she doesn't spit them out. Unlike, say, shrimp, which will be its own post soon… Instead she eats them happily and heartily every time. And since they're so fresh and easy to find this time of year, why not indulge the little one? Especially when we're talking about eating vegetables, voluntarily. But if you don't have any zucchini fiends at your house, don't stop reading. This method is so simple that it's barely even a recipe, but it is delicious. In fact, this one's perfect to test on anyone who's been zucchini resistant so far. The carmelized edges give this zucchini a slightly sweet flavor and a bit of crunch. Plus, it'll only take you 10 minutes to prepare so if you crash and burn (as I often do) your time investment was pretty minimal–and there will be more for you.
It also doubles as baby food, should you be feeding any babies tonight. I love it when the whole family eats the same thing and if George was a few months older (he's pushing 10 weeks now) I'd throw a few sticks into the blender with water and serve it with a soft little spoon. In the meantime, here's how you make these little tasties for the rest of the crew.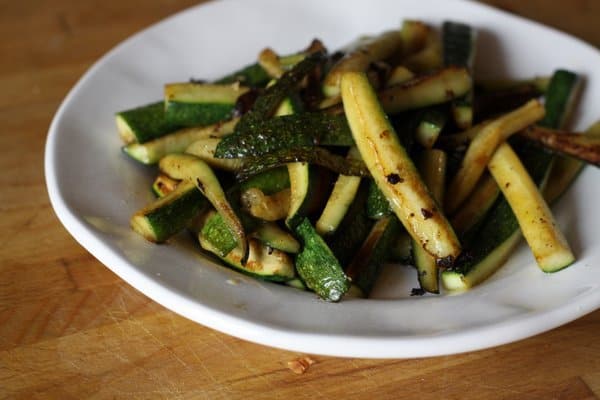 For four people, cut two medium size zucchinis into sticks. They should be about half an inch wide and two or three inches long. My method is to cut them in half horizontally first so you have two thick stubs. Then run your knife down the center, lengthwise. If yours are very thick, cut them lengthwise again then slice into thirds. If this sounds confusing, and because yours might have pretty different dimensions than mine, I'll just leave you to it. Cut the zucchini into sticks. Then get a pan going on medium-high heat. Drizzle in about 2 tablespoons of extra virgin olive oil. Wait about 30 seconds and add the zucchini. It should sizzle a little but not snap and pop at you. Move them around with a spatula so they don't stick to the pan. Sprinkle salt and pepper, then wait about 1 minute. Check the edges to see if they're starting to brown, and if so, give them a flip and stir. Then wait another minute. Repeat until they're browned on the edges but still firm inside. About 6-8 minutes.
I set mine on a plate with another on top, inverted, while I prepared the rest of dinner. Even though my kitchen usually looks like the Tasmanian Devil just spun through it when I'm done cooking, I actually do make it a point to use as few pans as possible. This two-plate trick is great because I use the plates for dinner a few minutes later. In the meantime, our zucchini stayed warm and I got to use the same pan for the crepe filling. That one's coming next.