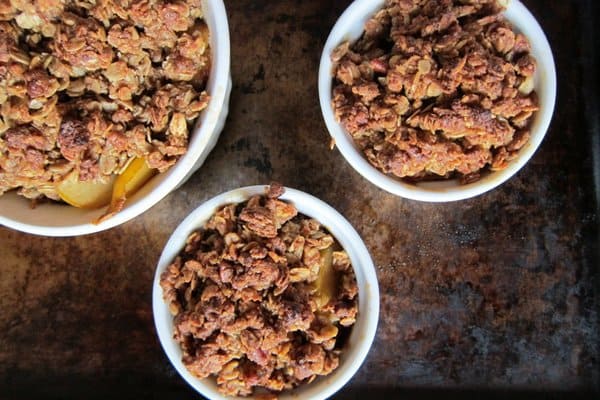 WE'VE DONE SOMETHING LIKE THIS BEFORE. Last summer a friend appeared on our door, bag in hand overflowing with juicy purple plums. We combined them with a few berries for a family-style dessert at a friend's summer rental. This time we got our own plums and this time they were yellow. And this time, I decided to take Ina Garten's delicious but decadent recipe even further…we made individual crisps in ramekins with less sugar, less butter but all the flavor.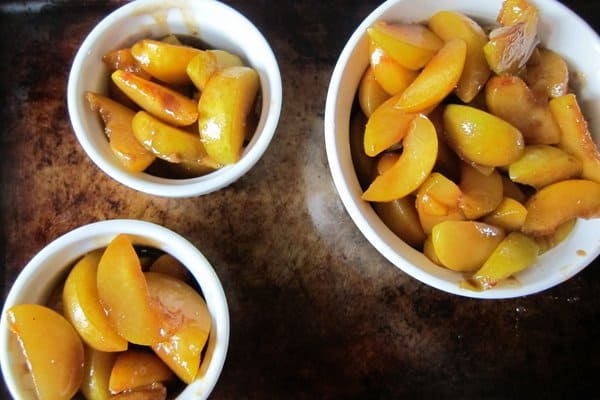 Of course this idea works with just about any fruit, even frozen. But instead of the usual crisp which is laden with butter and sugar, we basically made a bowl of roasted fruit with crispy oatmeal and pecan topping. The result reminded me a bit of our strawberry baked oatmeal (which we'll definitely do again this fall, either with in-season peaches, apples or whatever frozen beauties we can find at the store.)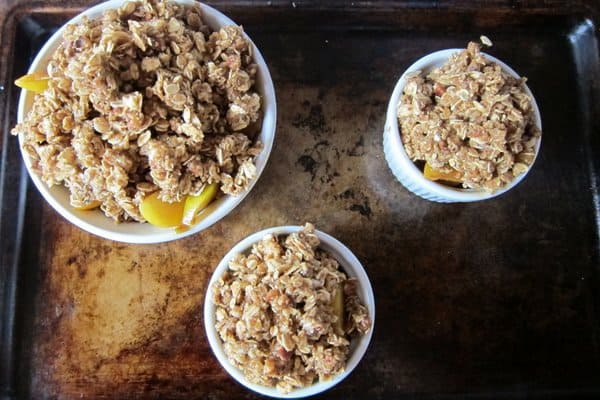 Speaking of the crunchy topping, mixing and distributing on top of each bowl is an excellent job for mini cooks. We piled ours high because the fruit cooks down quite a bit, but next time I'd probably flatten it out just a bit more (i.e. add less of both fruit and topping — and the recipe below reflects that change.) Use any nuts you like; walnuts, almonds. We had a bag of pecans in our pantry and in they went. Estelle isn't two yet but she's had nuts many times and if you're worried about them, just leave them out. The result will still be lovely.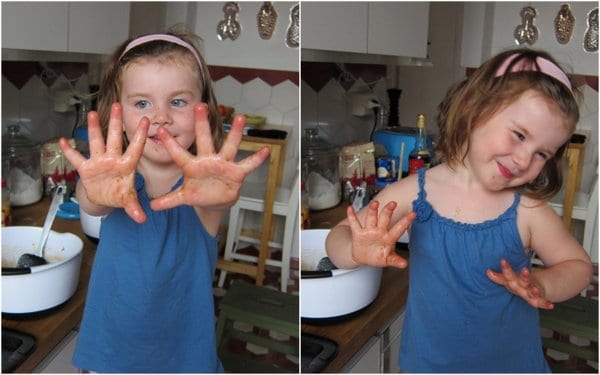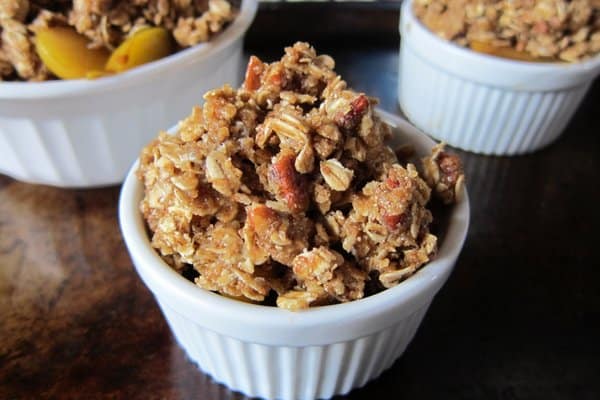 Even though we cooked in ramekins, the portions were still too much for our 3-year-old and 18-month-old so we used the leftovers the next morning. Mixed with hot oatmeal and a drizzle of cold milk on top, it was delicious. Estelle had two servings. And if the one bowl on our tray looks bigger than the others, your eyes aren't playing tricks. We did little bowls for the little guys and one bigger bowl for Paul and myself. If you do this, just don't forget to cook the larger bowl for at least 10 more minutes so you get the gooey goodness going on.
INDIVIDUAL PLUM CRISPS
Adapted from Barefoot Contessa Back to Basics
The alcohol from the cassis will bake out in the oven but if you'd prefer a non-alcoholic version for the kids (and who could blame you?), try a dash of grape or apple juice instead.
makes 4 individual crisps
ingredients
for the fruit filling
8-10 small-medium size plums, very ripe, pitted and sliced
2 tablespoons creme de cassis liqueur, grape juice or apple juice
3 tablespoons whole wheat flour
1/4 cup brown sugar loosely packed
for the crisp
1/2 cup whole organic oats (not quick cooking)
1/4 cup wheat germ
3 tablespoons honey
1/4 cup cup brown sugar loosely packed
1/2 cup chopped pecans
4 tablespoons cold butter, cubed
1/2 teaspoon cinnamon
instructions
Preheat oven to 375 degrees.
Combine the fruit mixture in a large bowl. Stir gingerly but be sure to coat each piece of fruit with the flour, sugar and liquid. Pour into ramekins and set on baking tray.
Use your hands to combine the crisp mixture. The butter is key: it must be cold and it must be cut into small cubes. Then just squeeze it through your fingers until you see it starting to come together. The goal is to have little clumps that you can sprinkle on top of the crisp. Scatter on top, coating the entire surface.
Bake for 15-20 minutes until the tops are golden brown and juices are bubbling. (For this reason, I put an old baking sheet on the rack below the crisp pan.)
Serve warm or at room temperature and by all means add ice cream or freshly whipped cream.