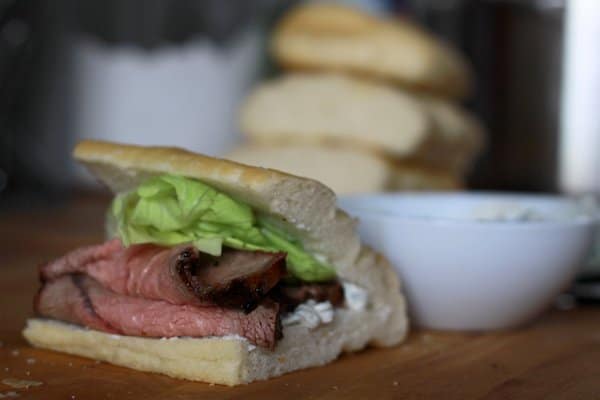 THESE PLAYDATE SANDWICHES WERE MADE WITH ON-THE-GO EATING IN MIND. Admittedly, they were more for the moms and dads than kids–who got turkey sammies smothered with honey mustard and mayo spread–but on this blustery fall day in Rome, every parent not only commented on how good they were, but couldn't stop talking about the roast turkey version I made for our Halloween party…last year! Best of all, you'll get at least two meals out of this one, plus a versatile option for the little guys.
Start with a nice roast beef. Since everything is always in Italian, at my Italian grocery store (ahem), I have no idea what exact cut of meat this is but I do know that it's a hunk of beef. About 2 pounds. I always begin by heating the empty pan on a hot burner. Meanwhile, slather the meat with softened butter then sprinkle liberally with salt and pepper. Next, sear the roast on all sides before popping the whole pan into a hot oven (375 degrees) for about 30-45 minutes. Halfway through, add half a cup of white wine to the pan; the juices will keep the roast moist and flavorful. And if you can, use cast iron skillet which holds up to the heat on the stove and in the oven, but still keeps cleanup to a minimum.
Let it rest for 10 minutes before slicing as thinly as possible. While it's resting, use this time to whip up the spread. Mix 1/4 cup Gorgonzola cheese into a bowl with 1/2 cup of sour cream (or Greek yogurt) and 1/4 cup of mayonnaise and a tablespoon of Worcestershire sauce plus 1 teaspoon of salt and 1/2 teaspoon pepper. You'll end up with about a cup of spread which works for about six sandwiches.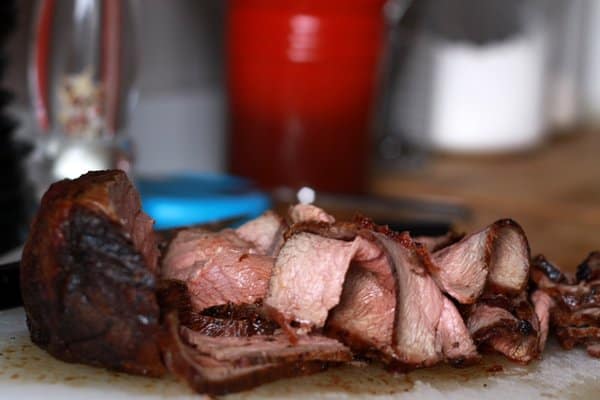 My favorite kind of bread for special sandwiches like this is very Italian, it's called pizza bianca. If you take a child into any bakery in Italy, even the crustiest baker behind the counter won't be able to resist handing over a thick piece of this salty bread, baked with a rich coating of olive oil right on top. It's always devoured on the spot, it's always free. (With a wink and a smile, it's one of the cutest things about the kid-friendly culture here. One thing I'll miss when we leave for good next week. Gulp!) The flavor and texture is a lot like focaccia bread, so use that if you can. Mine comes in a long loaf which I slice down the middle and cut into four or five inch chunks.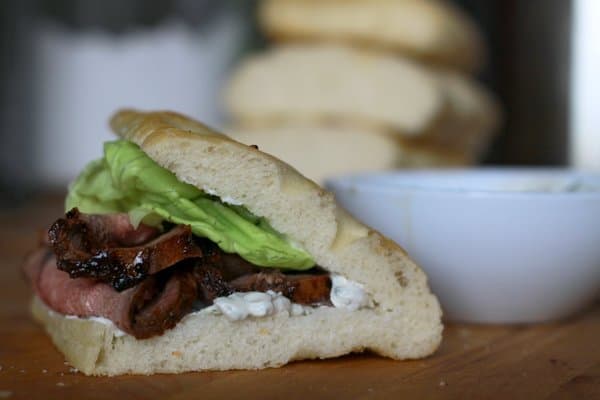 Assemble the sandwiches with at least a tablespoon of spread on both top and bottom, add a crispy lettuce leaf and of course a couple of juicy pieces of roast beef. They'll hold up for a couple of hours without getting soggy which makes them great for the playground, a luncheon or just a tasty meal at home.
If you think your kids will be roast beef resistant, try the same sandwich technique but use deli turkey instead. We love mustard around here, so I blended mayonnaise with regular yellow mustard and a shot of honey. Mix together and apply to top and bottom. Just use care not to make the sandwiches too thick for little mouths.
Now, back to the beef. Use the leftovers for dinner as part of vegetable-beef soup or in our new favorite leftover-turned-fresh-dinner idea: melted with cheese in between tortillas, quesadilla style. Use the very simple technique I did for our pork, apple and cheese melts but substitute roast beef, mayo and cheddar cheese instead. And give me a call please. I'd like to come over!
And in the meantime, a few more shots from Rome, our home for the last for years, but not for long…