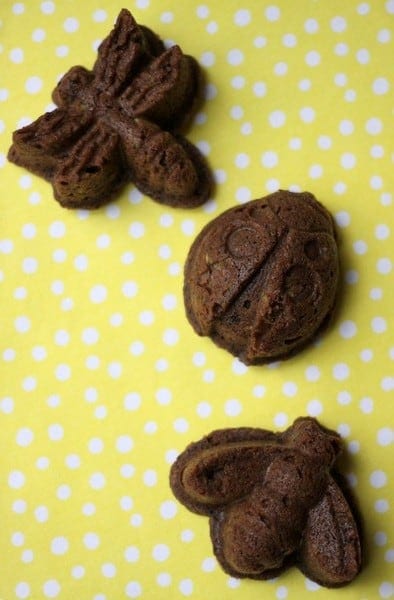 THERE'S A MUFFIN BRACKET GOING ON. It's between Easy Peasy Organic's sweet potato muffins and these double chocolate zucchini muffins from Mom's Kitchen Handbook. Since we've already started hearing from you about the sweet potato muffins, we tried baking the zucchini first. After patiently waiting driving me crazy while the muffins baked and cooled off, Phoebe and Estelle finally got to dig in. I asked Phoebe what she liked about these highly anticipated muffins and got this review: "It has chocolate chips and that makes it the best." Fair enough, but I've got even more good things to say.
These muffins are indeed decadent. I actually made them over a 3-day departure from sugar for myself. I just took a break. (And judging by the number of times I thought about popping something chocolatey or sweet into my mouth over that time — approx. 9 million — I think I needed it.) But this morning I'm back and eating a muffin like this was a great reward.
Why they're healthy: They're full of zucchini, plus a shot of plain yogurt in place of half the oil you'd usually see in muffins like these.
Why they're tasty: The phrase "double chocolate" pretty much says it all. Every time one of the girls hit a chocolate chip this morning, they'd yell, "I got one! I got a chocolate chip!"
And we tried out a new pan along the way. This one is, as you can see, bugs. Bees, ladybugs, dragon flies and of course, butterflies. They're adorable and these shapes were easy to see in these muffins (which isn't always the case) but they're huge! For our 3-year-old and 2-year-old breakfast eaters, half a muffin along with a 3-minute egg was the right ratio to start the day.
Want to weigh in on the winner? Get the finalists' recipes for Muffin Madness 2013 right here! Then comment to cast your vote for the Muffin Recipe of the Year.