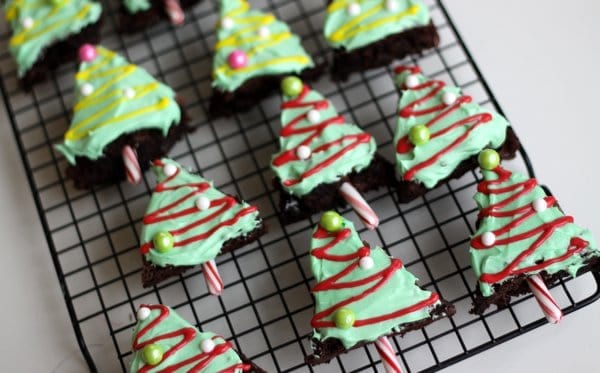 HAVE YOU SEEN THESE YET? For part 2 of this holiday themed "little things that work" post, we bring you brownies cut into triangles and voila, Christmas trees! Along with the kids, I made them for our preschooler's Gingerbread Fest and they were so fun and so easy that we'll definitely do it again next year.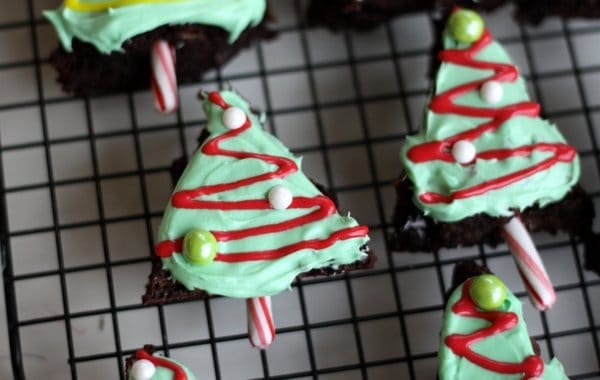 All you need is a good brownie recipe and we've got a couple right here:
Bake, LET COOL, then cut into triangles. You'll forfeit one small corner on each row, and no one will complain about eating those for you. But I won't lie. Cutting brownies is like supervising a goat rodeo. It's a messy business. I've seen all those tips about how to do it better (use a plastic knife, use a chef's knife in one motion, and yadda, yadda); none seem to quite deliver. If you are a novice brownie cutter like me, your knife will get all goopy and the brownies' edges will be frayed BUT that won't matter. (And if you do have a fool-proof method please share it with us immediately.) The good thing about brownie consistency is that they're practically clay. You can mold them back into shape. Plus you'll be frosting them so they don't have to be pretty on top, yet.
We used our low-sugar cream cheese frosting recipe and regular ol' decorating gels and balls for the rest.
Low-Sugar Cream Cheese Frosting
In a medium mixing bowl combine the following: 8 ounces of softened cream cheese (1 square package), 8 tablespoons softened butter (1 stick),  2 tablespoons maple syrup, 1/2 cup powdered sugar, 2 tablespoons milk, 1 teaspoon vanilla. Stir until combined.
Two decorating tips:
Kids can help: I cut the brownies, frosted them and put the "lights" on, then let the girls (ages 2 and 4) add the "ornaments" with these instructions: Put 3 ornaments on each tree. They did and all turned out great.
Cutting candy canes: I used miniature candy canes for the tree trunks and just cut off the curved part with my kitchen shears (scissors). We saved those for future cookie decorating; crush them up and they become sprinkles.