I LIVE IN A ONE COFFEE SHOP TOWN NOW, as opposed to Rome where you could buy a cappuccino on practically every corner. Our place is outside of Chapel Hill, North Carolina and what our town lacks in coffee, it makes up for in muffins. There's a morning glory muffin at this place that I would eat every single day if I could. I cannot because they're expensive, it's cumbersome to bring two toddlers to an otherwise quiet coffee shop and also, they're not very good for you. That's why I came home and made these. They're delicious, they're good for you and my kids can help make them without bothering anyone but me.
This muffin recipe is actually a take-off on our beloved pumpkin spice mini muffins but with a few adjustments and many, many add-ins. That's the beauty right there: you can add whatever you and your family likes. Sunflower seeds, chia seeds, raisins, carrots, coconut… It's up to you. It's also the kind of recipe with tons of things to add and stir (see the list above), which translates to tons of opportunities for little hands. All jokes aside, I love letting the kids help and recently shared my top tips for cooking with the rascals. I think it's a great activity to do (and remember) together, but it's also teaching them a valuable life skill. The ability to cook is one thing I want these guys to have when the time comes for them to step out on their own. It's less expensive, it's good for you, and it's hardly ever annoying.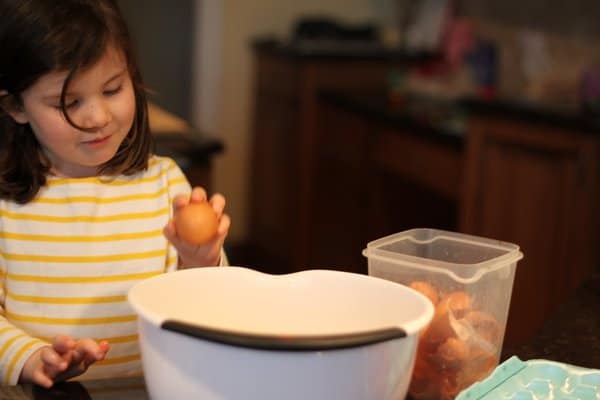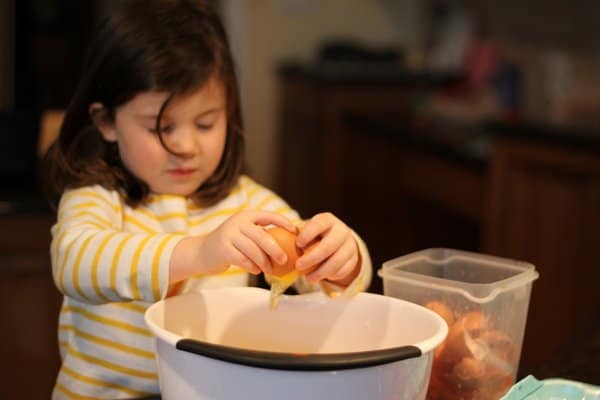 Morning Glory Muffins
makes about 24 muffins
Store these in the freezer in zip-top bags then pop a few on the counter (in an air-tight container) the night before you want to serve them. They'll thaw out and become moist and perfect by morning. 
ingredients
4 eggs
1/2 cup vegetable oil
1/2 cup apple sauce
3 teaspoons cinnamon
2 teaspoon ginger
1/4 teaspoon ground cloves
1/2 teaspoon nutmeg
1/2 cup sugar
1/2 cup brown sugar
1 12 oz. can pumpkin
1 1/2 teaspoons vanilla
1 1/2 cups whole wheat flour
1/2 cup flaxseed
2 teaspoons baking powder
1 teaspoon salt
1 teaspoon baking soda
1/2 cup shredded carrots
1/2 cup shredded (sweetened or unsweetened) coconut
1/2 cup dried cranberries or raisins
(optional) 1/2 cup of sunflower seeds or almond slivers
instructions
Preheat oven to 375 degrees F. Either grease muffin tins or use liners. (NOTE: I prefer greasing the pan because you loose less muffin but we were being festive this time with liners.)
 In a large mixing bowl use a handheld mixer to beat the eggs until frothy, about 3 minutes. Add the oil, applesauce and spices then mix. Add sugar, pumpkin and vanilla then mix again. Set a metal sifter over the bowl and add the flour, flaxseed, baking powder, salt and baking soda. Mix until JUST combined then add the rest of ingredients: carrots, coconut, cranberries or raisins and nuts if using. Again, stir only until everything is combined.
Fill muffin cups 3/4 to the top then bake for approximately 18 minutes. The muffin tops should spring back when you press an index finger on them. That means they're done.