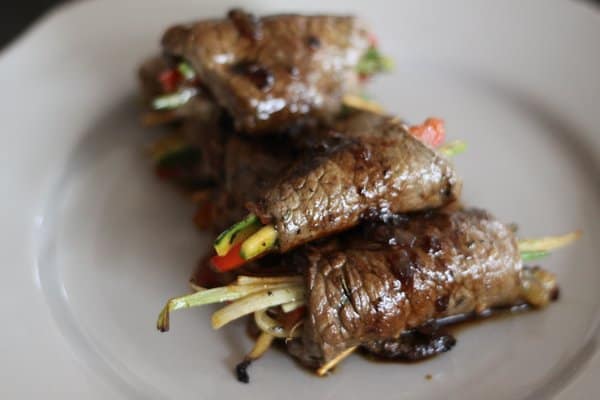 I CAN'T LIE TO YOU. THESE DELICIOUS BEEF ROLL-UPS WITH BALSAMIC GLAZE WILL NOT BECOME ONE OF YOUR GO-TO WEEKNIGHT DINNERS. But you'll love making them once in a while.
With a tangy, sweet sauce plus a built-in veggie and playful presentation, there's a lot to like here. The only trouble is the number of steps it takes to get there. So, when you've got the kids occupied with something like homemade playdough Mary Poppins, and I do mean the full length feature film, courtesy of Amazon Prime (you life saver you), I say this is the one to make. 
Naturally, every single child at my table initially scoffed. "I don't like that" said three small fries, one after the other. What they meant of course was, "I'm not sure I want to try that. It looks different and I don't know what it is". And also maybe, "I'm not really impressed that you just spent 45 minutes making this dinner because I spend that much time doing pretend tea parties for my dolls every day. No bigs."
To those sentiments I said what I always do. The first thing to come out of your mouth, my dears, when someone puts a plate in front of you is always, without fail, and every single time…THANK YOU. Then you eat one bite. After that we can talk about the merits and pitfalls of any particular dish.
In the end, every single child at my table ended up liking it.
Step 1: Marinate & slice
The first step is to marinate the meat but you know how photogenic raw meat can be, so I'm starting here instead: choose your vegetables. I took the easy way out and picked two that our brood loves–peppers and zucchini–plus one more to add to the adult plates–scallions. (One of my favorite tips: never make two dinners, just make adjustments.) Then cut everything into very thin, very long strips. This is the first time in the recipe when you'll be blessing Julie Andrews and her ability to entertain, for more than one hour.
Step 2: Saute
Step 3: Make roll-ups
Then you'll saute again, this time with all of those veggies rolled up in the beef. Your sauce will need to thicken, then you'll drizzle. It's not a quick recipe, but I'll tell you what. It's a tasty one.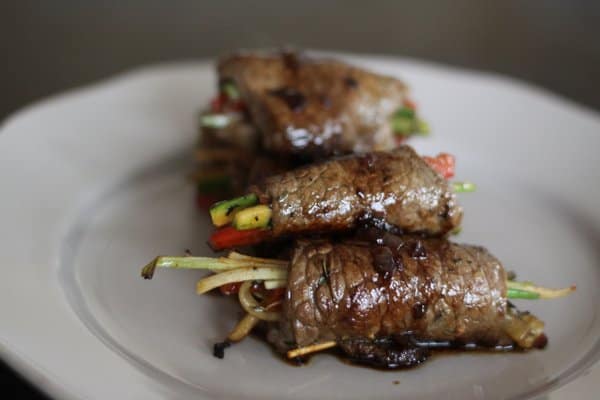 Beef & Vegetable Roll-ups with Balsamic Glaze
This made enough to serve 2 adults, 3 kids and have 2 roll-ups left over. About 10 roll-ups.
Inspired by many recipes seen online like this, this and this.
ingredients
1-1/2 pounds of flank steak or 8 thinly sliced skirt, "minute" or sirloin steaks
3 tablespoons Worcestershire sauce
1/2 teaspoon garlic powder
1 teaspoons salt
1/4 teaspoon pepper
2 tablespoons olive oil
1 zucchini
1 red pepper
2-3 scallions < do not cook
2-3 garlic cloves
1/2 teaspoon thyme
1/2 teaspoon oregano
2 teaspoons butter
1 tablespoon dried onion
1/4 cup balsamic vinegar
1/4 cup low-sodium beef broth
instructions
Cut the steaks into rectangles, and if necessary pound them flat. Sprinkle with salt and pepper then toss in a zip-top bag with Worcestershire sauce and garlic powder. Marinate at least 4 hours, preferably overnight.
Cut vegetables (except the scallions) into long and thing strips–ensuring that they're longer than your beef strips. Place them in a skillet along with olive oil, garlic cloves, thyme and oregano. Saute for about 3-5 minutes, just until they start to get soft. Remove veggies, allow to cool.
Roll vegetable strips inside beef and secure with a toothpick. Heat the same skillet again, adding a touch more oil if needed, and brown on each side, about 2-3 minutes before flipping. Remove rollups, set aside and cover with foil.
Using that same pan one more time, make your glaze. Melt the butter, add the onion, balsamic vinegar and beef broth, and bring to a boil. Simmer for about 10 minutes until glaze is reduced and thick enough to coat a spoon.
NOW, put it all on a plate. Pile up the rollups, then drizzle the glaze on top. Instruct everyone to ooh, and ahh, and dig in.
Start with our most popular below. And sign up for the Foodlets newsletter (on the side of this page) and like us on Facebook so you'll never miss a new idea.