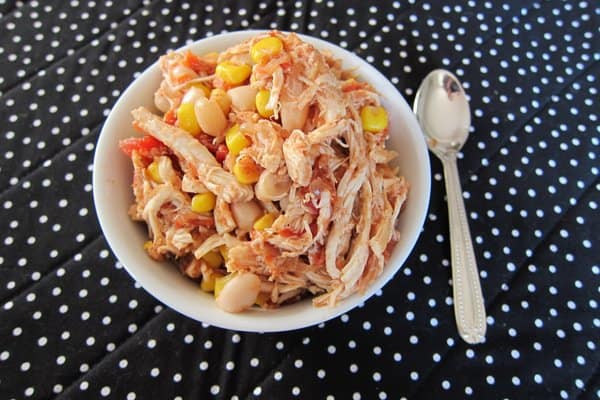 WHEN IT'S HOT, HOT, HOT outside, the last thing I want is to be inside cooking dinner beside an even hotter stove. Enter the slow cooker. I used to hate this thing, mostly because I could never find a recipe that worked, i.e. tasted good. At all. But this chicken recipe turned out to be a winner. At least I thought so…
The kids didn't really dig it though that's often the case on a hot summer night. There's also the matter of lunch. Estelle's preschool teacher here in Rome continues to explain every afternoon how our piccola principessa has eaten another double dose of the already elaborate 3-course meal they're served at school. Oggi, due primi, due secondi e due contorni. Mama mia!  This is particularly amusing because Estelle is so petite. I'm guessing that we're in the midst of a growth spurt.

But I'll try it again, and might even wrap the whole thing in a flour tortilla like a burrito.  For now, here's how I did this version which I thought was delicious.
P.S. Need more ideas for good family food done easily? Enter to win 1 of 3 copies of "100 Days of Real Food", the gorgeous book by Lisa Leake, right now!
SLOW COOKER SHREDDED CHICKEN TEX-MEX
I almost always shred onions so that the kids don't pick them out but the dish still gets all the flavor.
ingredients
1 whole chicken breast, skinless (about 2 pounds)
1 medium onion, shredded
2 cloves garlic, finely minced
1 can or 1 1/2 cups diced tomatoes
2 tablespoons cumin
1 teaspoon salt
1/2 teaspoon pepper
1 can white beans
1 cup frozen corn or canned sweet corn
instructions
Into a slow cooker, add the shredded onion, garlic, tomatoes, cumin, salt and pepper. Stir gingerly (so you don't bang up your slow cooker). Slide the mixture over and add the chicken; use a ladle or big spoon to completely cover the chicken breast with sauce. Cook on high for 4-6 hours.
Turn slow cooker to warm. Remove chicken and let cool enough to work with. Shred the chicken and put back into the slow cooker. Add white beans and corn. Mix and serve with guacamole, sour cream, tortilla chips or simply plain.