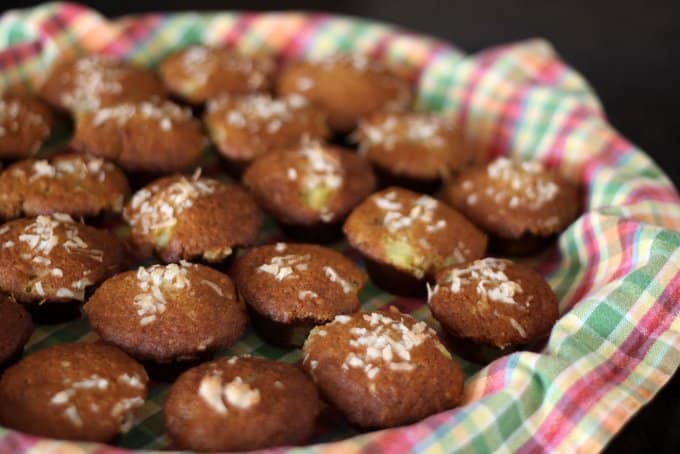 WE'VE BEEN MAKING A LOT OF LUNCHES around here. Foodlets Friday Lunch is a teeny, tiny pilot program that we started this spring. Every Friday I make lunch for the kids at Phoebe's preschool and parents who are keen to buy one simply cover the costs. It's not catering, not yet, but I hope it will be next year. In the meantime, I'm trying all of my tried and true recipes on a bigger crowd and experimenting with new ideas too. That's where these muffins come in. (And if you like muffins, don't stop here! We've got dozens of healthy muffin ideas for kids right here.)
As usual, we cut the sugar and added a bunch of the good stuff. They turned out to be tasty, sweet and full of fresh pineapple. Then we packed them into lunch containers for the Montessori kids. None came back, so I'm thinking they went over pretty well.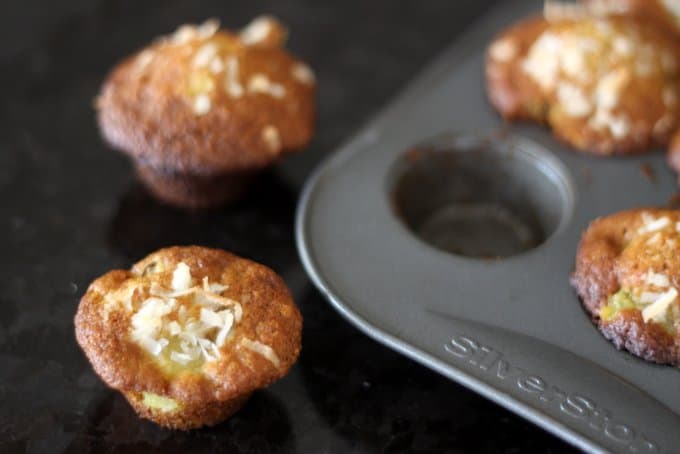 Adapted from Serious Eats' Pineapple Coconut Muffins

low-sugar coconut pineapple mini muffins
These low-sugar muffins have a slightly tropical flavor and an added boost of nutrition from ground flaxseed or wheat germ. I like to bake with a mix of whole wheat and organic regular flour but any combination will do.
Ingredients
8 tablespoons unsalted butter (softened)
½ cup granulated sugar
1 teaspoon vanilla
½ teaspoon salt
2 large eggs
½ cup coconut milk
1¼ cups sweetened, flaked coconut (separated)
1¼ cups flour
¼ cup ground flaxseed or wheat germ
2½ teaspoons baking powder
1 cup pineapple, chopped finely
Instructions
Preheat oven to 375°F. Line 24-cup mini-muffin pan with cupcake liners OR rub with butter on a paper towel. Mix butter, sugar and vanilla together in a large bowl until completely combined. Add eggs one at a time. Stir in coconut milk and 1 cup coconut.
Add flour, flax (or wheat germ) and baking powder and gently mix. Last, add the pineapple. Pour into mini-muffin tins and sprinkle with remaining coconut. Bake for 10-12 minutes. (To bake 12 regular muffins instead of mini-muffins, bake for about 18-20 minutes.) Muffins are done when they're golden in color and the tops spring back when pressed. Allow to cool.