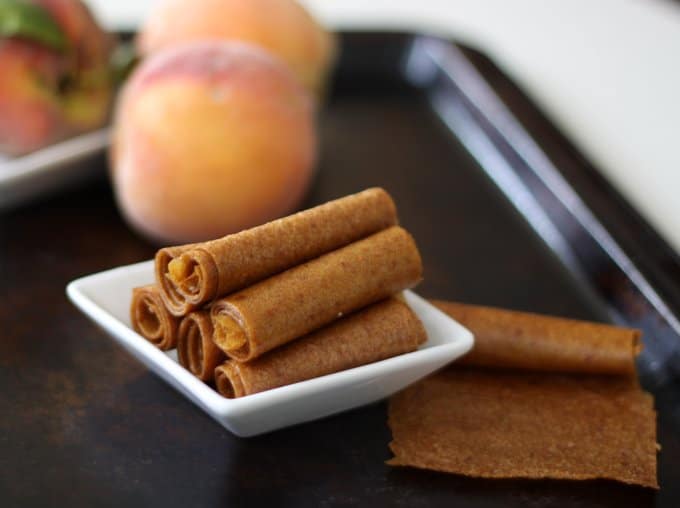 IT ALL STARTED WHEN I ACCIDENTALLY BOUGHT 1 MILLION PEACHES. Or something close to it. Paul's family was visiting from Florida over the 4th of July weekend.
There were many conversations about who was getting peaches between his mom, his sister and me and here's the shocker, I mixed up the info. One trip to the farmer's market later, I found myself the proud owner of a full box of peaches. Officially half a bushel. Me, the one who only sleeps two to three hours at a time per night (Like a doctor, but one who does nothing but pro bono work. And also not medical.). Now I needed to start finding ways to use these peaches before the fruit flies declared victory.
This recipe, and the technique itself, was one of our favorites. (And ha, ha, fruit flies! Maybe next time. In fact, probably next time.)
With all three preschoolers perched in their booster seats at our kitchen counter, we blended up 16 peaches to make four pans of fruit leather. Baby Violet was sleeping in her rocker near us, uttering the occasional squeak but overall being a pretty good sport about the cooking project for someone who is six weeks old. I mention all this to show how simple the whole thing was. This is definitely a let-the-kids-help kind of recipe.
In went the vanilla (that's the "cream") and a hint of maple syrup. More blending. And to my great relief, no peeling. We worked in batches of four peaches at a time before pouring the puree out onto a baking sheet lined with my silicone sheets. Each kid went to work smoothing his or her pan of puree before popping it into the oven. (You need it to be as even as possible so the whole sheet bakes well.) Three hours later, roughly the length of one nap when you factor in the books and bathroom trips, the leather was ready.
I've made fruit roll-ups before and went to a bit of trouble to line them with parchment paper and curly ribbon before storing. Not necessary. As it turns out, that's cute, but not needed. This time we just cut the strips with a pizza cutter, rolled them up and stored them all together in an air-tight plastic container. No sticking, no problem, which is good because I'm not sure if I should be trusted with scissors until I start getting a little more sleep.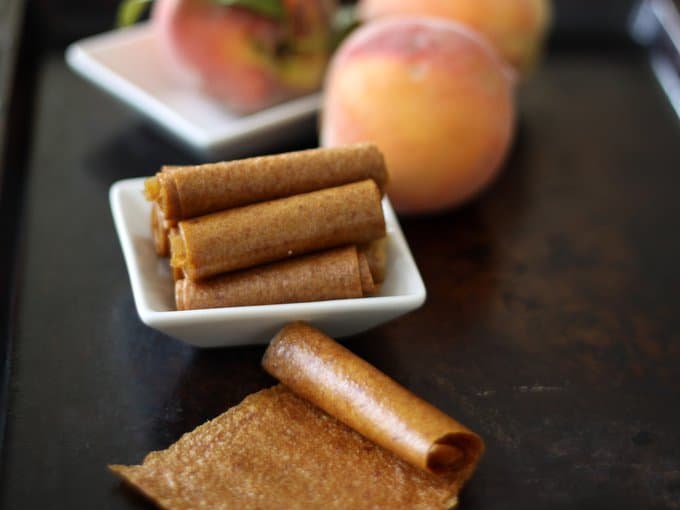 peaches & cream fruit leather
The following makes one pan of fruit leather. *Special equipment needed: a silicone baking sheet liner.
Ingredients
4 ripe peaches (about 4 cups) with skins on, cut into chunks
1-2 tablespoons pure maple syrup (depending on the ripeness of your peaches)
1 teaspoon pure vanilla extract
Instructions
Preheat oven to 200 degrees F.
Puree all 3 ingredients in a blender until smooth (if you see flecks of skin, that's fine).
Pour onto a cookie sheet lined with a silicone baking liner. Smooth as much as possible
Bake for approximately 3 hours, until the fruit is firmer than jam but still pliable. It should not turn brown, nor get crispy. Remove, let cool, then cut into strips. Store in an air-tight container for up to a month.