WISH YOUR KIDS WOULD TRY A BITE OF SOMETHING, ANYTHING, GREEN? Here's a great tip I learned from another mom recently, change what you call it. Instead of my usual, "Ki-ids, I made you some healthy spinach soup!", then listening for the sound of toys instantly hitting the floor followed by tiny feet pattering to the table, it works better to just mention a "boiling cauldron of Green Goblin Soup". More takers, less begging.
Too spooky? Maybe yours is Super Frog Soup. Green Machine Soup. Kermit's Favorite Soup…and if you choose the last one, maybe throw this one on the screen while you're prepping. Can't go wrong with Movin' Right Along. While you're at it, show them this one too. I practically had an out of body experience when Kermit poked his head through and said, "It's the Muppet Show!" My seven-year-old self couldn't have been any more pleased than I was right then.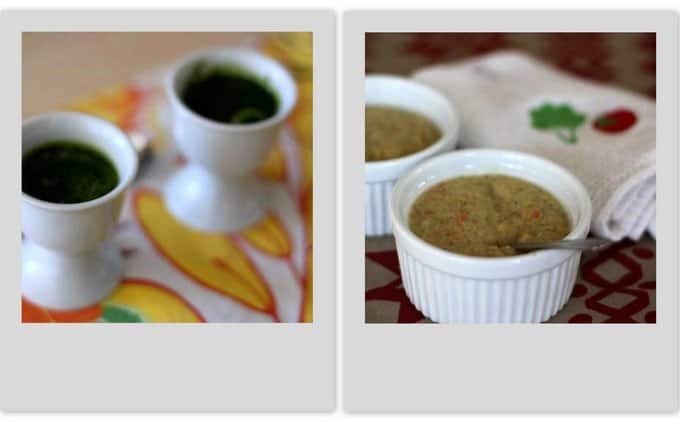 But back to the soup. We have two delicious green soups around here. Our spinach soup is meant to be served in small portions, like a shot. As Karen Le Billon explains in "French Kids Eat Everything", she often serves her kids something like this BEFORE dinner starts. As a starter. You know, when everyone is dying for some crackers just as you're pulling the chicken out of the oven but not ready to serve the thing without creating 1st degree burns all around? Talk about a burning cauldron. The beauty of this soup is how easy it is to make, and how much nutrition you can pack into one tiny cup, egg bowl or yes, shot glass, before the rest of dinner even hits the table.
Our broccoli cheddar soup however, is a whole meal deal. It's rich and thick, hearty and full of fresh broccoli. This is a better-for-you version that we whipped up last year and while our kids weren't lapping it up then, I'm trying it again this fall because I've heard from so many of YOU that your kids loved it indeed. But maybe that's because you called it Green Goblin Soup and I didn't. Yet.