IS THERE A KIDS' HOLIDAY PARTY GOING ON near you?
Our kindergartener's class is hosting a holiday party at the end of the week. When our Room Parent emailed everyone asking about a healthy, low-sugar snack, this Christmas tree platter made of grapes and cheese immediately came to mind.
I saw one on Pinterest (where else?) and tried it out for ourselves last week.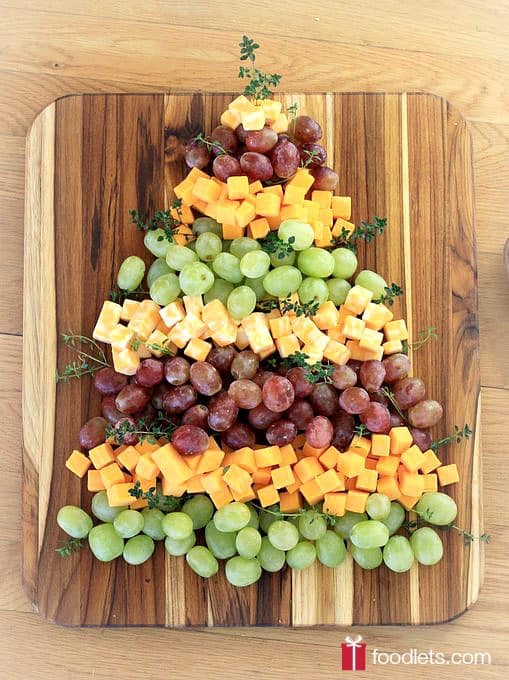 We used two kinds of grapes and two kinds of cheese.
You could use only green grapes (which also make ridiculously cute caterpillars) and as many (or as few) cheese as you like. I bought those little cubes of Sargento cheese but if I ever slept, ever had it to do over again, I'd chop up the cheese myself. I don't like the additives they put in pre-shredded and cubed cheeses but it's hardly a deal breaker.
Then it was really just assembling the lines and fighting off my "helper" who ate everything I put on the board the second it landed there.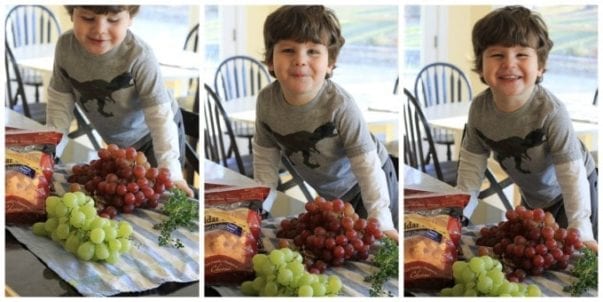 A few tips:
Bring your board or platter to the party and assemble it there. Grapes just won't stay put if you lay it out ahead of time.
Start with a single layer then go back and add more grapes and cheese on top. In the end we got 3-4 layers in there.
Add fresh thyme if you like or skip it if you don't have it, or worse, if you think it'll be a turn off for the kids.
We served Triscuits with ours. I love those because they're made from wheat and salt. Nothing else.
There's more holiday fun where this came from! A few of our best Christmas foods for kids, including our collection of Easy Christmas Cookies Kids Can Make like these:
Don't forget to subscribe to the Foodlets newsletter to get 3 simple KID-TESTED recipes each week. These are the hands-down winners that my kids (and sometimes many others) LOVED. Sign up at the top of the page!