When my husband walked into the kitchen he was still buttoning up his dress shirt. Glancing over at the kids diving into these bagels he asked, "Wow, are you guys having pizza for breakfast?"
Kind of!
These cheesy bagels with tomatoes are the easiest "cooked" breakfast I've ever made, requiring no more work than toast.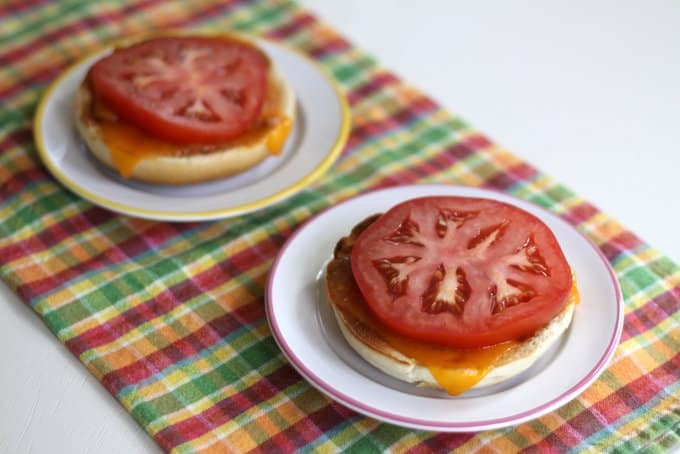 The whole thing is so simple, it reminds me of that hair salon scene from Steel Magnolias, where Truvy is explaining "Cuppa, Cuppa, Cuppa". These bagels are hardly a recipe, more like a delicious idea. (And if you've ever wondered what Cuppa, Cuppa, Cuppa really tastes like, look no further than the Pioneer Woman's awesome post where she actually makes it!)
Here are the simple steps:

Cheesy Bagels with Sliced Tomatoes
Ingredients
½ a bagel
a slice of cheese
one juicy tomato
Instructions
Turn on the broiler.
While it heats up, lightly toast the bagel in the toaster.
Put a piece of cheese on the bagel. We like any type of cheddar.
Melt the whole thing on a cookie sheet in the broiler, for about 30 seconds. Keep an eye on it!
Remove from the oven and set a thin slice of tomato right on top.
It's juicy, sweet, salty and satisfying. We've had these beauties twice already this week.
The plain bagels here were leftovers from family houseguests who preferred plain. Next time we'll get whole-wheat, or try the whole thing on WW English muffins.
Too bad I didn't think of this while Paul's family was still in town. I did introduce his 13-year-old nephew to the awesomeness that is avocado toast with lemon and salt–and he devoured the whole thing, asking for more. Not bad! (And not surprising considering the legendary appetites of 13-year-old boys. I've now had a crash course in feeding on a major scale, a vision of my future that's um, terrifying. But at least by then I'll be sleeping a full night. Upside!)
Want more kid-friendly breakfasts? Click through all of our kid-tested, healthy breakfast ideas!
And be sure to like Foodlets on Facebook so you'll never miss a new idea.