I discovered these simple sausage and pepper sliders a few months ago when I was at the grocery store with two of my girls.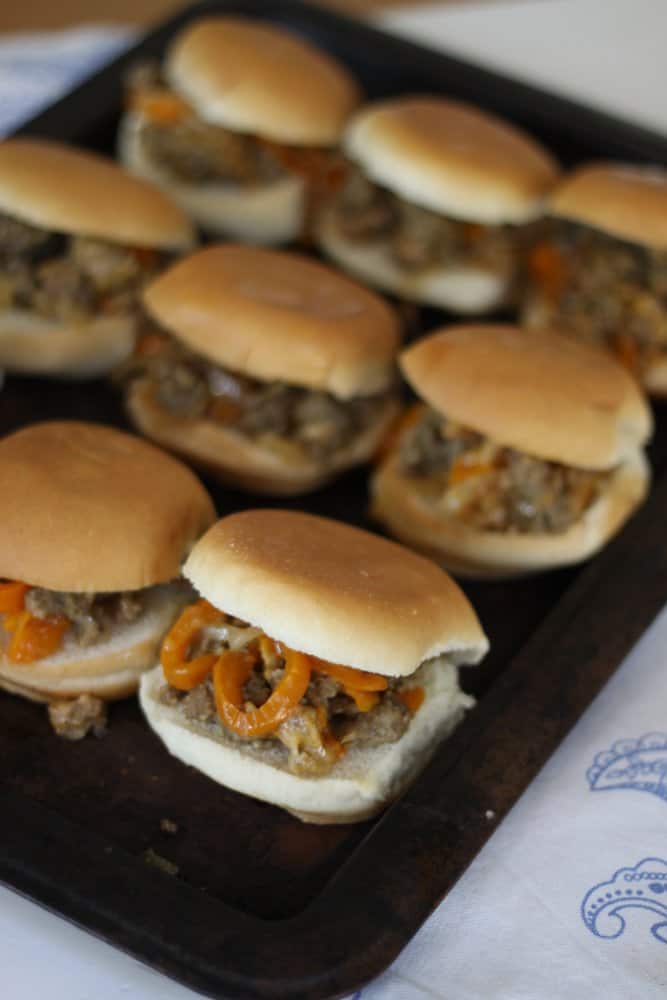 They're five and seven and this was a slow moving day. Unfortunately it turned out to be the  kind where you suddenly notice that your kids' hair isn't really brushed until you're out in public and there isn't a lot you can do about it.
There I was, loading our heaping cart of groceries onto the conveyer belt, looking for that divider thing that's almost never there, and reminding the girls who'd just launched into a dance contest not to touch the gum. Or the magazines.
And please go put these tiny carts back.
That's when two things happened.
Somewhere around the 57th minute of the checkout process, it became clear that my girls' hair wasn't just not brushed, but this was really more of a dreads-in-the-making thing going. Note to self: Consider new routine where kids actually use the hairbrushes we own.
A lady I sort of know from church breezed up behind us, with three quick items in her hands, neatly deposited them on the same belt that had finally groaned its way through our order, and seemed surprised when I said hello. (Maybe I usually look so much more glamorous at church that she didn't recognize me in my possibly a little too relaxed mode?)
At any rate, when someone only has a couple of items at the grocery store, you know they're on a mission.
Also, I may not know her well but I do know this mom has a big family. She's got lots of kids like I do, but she always seems so put together. You can just sort of see that glint of order and know-how in her eyes. (Unless it's just fatigue. Could be.) Anyway, here's what she had: a block of "southern style" sausage wrapped up in wax paper and artificial casings, a bell pepper and a package of buns. Ding ding ding!
This mom of five kids is about to make what looks like an awesome dinner.
Once I figured out where they keep that kind of sausage at the store (by the bacon), I haven't stopped making this dinner either. I've made a few adjustments, but in a nutshell, it's an easy meal full of fresh ingredients that's totally kid-friendly. Packed with vitamin C-rich peppers and enough hearty sausage to keep everyone satisfied. I like to melt a little white cheddar cheese on top at the end. Good measure and all that.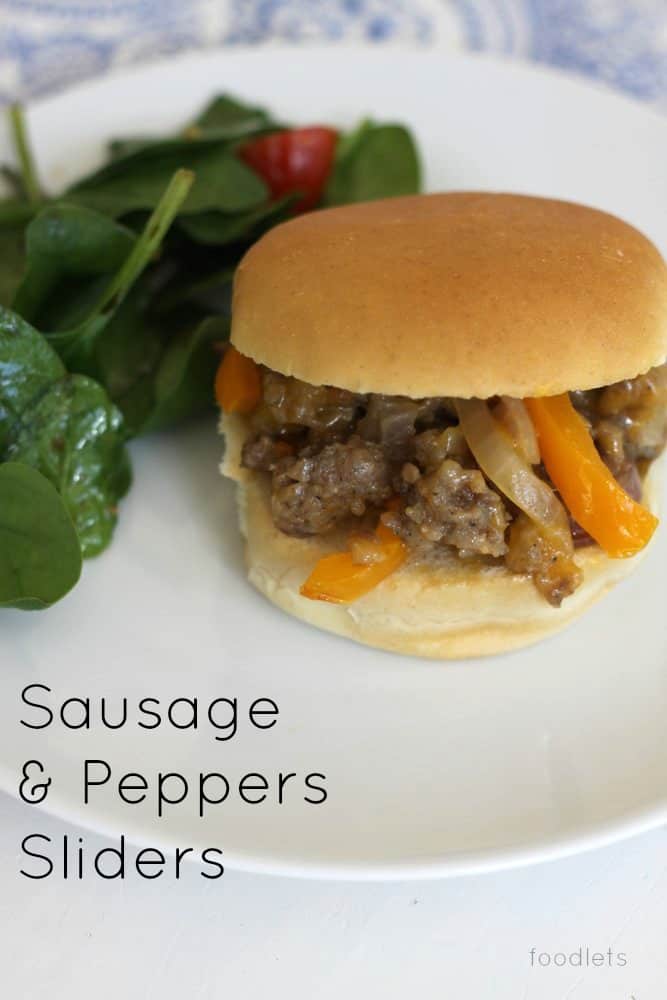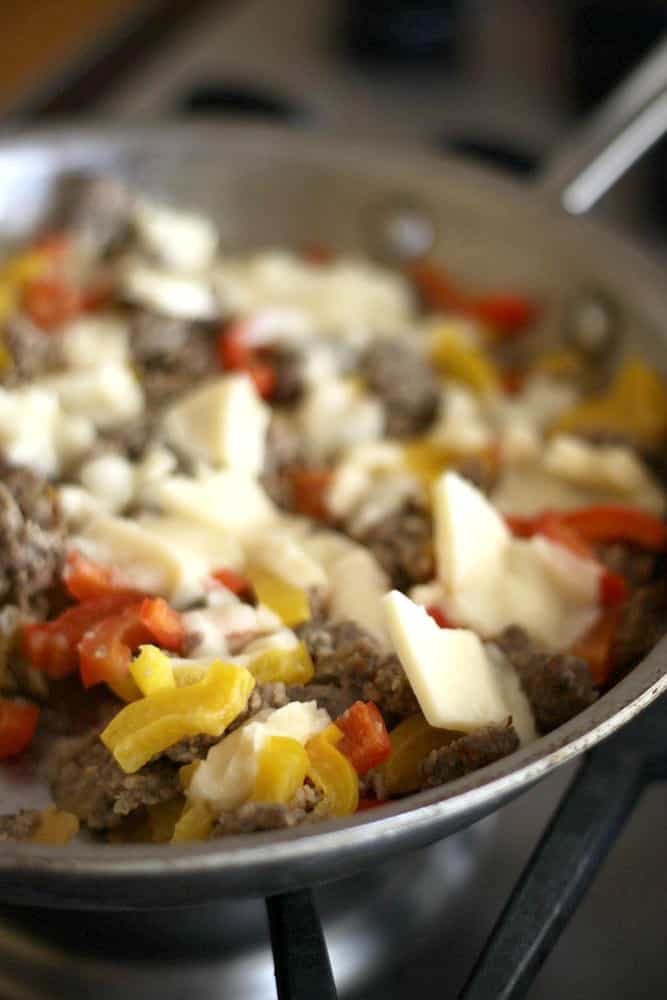 And bonus: this is a very easy make-ahead meal. Just get everything ready in your pan and throw the whole thing in the refrigerator with a lid on top. Heat it slowly on a warm burner until you have a dinner ready in minutes.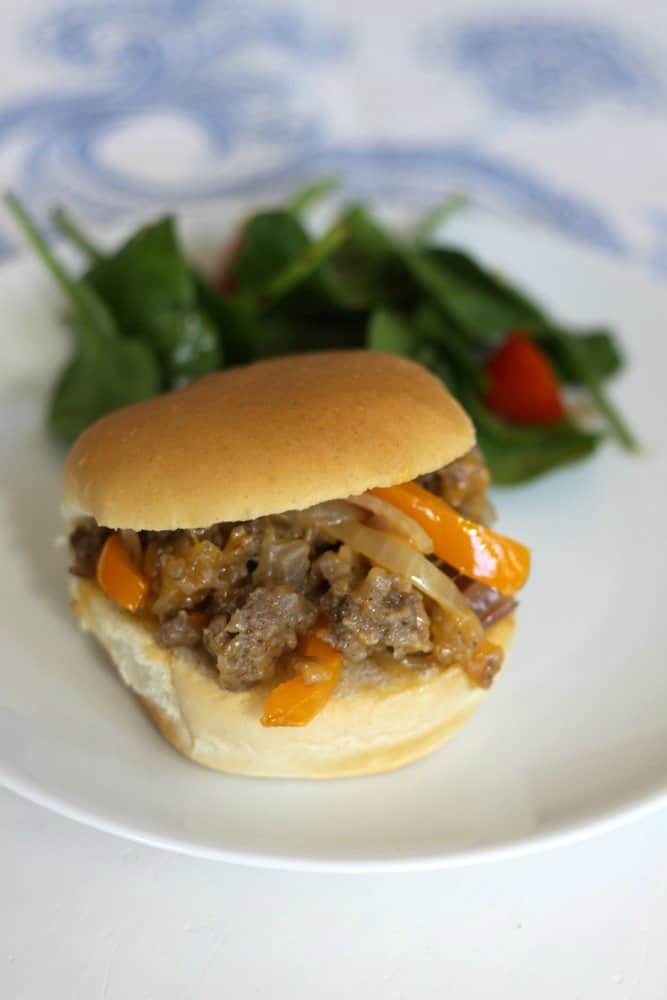 My kids' favorite sides for these sausage and pepper sliders are:
Oven roasted sweet potato fries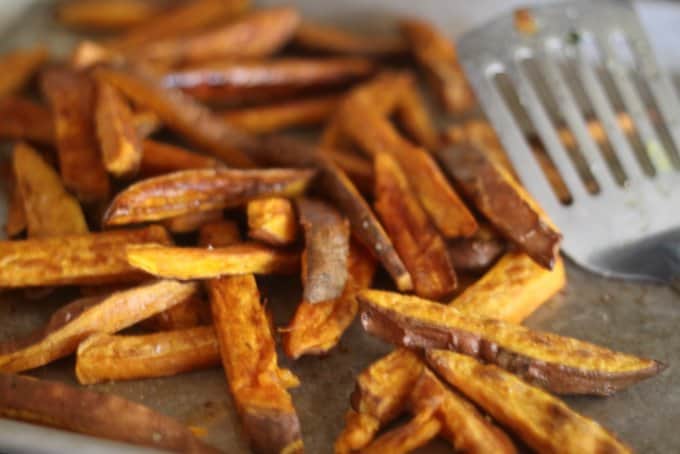 Kale salad with homemade balsamic dressing
Or when I'm really in a hurry, raw carrots with dip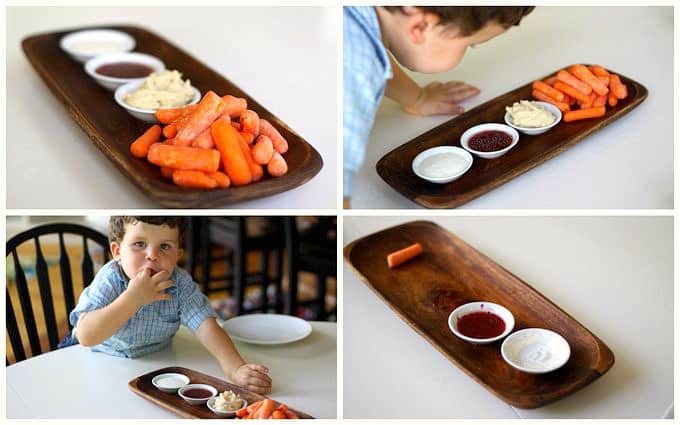 They may be unkempt, but those girls know a tasty combination when they see one.
Print
Simple sausage and peppers sliders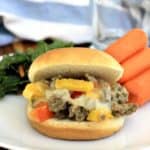 I like to serve these sausage and pepper sandwiches on slider buns because they're the perfect size for small hands. But the whole thing works just as well on regular buns. Even whole-wheat.
Author:
Cook Time:

10 mins

Total Time:

10 mins
Ingredients
1 pound southern style sausage (or any other locally made sausage with mild spices)
2 bell peppers, cut into bite-size pieces
4-5 slices of white extra sharp cheddar cheese
Slider buns
Instructions
Brown the sausage in a large sauté pan over medium-high heat, stirring often, about 5 minutes.
Add the peppers and stir again. Cook for about 2 minutes.
Once the sausage is completely cooked through and the peppers start to get soft, use a paper towel to blot any excess grease.
Add a layer of cheese over the pan, covering as much of the sausage and pepper mixture as possible.
Serve immediately over buns or allow to cool, cover and refrigerate until ready.