You guys, I was so tired of packing lunches. And school hadn't even started again yet.
So this year I'm trying something different. It's called Kids Pack Their Own Lunches. We're on Week 2.
It works like this:
On the weekend I cut up 5-6 kinds of fruit and veggies and store them on a platter like this one with a lid. Those are the sides.
Twice a week I'll whip up 2-3 mains at a time, using 1 ingredient in 2 different ways.
When the kids come home from school, they wash out their lunch boxes and fill up for the next day. The only rules are: Pick 1 main, at least 1 veggie and fill the rest with fruit.
The Main Ingredients this week: Chicken Breasts & Sausage
No one wants a crazy shopping list a mile long, especially when the whole point is to simplify making school lunch. So I'm focusing on 2 main ingredients each week. To start I roasted extra chicken over the weekend and fried a few chicken and apple sausages.
Those ingredients are the base for all of the lunches this week.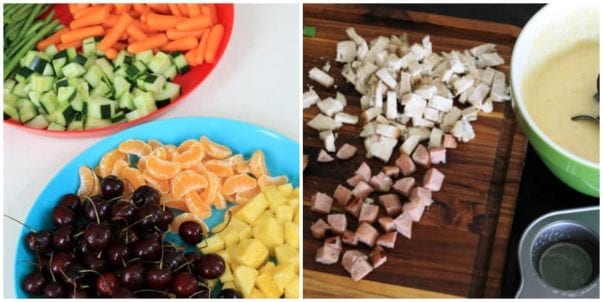 The menu
Monday: Sausage-Pineapple Skewers
Tuesday: Chicken, Cheese & Spinach Corn Muffins
Wednesday: Chicken-Tomato Skewers
Thursday: Corndog Muffins with Chicken-Apple Sausage
Friday: Chicken Salad Sandwich
The Prep
Cut up all the fruit and veggies, arranging on two platters with lids that the kids can come back to again and again all week long.
Roast chicken breasts (or buy a rotisserie chicken).
Fry up 4 chicken-apple sausages.
Dice chicken and sausages.
Use a cupcake pan to make cornbread muffins two ways: Add diced sausage to six muffins and chicken breast plus spinach and a square of Colby cheese to the other six. (Use our awesome corndog mini muffins recipe or substitute a box mix!)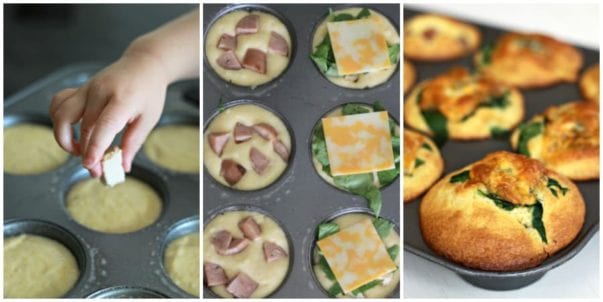 5 fresh lunches kids can make themselves
Here's what the lunches look like all week long.
Monday: Sausage-Pineapple Skewers
Let the kids thread coins of sausage with fresh pineapple and baby spinach onto toothpicks.
Tip: I love the extra long toothpicks like these because you only need to make a couple to hold the same amount of food — less work always gets my vote — but we were out!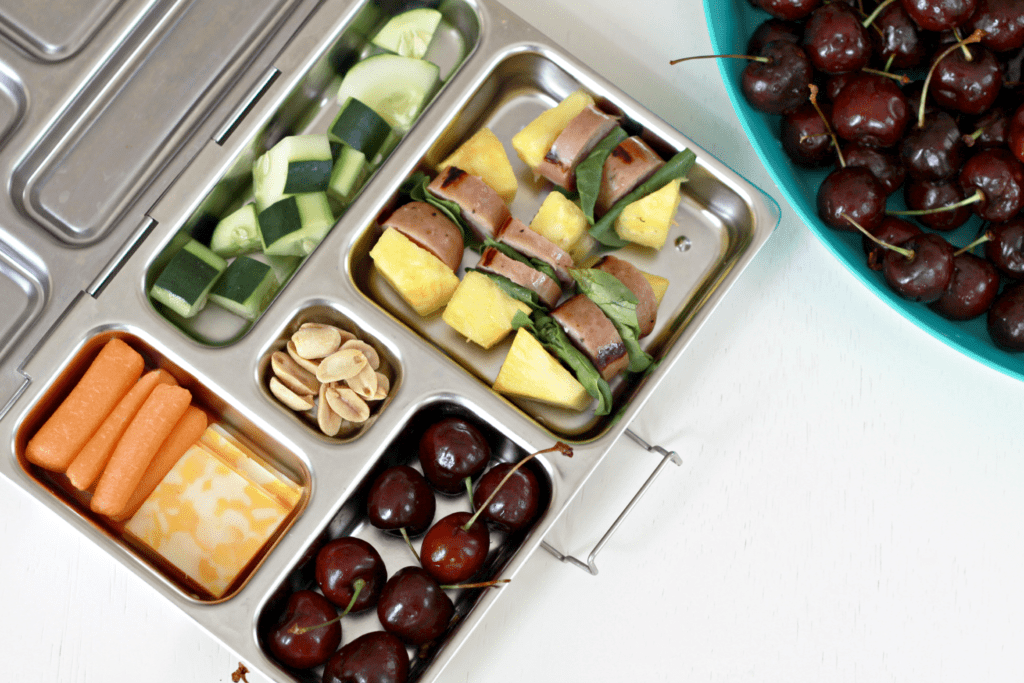 Tuesday: Chicken, Cheese & Spinach Corn Muffins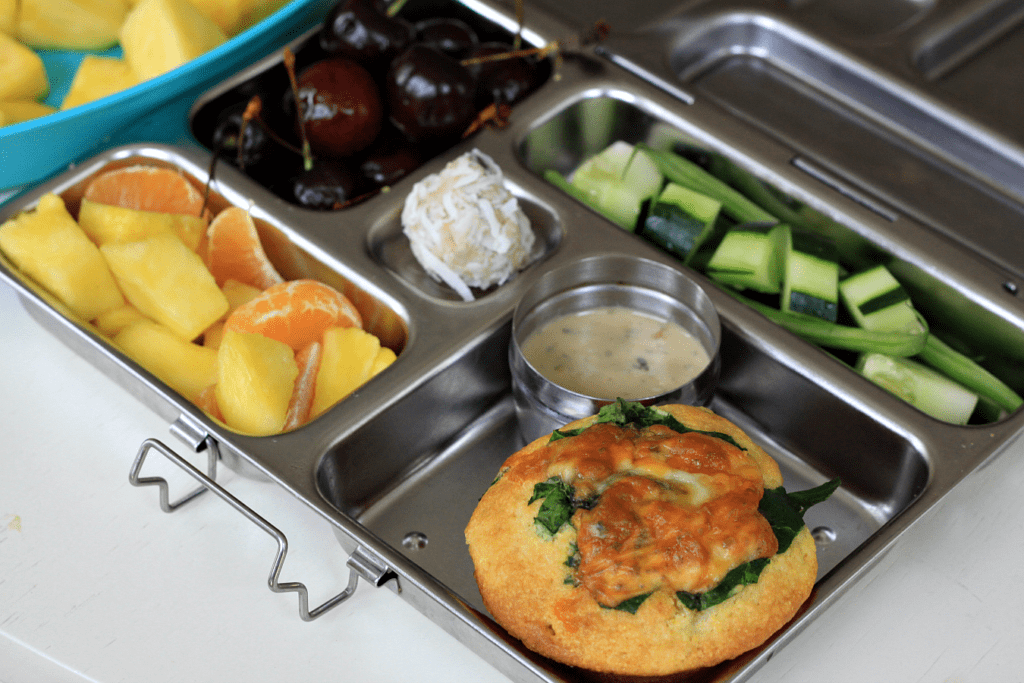 Wednesday: Chicken Skewers
Let the kids thread juicy cubes of chicken breast onto extra-long toothpicks (don't be like me and forget them) along with cheese and tomatoes.
Wednesday: Corndog Muffins with Chicken-Apple Sausage
Use our delicious corndog mini muffin recipe or substitute with a box mix. We'll never tell!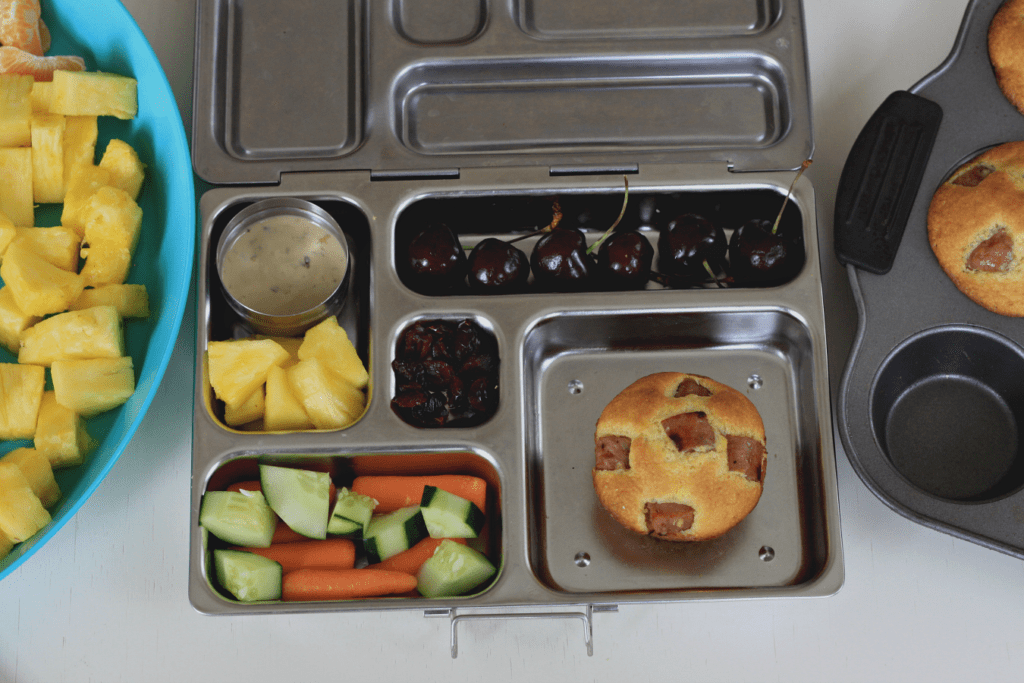 Friday: Chicken Salad Sandwiches
Remember that chicken breast? Use the last of it in the simplest way possible: on a roll with lots of mayo.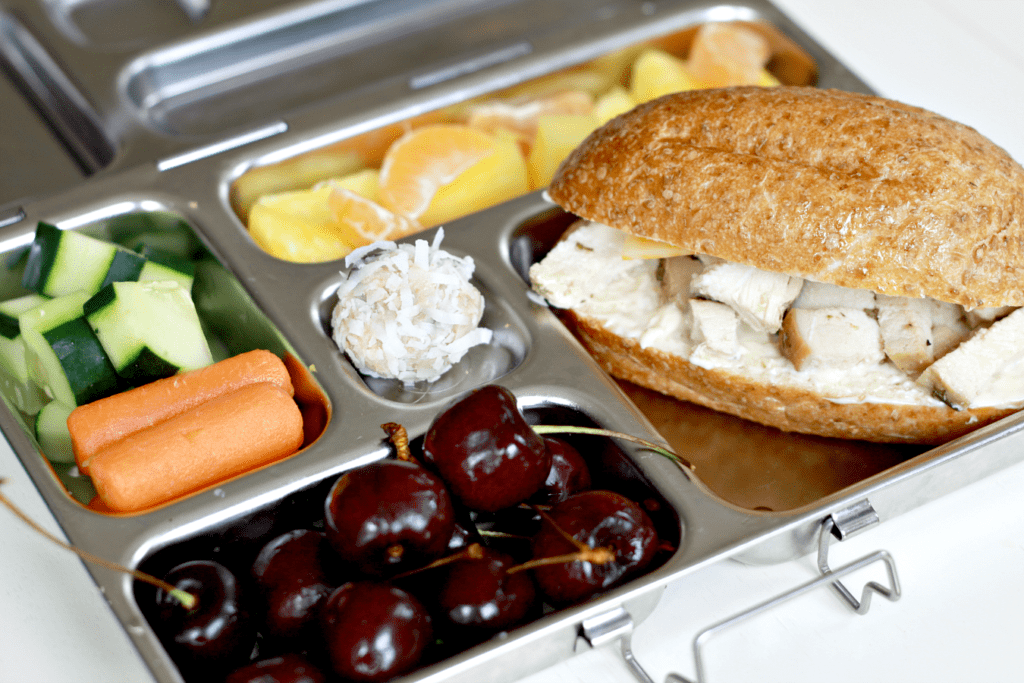 How the Kids Can Help
The kids can help with prep. Making cornbread muffins: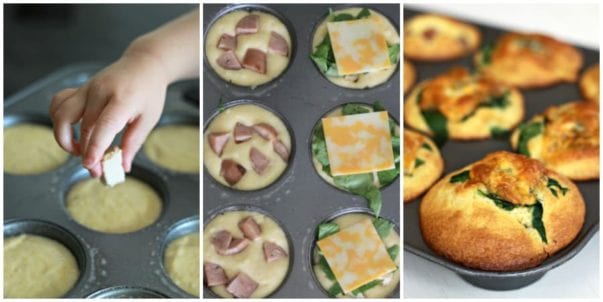 And skewers:
The Shopping List
Here's what we used to make 15 lunches this week (5 lunches for 3 elementary school aged kids.)
1 pineapple
2 cucumbers
1 bag baby carrots
4 pounds cherries
5 "Cutie" oranges
1 pound trimmed green beans
baby spinach
1 pint cherry tomatoes
1 package chicken-apple sausages (4 sausages)
1 large chicken breast or two medium sized breasts
1 recipe corn muffins (or a boxed mix)
1 package Colby cheese slices
Pantry items: Salad dressing, rolls or sliced bread, mayonnaise plus any little treats you like for the "special". I used: dried cranberries, peanuts, and a coconut riff on the no-bake energy balls we love.
Our lunch boxes are from PlanetBox and we love them. They're an investment but have held up for three+ years now, still looking brand new!
This post contains affiliate links to Amazon and PlanetBox. When you buy a product by clicking through this site, Foodlets earns a small commission at no extra cost to you.