What happens when you combine our favorite Pumpkin Spice Muffins with Zucchini Chocolate Chip Breakfast Cookies?
The perfect fall breakfast: Pumpkin Pie Breakfast Cookies with Whole Oats.
Just throw everything together in one big mixing bowl, bake and bam. A gluten-free, make-ahead breakfast that's not too sweet but boy is it satisfying.
My eight-year-old called these "srum-deli-icious" and my mom suggested packaging them to sell.
So, I'm just saying. This recipe's a keeper.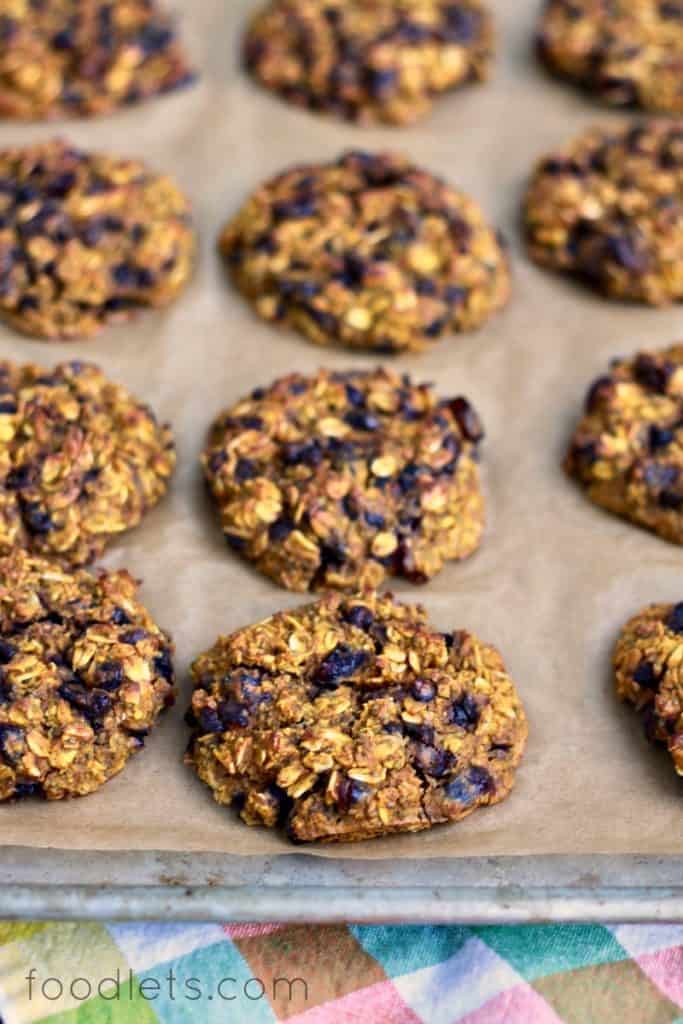 What makes these pumpkin pie breakfast cookies special
They're lightly sweetened, and only with maple syrup.
Full of whole oats, these breakfast cookies are satisfying and filling.
Omega-rich chia seeds add lots of brain-boosting power to breakfast.
You can never go wrong with dried cranberries and mini chocolate chips.
How to make pumpkin pie breakfast cookies with whole oats
Gather your ingredients and preheat the oven to 375 degrees F.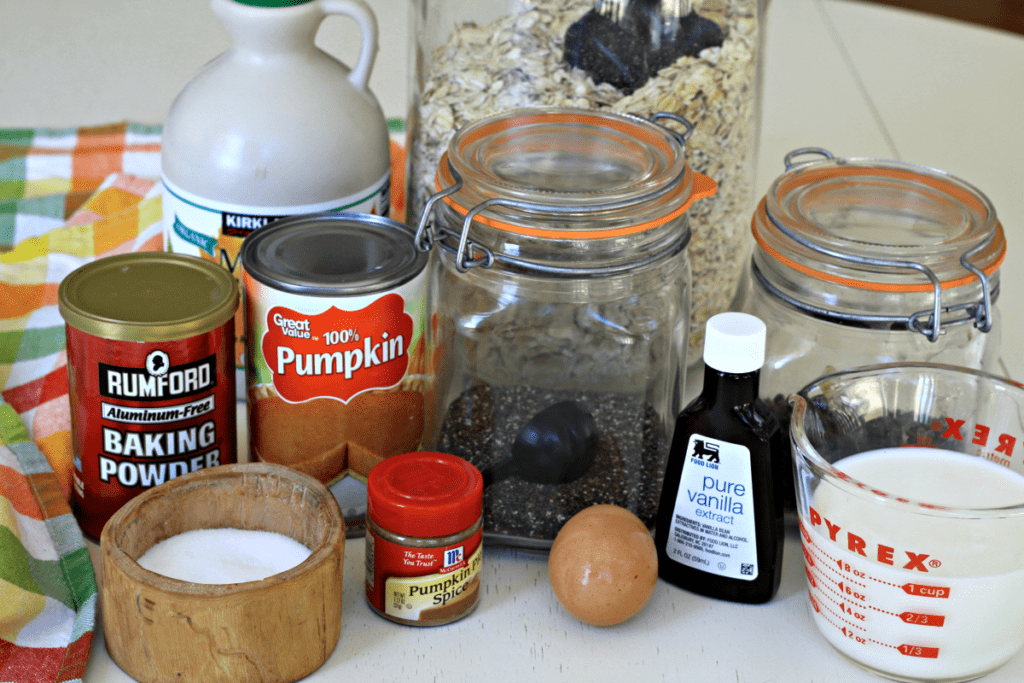 Mix everything together in one big bowl.
Scoop onto a very greased baking sheet. (I'd even add a spray of non-stick oil to these non-stick baking sheets next time!)
For an extra toasty top, or to reheat later on, broil on LOW for an additional 2-3 minutes.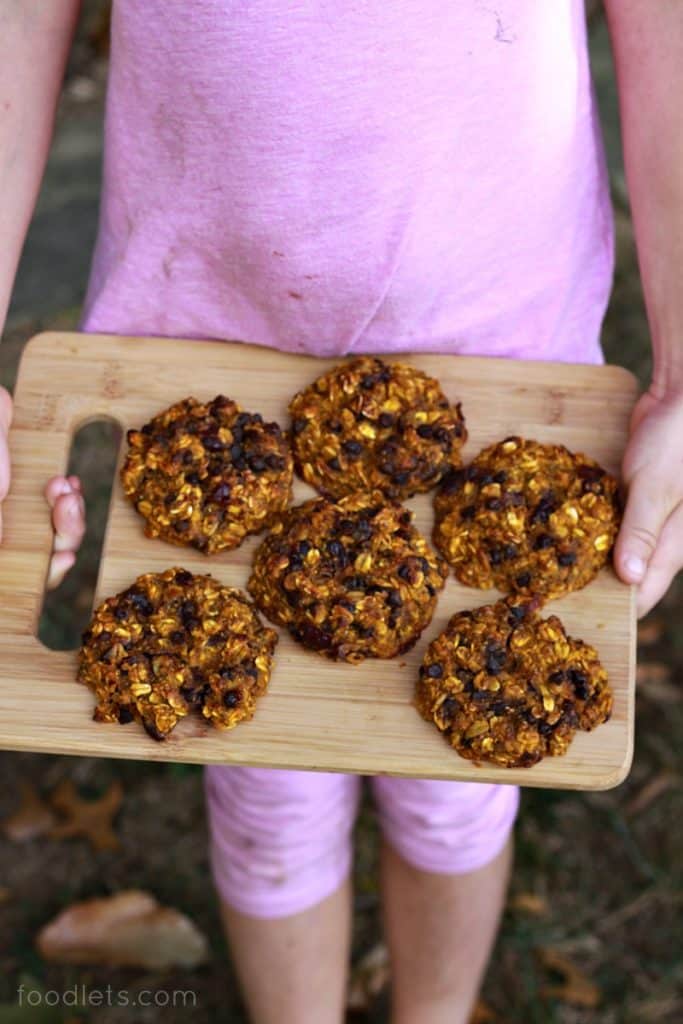 Print
Pumpkin Pie Breakfast Cookies with Whole Oats
Ingredients
3 cups old-fashioned oats
1/4 cup chia seeds
1 teaspoon baking powder
¼ teaspoon salt
2 tablespoons pumpkin pie spice mix
1 cup milk
1 teaspoon vanilla extract
¾ cup plain canned pumpkin
1 egg
¼ cup maple syrup
1/3 cup dried cranberries (I like the reduced sugar kind)
1/4 cup mini chocolate chips
Instructions
Mix all ingredients together.
Scoop onto a generously buttered baking sheet (or use a non-stick liner but you might want to give it a quick spray as well).
Bake at 375 degrees for 25 minutes.
For an extra toasty top–or to reheat–broil on LOW for an extra 2-5 minutes.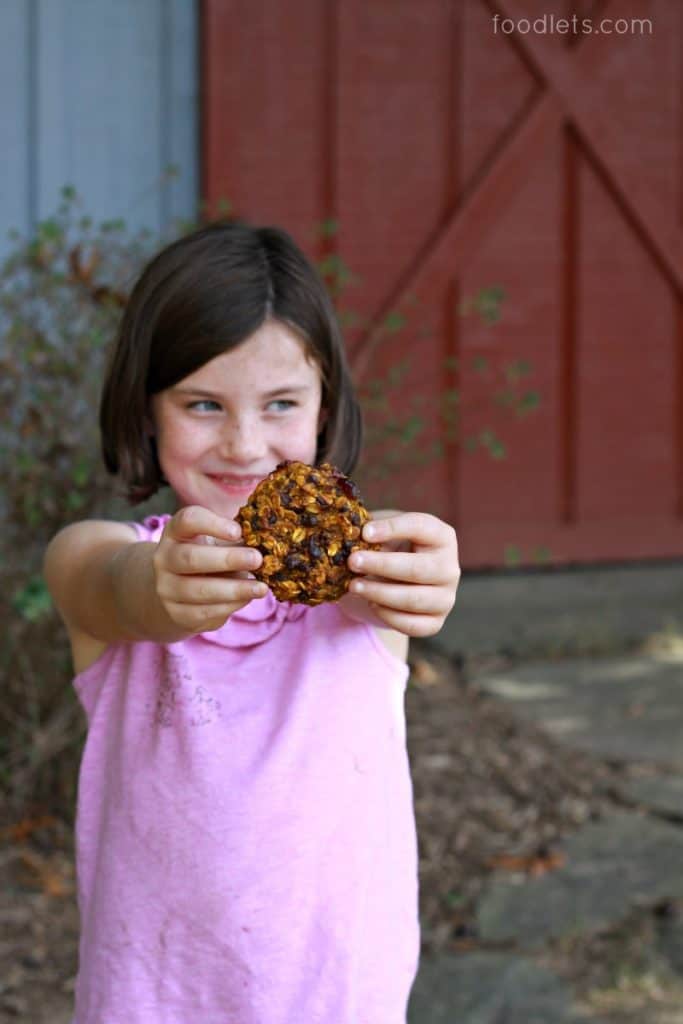 p.s. Want more delicious breakfast ideas (that just happen to be full of healthy & nutritious ingredients?) Try these: Ham, Egg, Cheese & Veggie Breakfast Sandwiches and Peach Crisp for Breakfast.