What's the secret/only hope for a healthy breakfast recipe on busy school days?
A make-ahead breakfast sandwich like this one!
For our favorite new healthy breakfast recipe, starts with leftover roasted vegetables.
This could be roasted cauliflower. Or oven roasted broccoli. Sauteed spinach would be delicious too.
But like so many of our recipes, this is just a guideline.
Use whatever you have on hand. Whatever your kids like. And top with any combination of bacon, turkey, sausage or cheese.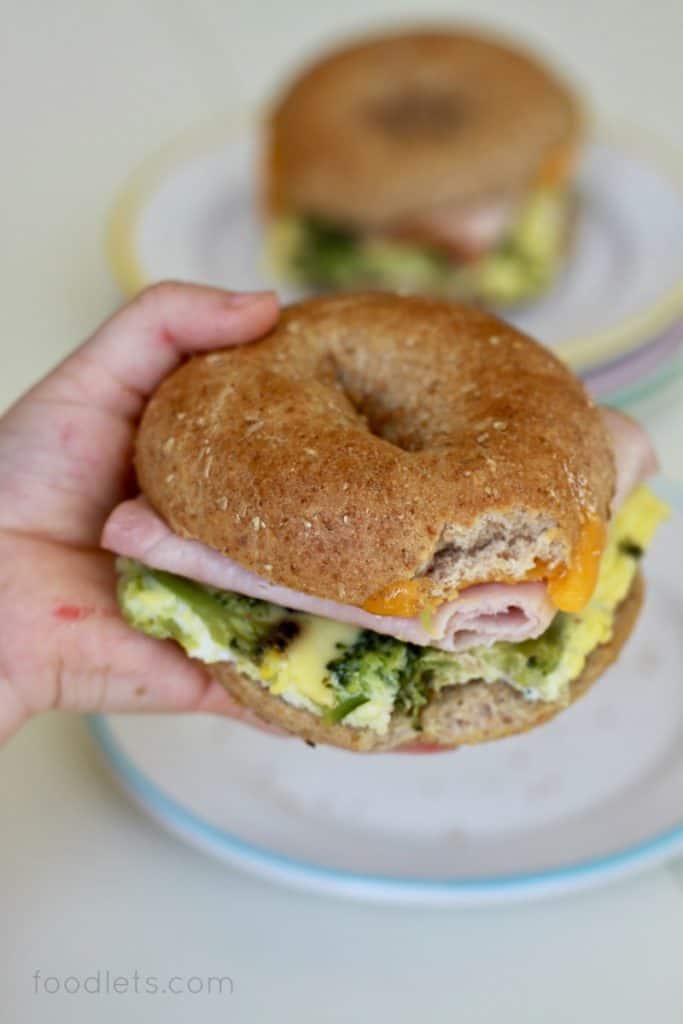 How to make these make-ahead breakfast sandwiches
Add half a dozen eggs to your favorite sheet pan or casserole dish plus a splash of milk and the veggies of your choice.
I diced up our broccoli since it was still in spears. Note: Go light on the broccoli if your crew isn't expecting veggies in their eggs but DON'T WORRY. There will be other yummy flavors involved.
Cook your eggs at 350 degrees F for about 15 minutes.
When they're done slice your eggs into squares.
We paired ours with whole-wheat bagels and cheddar cheese to start.
For the next batch we added a thick layer of salty ham. The combo was perfect.
How to store our make-ahead breakfast sandwiches
Other recipes like this one swear by freezing the whole thing and reheating in the microwave. That's where we diverge.
For our favorite version, I stored our breakfast sandwiches assembled but not melted, in a covered casserole dish in the fridge. They'll stay fresh and delicious all week long.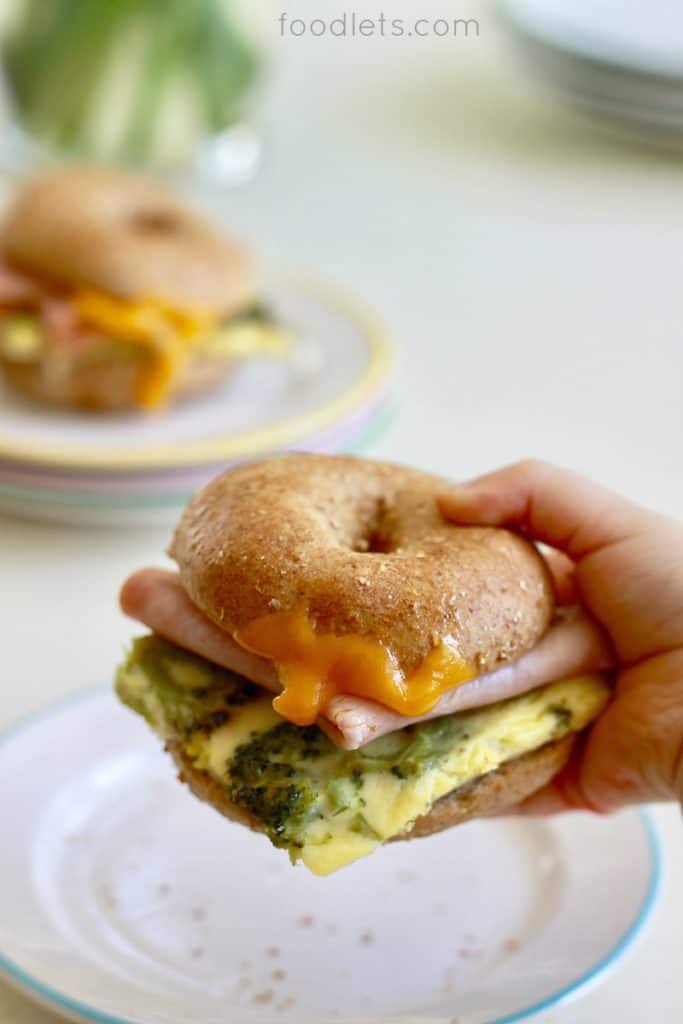 How to reheat our make-ahead breakfast sandwiches
The broiler!
Place both halves of the bagel on a sheet pan. On one side you have the slab of egg. On the other half you have ham and cheese.
Load up the pan with as many mini bagels as you need and broil on LOW for about 2 minutes. That'll heat everything all the way through.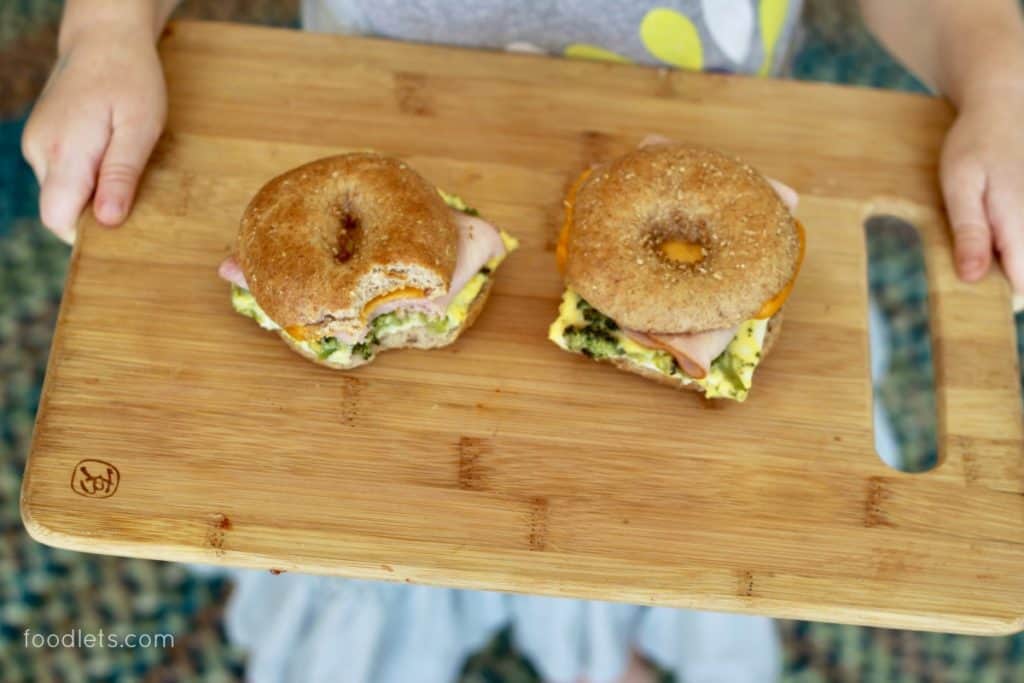 Make-ahead egg, cheese, ham & veggie breakfast sandwiches
Ingredients
½-1 cup roasted vegetables
6 eggs
3 tablespoons milk
½ teaspoons salt
¼ teaspoon pepper
cheese
ham (or turkey or sausage or bacon)
8 mini bagels
Instructions
In a small mixing bowl, beat eggs and milk together until frothy.
Add salt and pepper.
Pour into greased baking sheet or casserole dish and bake at 350 degrees for about 15 minutes, until set.
Allow to cool, then slice.
Assemble bagels with toppings (cheese, ham, etc.) and either store in a covered casserole dish in the fridge OR to serve immediately: open both sides of each bagel, arrange on a sheet pan and broil for 2 minutes on LOW.
ps. The only thing I love more than a healthy breakfast recipe is a make-ahead healthy breakfast recipe. Right now our favorites are
chocolate chip oat cups
and
sheet pan pancakes
.