As the mom of four kids, here is one thing I believe: Making dinner doesn't always have to be so hard.
Because sometimes it is. So hard.
The problem with managing a household full of four small kids is that I have all these Pinterest-y ideas about how our lives should work. I picture it like an After School Special, with cheerful faces streaming in the door after school. A toddler on hand waiting to hug her big brother and sisters with doughy little arms outstretched.
But you guys know how this goes.
Faces are flushed, backpacks get flung. Words are spoken. And they aren't the nice ones.
I used to get SO ANNOYED that my plan for the kids wasn't working out. You know, because of the kids. And my expectations of the kids.
Now I'm starting to get it. My job isn't staging the perfect life.
It's ushering these kids through the process of life. It's okay to be tired. To be stressed out. To need a break. And I'm talking about the kids. I have all these feelings. Why wouldn't they?
I've got to get my ducks in a row up front if I'm going to have a prayer of keeping my cool once all that hot energy comes bursting in. To expect that things might go awry. And remember that even the biggest fuss passes in a few minutes.
The second thing is giving myself a leg up on making things easier. For dinner. For lunches. For all the jobs I do. Sometimes a make-ahead dinner can save the day. Dinner's out of the way, and my attention isn't divided between the kids who just need a soft place to land and making the dinner to feed them.
As it turns out, a fresh dinner, full of good-for-you ingredients, is can be as close as that container of leftovers in the fridge.
Especially when those leftovers are Magical Turkey Pesto Meatballs.
They may not be world peace. But I'll totally settle for household peace tonight.
How to make Turkey Pesto Meatball Pockets
You need 3 things:
Pizza dough (or pie crust!) +
Cheese (mozzarella, parmesan or both)
Start with a batch of our Magical Turkey Pesto Meatballs.
Take three of those little nuggets of deliciousness, sprinkle them with cheese and bake the whole thing side a thin and crispy layer of dough.
Bake them at 400 degrees for 15 minutes and dinner's ready.
Print
Make-Ahead Turkey Pesto Meatball Pockets
One store-bought pizza dough will make 4 pockets. You'll need 2 pie crusts for 4 pockets. The portions for this recipe will make 4 pockets.
Author:
Cook Time:

15 mins

Total Time:

15 mins

Yield:

4
Ingredients
1 store-bought pizza dough or 2 pie crusts, rolled out and sliced into 4 pieces.
12 turkey pesto meatballs (see link for recipe)
1 cup mozzarella cheese
1/2 cup parmesan cheese
1/4 cup pesto, optional
Instructions
Preheat oven to 400 degrees F.
Roll out dough or crust.
Slice dough or crust into 4 rectangles.
Add 3 meatballs to each rectangle on one end.
Sprinkle with cheeses.
Add a teaspoon of pesto, if using.
Fold edges over and crimp with a fork. Poke dough with fork 3 times to allow air to escape.
Bake for 15 minutes.
To reheat, cover with foil and bake at 350 for about 15-20 minutes.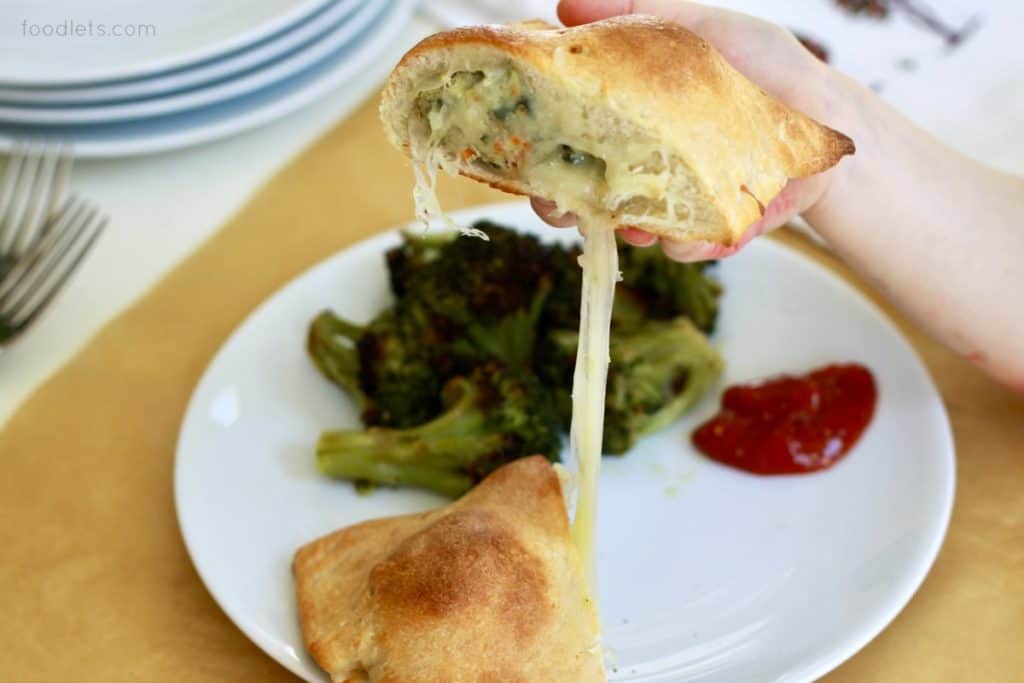 Not bad for leftovers! These pesto pockets also make an awesome lunch, served cold or at room temperature.
ps. Add a salad or roasted cauliflower for a 4-THUMBS UP side that comes together in minutes.