This is the best mac and cheese I've ever made.
Kids love it. Parents feel good about serving it. And for those two reasons, I call it magical.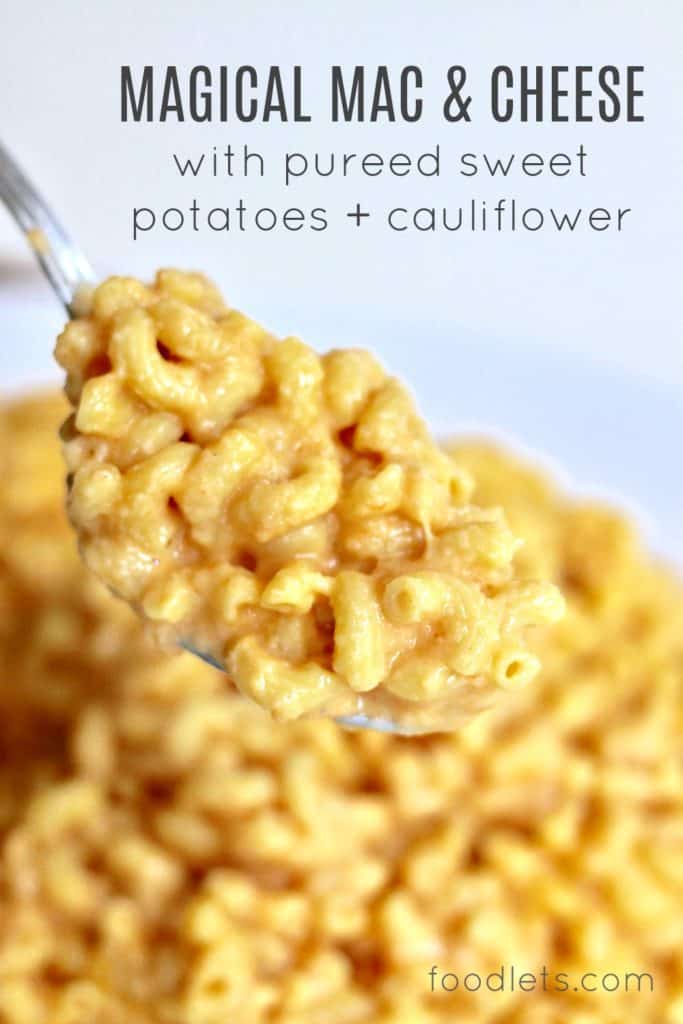 With just a handful of ingredients, it's possible to whip up a comfort food favorite like mac and cheese that just happens to be full of vegetables.
Keep it a secret or tell the kids that veggies are honestly part of what gives this mac and cheese so much flavor! Like the fact that I eat a bowl of ice cream the moment they go to bed every night, I say disclosure is entirely up to parents.
What Makes this Mac & Cheese So Good
There are a few tricks to cooking magical homemade mac & cheese. They separate the so-so stuff from something kids stand on their chairs for, so their Thumbs Ups can physically stretch higher. (That's a real thing.)
1. Riced Veggies. 
I add a whole bag of frozen cauliflower and sweet potato to every pot of mac and cheese. That's the "magical" part. The pieces are already so small, they cook quickly and blend up easily.
You could certainly start with half a bag but I'd cook and puree the whole thing in one step. Use half this time and throw the rest in the freezer when you make another batch again. Time saver!
Here's how it works. I put a pot of water on to boil (finally) using my pasta pot with a steamer insert.
While that's warming up, I grate the cheese and pull the other ingredients out of the fridge and pantry.
When the water is hot, I throw the whole bag of riced veggies, cover with a lid and cook for 3-5 minutes, depending on how close the water got to boiling before I doused it with frozen food. When it's done, I just pull up the insert–along with all the cooked veggies–and the water remains boiling.
That's when I add the pasta. Cook for 7 minutes and remove that too.
During those minutes, I puree the veggies in my little food processor that's technically a baby food maker but potato-potatah-to. It works!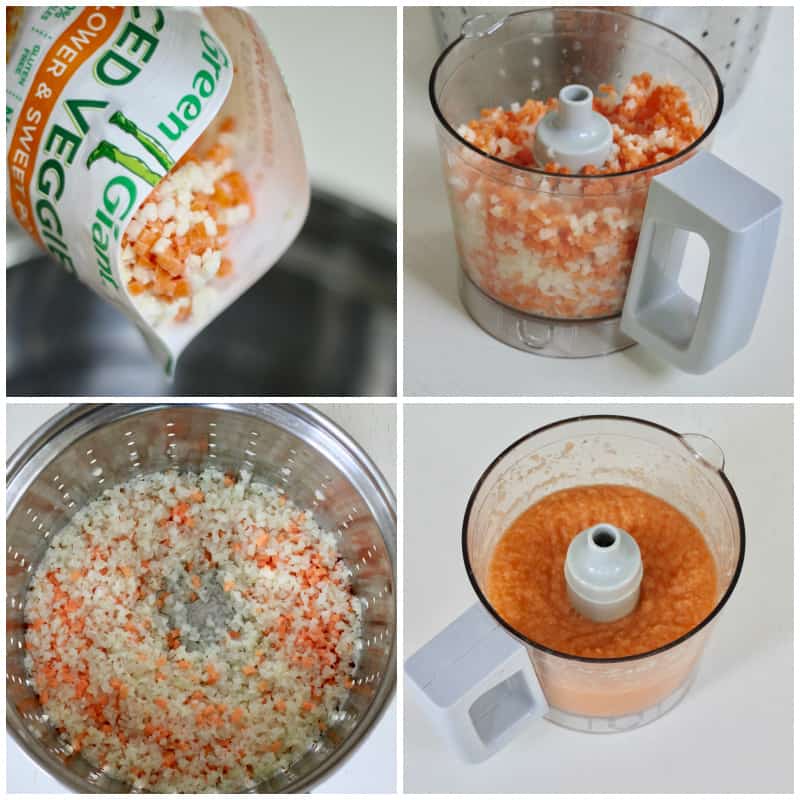 2. The cheese.
I use extra sharp cheddar and unless I'm in a wild rush, always try to grate it myself. There's just more flavor.
3. Flavor boosters. 
Remember the mustard and egg? Both of them work hard to add richness and zing. And DON'T WORRY. The egg cooks in the combination of screaming hot noodles and extra cooking water. And while you're at it, don't be shy with the salt and pepper. When it comes to home cooking, you really have to season like you mean it if you want any flavor.
4. Keep a little cooking water.
In order to liquify the cheese sauce–and melt the cheese–you'll need to reserve a cup or so of the cooking water. Since the hot water is full of starch, it won't make your mac and cheese runny. Just add it at the very end and stir, stir, stir.
After all that, you'll have a rich and creamy cheese sauce that's also packed with sweet potato and cauliflower! Not to mention a tiny protein boost from that egg.
Pretty good for a bowl of mac and cheese.
You might even call it magical.
Print
Magical Mac & Cheese With Hidden Veggies in a Creamy Cheese Sauce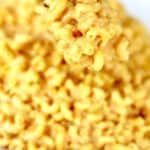 Author:
Prep Time:

5 mins

Cook Time:

15 mins

Total Time:

20 mins
Ingredients
1 bag "veggie rice" (or 2 cups of any combination of cooked and pureed sweet potato, cauliflower or carrots)
8 ounces extra sharp cheddar cheese (2 cups shredded)
1 egg
2 tablespoons mustard
1 box of elbow macaroni
Salt and pepper to taste
Instructions
Fill a large pasta pot with water and begin heating.
Once the water is hot, add "veggie rice" and cook for 3-5 minutes. Ideally you'll use a steamer insert here, filling it with the veggies and pulling the whole steamer out of the hot water once the veggies have cooked. Strain. (If this isn't possible, put the veggies in a microwave-safe bowl with 1/4 cup water and microwave for 5 minutes, then strain.)
Add pasta to hot water, cooking for 7 minutes.
Puree the vegetables in a food processor, adding a couple tablespoons of cooking water as needed to liquify.
Grate cheese.
Strain the pasta, RESERVING 1 cup of cooking water.
Combine the pureed vegetables, cheese, egg and mustard in the pasta pot. Stir well. Pour the hot pasta back on top of the cheese sauce. Stir again. Add salt and pepper to taste.