Sponsored post written by me on behalf of Smithfield® Marinated Fresh Pork. The opinions and text are all mine.
You know those videos that kept popping up on Facebook a while ago? The ones with hearty European kids racing through the woods during a whole day spent outside with axes? Everyone has ruddy cheeks and looks like they just stepped out of a Dickens novel?
That's exactly how I pictured our summer this year.
Only with fewer woolen sweaters.
My kids running across the fields, laughing, forging over fallen logs. Perhaps discovering a creek. (There isn't actually a creek on our property but that little bit of reality has no place in this particular fantasy.)
"I get up really early and get a bunch of work done before the kids even wake up," I'd explain to anyone who asked me what our summer plans were.
Were the kids going to camps? What about a nanny?
"No, not this year. Nope, we're doing it all ourselves. Every morning I'll take the kids for a bike ride with the puppies, have a snack, do a chore and so on. I have a whole plan for the whole day," I'd say. "I'm going to Super Nanny them!"
Blank look.
Just, nothing.
That was the reaction from any parent listening to my tidy summer plan. One hundred percent of the time.
Well…I'm happy to report that the plan did work.
For half the summer.
There were bike rides. And chores.
In June.
Then we went on vacation in July and something happened. We lost momentum. And when I say "we" I mean even I've spent more time on the sofa in front of Netflix in the last 14 days than I have in the last six months combined.
Summer-laz-itis! It got us, and good.
On his way to work my husband now wanders into the living room, wearing a crisp shirt and saying things like, "Okay, have a good day everyone. Everyone?" That's because we're all hypnotized by The Great British Baking Show. At 8:15am.
We couldn't help it. The forest will have to wait. Besides, how will we know who wins the Show Stopper if we don't watch just one more bake?
But after about a couple weeks of this even God is like, um guys can you please get it in gear? Here, try this year-round school schedule. That should do it. That's right. It's taken a full-on spiritual intervention to break us out of our one-more-episode stupor.
So here we are! Four weeks into a new school year for three of my little guys.
Back-to-school brings lots of things around here: new shoes, new teachers and most of all, tired kids, just exhausted from long days that don't involve an afternoon movie.
That means dinners need to be simple enough to cook quickly but also tasty enough to please a crowd who's usually about 10 seconds away from crying at any given point in the evening.
Enter: The Sheet Pan Dinner.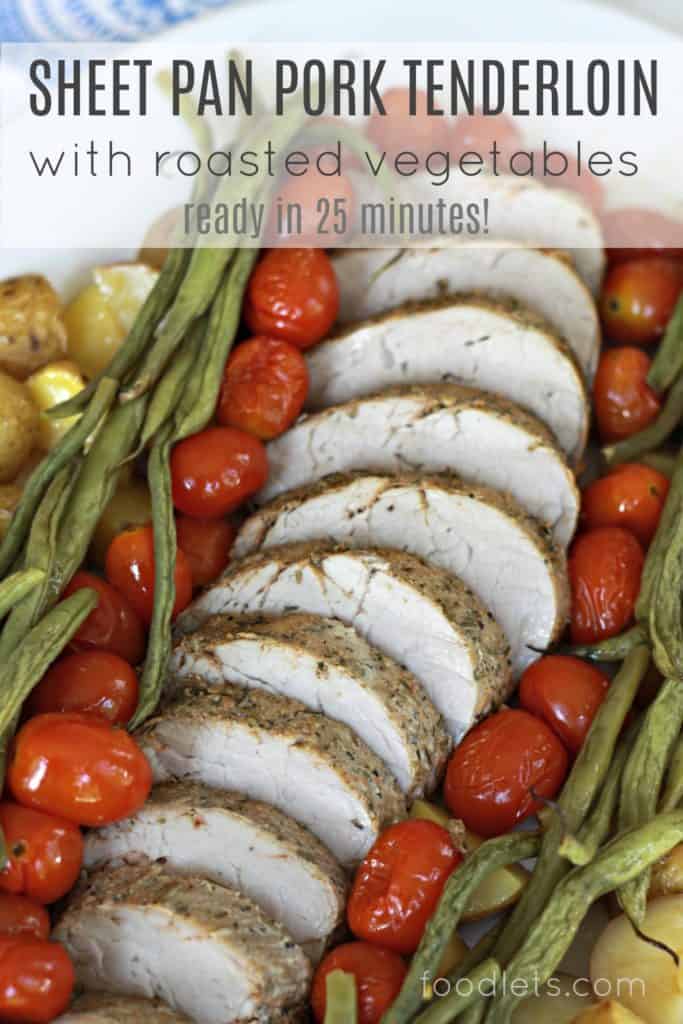 Click on the photos to get a coupon for $1 off Smithfield Marinated Fresh Pork from Kroger
For today's sponsored post, I'm using a Smithfield Marinated Roasted Garlic & Herb Fresh Pork Tenderloin from Kroger.
It's already marinated so all you need to do is throw the whole thing on a baking sheet, along with the veggies of your choice. To the vegetables just add olive oil, salt and maybe a crack of fresh pepper and that's it.
Into the oven your entire dinner goes, to come out 25 minutes later. Perfectly cooked. Already seasoned deliciously. Ready for a hungry crew.
It's the perfect dinner to eat on the patio, which turns out to be more of our speed than a day spent in the forest.
The ax thing did seem pretty cool though.
Oh well, there's always next summer.
COUPON: Save $1 on your own Smithfield Marinated Fresh Pork at your local Kroger locations: Dillons, Food4Less, Fred Meyer, Frys, King Soopers, QFC.
Print
Sheet Pan Pork Tenderloin with Roasted Vegetables: A 25-Minute Meal Full of Flavor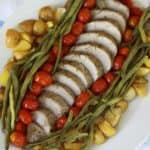 Author:
Cook Time:

25 mins

Total Time:

25 mins
Ingredients
1 Smithfield Marinated Roasted Garlic & Herb Fresh Pork Tenderloin
1 pound new potatoes, quartered
1 pint cherry tomatoes
1 pound fresh green beans
3 tablespoons olive oil
1 teaspoon salt
1/2 teaspoon pepper
Instructions
Preheat your oven to 400 degrees F.
Set the pork on a baking sheet, then arrange the vegetables around it.
Slather the vegetables with olive oil, salt and pepper.
Bake for 25 minutes, until the pork's internal temperature reaches 160 degrees F.
Allow the pork to rest on a cutting board, covered loosely with foil before cutting.
Serve everything together and enjoy!
#RealFlavorRealFast @SmithfieldBrand