For the first time ever, I planted eggplant in my garden. And guess what? There's now an Eggplant Situation out there.
So you can guess what's going on in here.
All the eggplant recipes.
I've experimented with Baked Eggplant Parmesan in summers past but this new idea is even simpler. Put a whole bunch of summer veggies in a pan, saute, and serve. We've had this simple ratatouille on toast (heaven) and with pasta (also awesome.)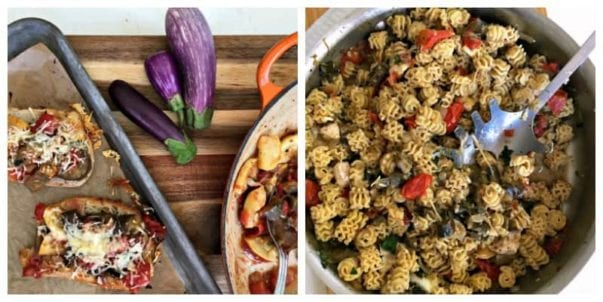 Here's how you can make them both.
Make the ratatouille.
Print
What to do with Eggplant: Ratatouille Your Kids Will Love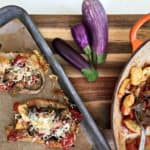 Author:
Cook Time:

25 mins

Total Time:

25 mins
Ingredients
2 tablespoons olive oil
1 onion, sliced thin
2 garlic cloves, minced
1 medium eggplant, cut into 1/2-inch pieces (about 3 cups)
1 small zucchini, quartered lengthwise, and cut into thin slices
1 red bell pepper, chopped
1 14.5 ounce can diced tomatoes
1/4 teaspoon dried oregano
1/4 teaspoon dried thyme
3/4 teaspoon salt
1/4 cup white wine (or 2 tablespoons white wine vinegar)
1/2 cup chicken or vegetable broth
1/2 cup shredded fresh basil leaves
Instructions
In a large sauté pan, cook onions in oil over medium heat for about 3 minutes.
Add garlic, eggplant, zucchini and pepper. Stir and cook until all veggies start to get soft, about 10 minutes.
Add tomatoes plus oregano, thyme, salt and wine. Simmer for 2 minutes. (Don't worry! The alcohol will burn off.)
Add broth and cook for 10 additional minutes, as juices from the veggies start to get thicker.
Sprinkle with fresh basil leaves and serve.
Ratatouille Over Toast
Serve over something like the rosemary bread we got from the grocery store bakery and finish with a little cheese–any kind–under the broiler for 1 minute.
"I just need to grow more thumbs so I can explain how good this is!" – Phoebe, age 9
Ratatouille with Pasta
To serve with pasta, I like to cook a pound of short pasta but drain it 1 minute BEFORE the package says to stop cooking. Add all the gooey goodness of your ratatouille PLUS 1 cup of mozzarella cheese, shredded.
For extra heft, grill a chicken breast or two and dice that up too. Dinner's ready!