There's nothing I like more than a yummy dinner that can be made from the leftovers of ANOTHER yummy dinner. Cook once, eat twice, cheer, relax and repeat.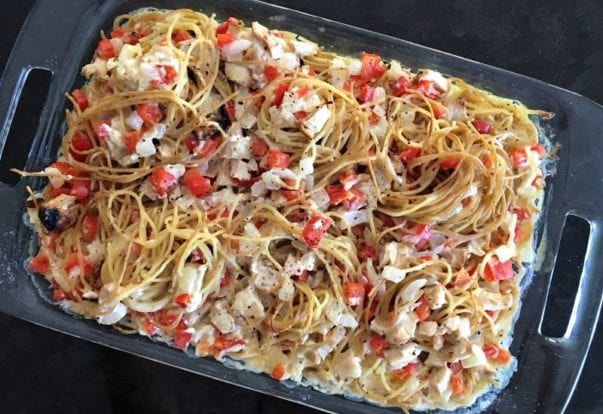 Tonight's dinner started with our awesome lemon chicken earlier in the week. This time I cooked it on the grill but you could certainly throw your chicken in the oven like we did here.
Save half of that chicken and you've got the makings for a totally different dinner on another night: Chicken and Bell Pepper Pasta Bake, courtesy of the one woman who's coming dangerously close to nudging Ina Garten off the top of a list called Woman I Most Want to Be: Joanna Gaines.
You only have to glance at my copy of Magnolia Table to know I'm a crazy person fan.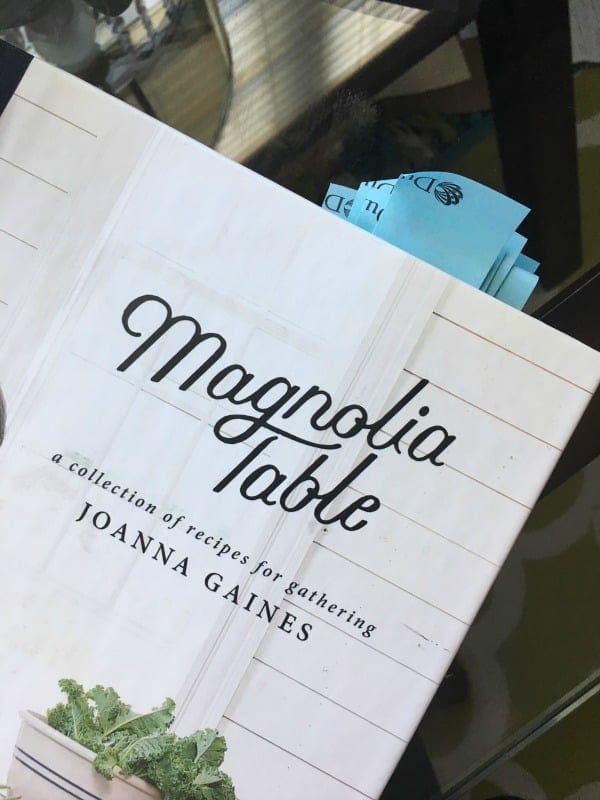 I've made TONS of things from this book and they're all yummy. But I've also given most of them the Foodlets treatment. For reasons of health (the kids') and happiness (mine), my goals for adapting recipes always include some combo of the following:
simpler
more affordable
more nutritious
cuter
My recipe for this Chicken and Bell Pepper Pasta Bake covers two: Simpler and more nutritious. I hope you love this as much as our family did!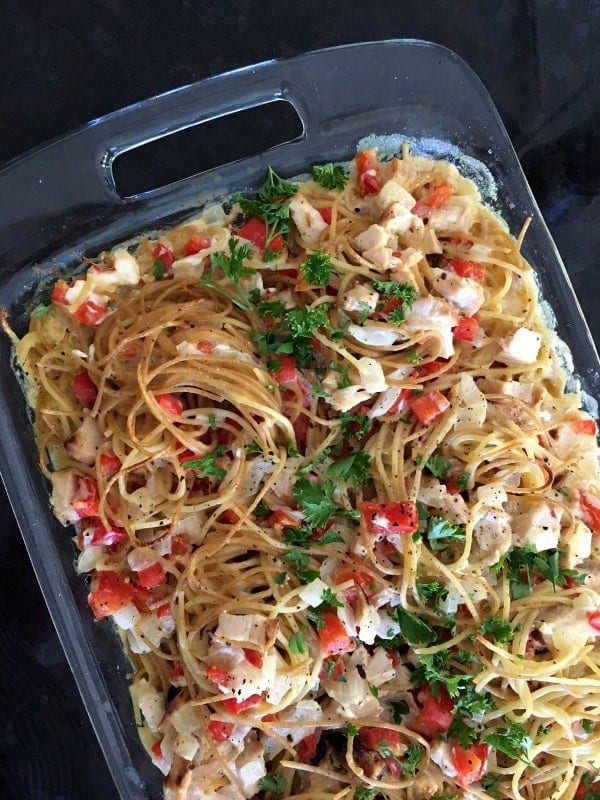 Adapted from Magnolia Table by Joanna Gaines.
Print
Chicken and Bell Pepper Pasta Bake
Adapted from "Magnolia Table"
Author:
Cook Time:

40 mins

Total Time:

40 mins
Ingredients
1 pound spaghetti (I use half a box of whole wheat plus half a box of plain pasta)
3 tablespoons butter
1 sweet onion, diced
2 bell peppers, diced
1/2 cup chicken broth
1 1/2 cups whole milk
1 teaspoon salt
1/2 teaspoon pepper
2 cups extra sharp cheddar cheese, shredded
8 ounces of cream cheese
2 cups cooked chicken (breast or thighs), shredded or diced
2 tablespoons fresh parsley for garnish
Instructions
Preheat oven to 350 degrees F.
In a large sauté pan, cook onion and peppers in butter until soft. About 10 minutes.
Meanwhile, prepare pasta very al dente (2 minutes less than the package suggests).
Add chicken broth, milk, salt and pepper into the sauté pan. Stir in cheese plus cream cheese.
Combine pasta with cheese sauce and chicken.
Pour into a 9×13 baking pan prepared with butter.
Cover with foil and bake for 20 minutes. Remove foil and bake for another 10 minutes.