I saw comedian Tom Papa read this excerpt on Conan and laughed so hard I nearly cried. Because who hasn't nearly cried when trying to feed their kids? It ain't easy, all this trying to instill values and habits of good nutrition, but at least today it's hilarious. From his book, "Your Dad Stole My Rake", an excerpt:
Feeding children is the worst. Not the starving ones in dis­tant lands—they'd at least be appreciative—I'm talking about the ones who live in my house. It should be joyful and grati­fying when you make something and feed the ones you love. But when the ones you love are under three feet tall, that is seldom the case. Feeding your own children is more nerve­ racking than cooking for a cranky New York Times food critic who just had his car towed.
My kids don't like anything. They eyeball their plates like an agent on CSI looking for DNA. They see a speck of pepper and they completely shut down.
"What's that green thing?" "Why is this different?"
"Mom doesn't make it like this."
"Is this a different kind of veggie burger?"
"I'd like to see the chef. Oh, you are the chef? Well, you're fired."
I honestly don't get it. When I was a kid I was a garbage can. I ate stuff the dog passed up. If I didn't recognize a food, I didn't even ask what it was, I just figured it out by eating it.
Liking it was beside the point. I hated Brussels sprouts but that didn't stop me from eating them. I crammed them into my mouth, washed them down with some milk, and moved on. I was just happy that somebody gave me some food. Maybe that's why at eight years old I was the same size I am today.
My sisters were more picky. They would poke at the green beans and make horrified faces at whatever was underneath the brownish gravy. I remember them having classic old­ school standoffs with my parents where they had to finish their dinner or they wouldn't get to leave. They usually got out of it by feeding the dog and me under the table.
I think we give our children too many choices. I don't re­ member eating out, or ordering in, or stopping off at the Starbucks drive-­thru for a cotton candy latte. We played all day, got so hungry we couldn't take it, then ran home and ate what they gave us.
My kids walk into the house like it's Applebee's and immediately ask to hear about the specials. If they don't like the answer they let me know about it. And if they hear that their sister does like it, they immediately don't.
I tried for years to make them happy. Maybe they'll like this? Maybe they'll like that? But nothing worked. When I failed to come up with anything, I thought, Maybe if we just don't feed them, they'll get so hungry they'll have to eat what we give them. This could have worked, but my wife doesn't like starving our own children as much as I do.
When I was living in New York, I met parents who were proud that they finally got their children to eat by giving them sushi. How is this a good thing? So in order to get the kids to eat you have to whip out the credit card and act like you're taking a big client out on a business dinner at Sushi Dan?
After all these years I just gave up. No more trying to get them to like fish or looking for recipe ideas on the internet and talking to other parents. I'm done trying. From now on all they get is plain pasta. It's the only meal that never disap­points. It's nothing but starchy noodles with virtually no vitamins or minerals, but they eat it every time and, at this point, that's all I can ask for.
If I had the money and the energy and knew anything about business I would open a restaurant and call it Plain Pasta. Do you realize how popular this would be? Families would be dying to get a table at Plain Pasta. Anyone with a child would be making reservations months in advance, planning their birthday parties and ordering take­out.
How happy would kids be in a place where plain pasta was the only item? It's tailor­-made for them. Their parents can't suggest that they try the scallops or eat a vegetable because there aren't any. There isn't even a pepper shaker in the place. The parents will be ecstatic too, because they wouldn't have to worry about what to feed them. They could skip ordering altogether. Walk in, sit down, and whammo!, a big bowl of plain pasta is slammed down before them like it's feeding time at the zoo.
By the way, this is not affiliated with my other popular restaurant, Chicken Fingers. That place is a little more down and dirty. There are no utensils at Chicken Fingers. There aren't even napkins. You pick up your chicken fingers with your hands, out of a metal bucket, dip them one of our twelve dipping sauces, and wipe off your hands on your jeans.
There are chairs for the adults, but not at the tables. The parents sit in lounge chairs around the outskirts of the room, drinking beer and wine, while the kids run around the place grabbing chicken fingers, eating what they want, and throw­ ing the rest at their friends.
Oh, what sweet irony it would be if I were to become a millionaire from these two restaurants! For years my kids don't eat a thing I make and suddenly, here I am feeding the children of the world. A celebrity chef from just two dishes.
It could happen.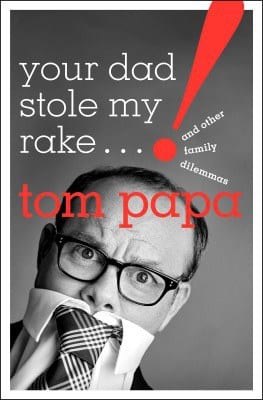 From YOUR DAD STOLE MY RAKE by TOM PAPA. Copyright © 2018 by the author and reprinted with permission of St. Martin's Press, LLC.