It came out of nowhere, as wakeup calls often do. My seven-year-old's playdate was over. The little girl's dad and I stood in my living room chatting while shoes were gathered and teary goodbyes said. That's when small talk turned into a very humbling Q and A. "Hey, who's that woman?" he asked, pointing to a framed photo on my piano. "Um, that's me," I stuttered. "On my wedding day!" This is not the part where he said, "Oh, of course!". Nope. Instead he leaned closer, squinted and doubled-down. "Really?"
Sigh. All the sighs.
Now, let's be fair. The photo was taken almost 10 years ago. Both my hair and makeup were done by actual professionals that day. The picture is black and white. Plus, this portrait is a reflection of me looking in a mirror, with a veil over my face. But still.
Unrecognizable?
I stood there incredulous when two thoughts immediately came to mind: Who else would be in a double frame with a photo of a man who's clearly my husband, who this guy also knows? And how different could I look? That's when my mind wandered into a visual inventory of myself. Like my own private game of Can You Spot the Differences? Let's see, instead of a custom-fitted gown that cost more than my first car, today I'm rocking a droopy cotton t-shirt and shorts with an elastic waistband. My frizzy hair is desperate to escape the ponytail I spent two seconds on earlier that morning. I'm sweaty. And for the pièce de resistance, there's not a drop of makeup on this face and a distinct lack of false eyelashes… Fine. I guess I could see where he was coming from.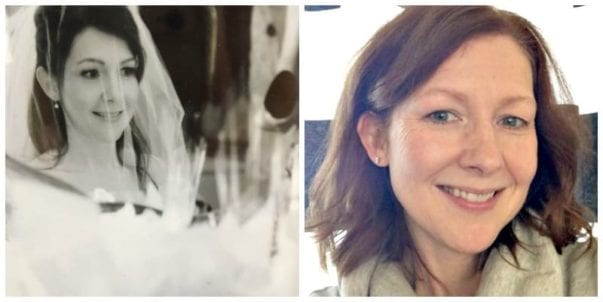 And to be honest, if it was just my look, I could almost live with that. But it's not.
I don't take care of myself the way I did back then. And it's not like I don't know how. Just one glance at my four children's world is a peek into the Good Life.
Our oldest three started school last week and each one wore a brand-new outfit, freshly picked for the occasion. Last time I went somewhere important, I found myself flipping through clothes I used to wear to my office in New York City (also nearly 10 years ago). Well, I'd think, if you don't want a slightly outdated (and likely pinch-y) skirt, you could always go with this number from last year's pilgrimage to the Old Navy outlet. I used to go to sample sales and buy nice things. Now I go to Target sales and buy cheap things.
Superficial you say? Maybe. But I also dutifully drive my four-year-old to dance class every Tuesday. Meanwhile on Wednesdays my phone flashes an alert that I once set during an optimistic afternoon. "Yoga!" This is an evening class that I have never been to. Not once.
Then I think about how I feed my kids. Yesterday I fried four eggs – produced by my own backyard flock of chickens – and nestled those fluffy yolks between freshly baked whole-wheat biscuits. Guess what I had for breakfast? A plum. That I grabbed out of the fridge, dashing out the door so we wouldn't be late for school.
Appearance, fitness, food. All aces if you look one way. The kids are doing great! All jokers if you look the other. I'm kind of a mess.
What would happen if I put the same amount of care and attention into myself that I do for my kids? I would have a weekly appointment with an activity I love. My diet would be hearty and fresh, the kind of food that nourishes me, giving me more energy to feel great all day.
It's not just a lack of energy. It's almost a lack of hope. Pessimism at its worst. I know I won't look like that lady in the photo because I don't know how to do hair that way. Never did! And because I've had four children in the past 10 years, I've got an extra 10-15 pounds around my midsection. I don't buy fancy clothes because I don't want to spend money on outfits for myself in this shape. If I did, it would mean I plan on staying here. The only issue is…I don't have a plan for getting the heck out of Gut-ville.
Or at least I didn't. Until now.
I started with little goals. At the beginning stages of turning a ship like this around, I find it's the best way. I made a list of all the things I'd do if I were living my best life: exercise, eating, spirit, appearance, and so on. Then I break it down into tiny tasks I know I can nail one at a time: Today, I will take a walk when the kids go down. When I do, I will feel great about myself. Tomorrow, I will focus on drinking four big glasses of water. That's a win! Another day I might make myself a gorgeous smoothie full of fruit and avocado with a dash of chia seeds. It's a breakfast I love yet rarely take the time for. One day this week I'll set my alarm just 15 minutes early so I can meditate, setting the tone for a solid day ahead. Repeat, repeat, repeat. Eventually all of these little practices will be familiar and I'll have the skills – and the discipline – to weave them all together.
Then I bring other adults into it. I just made that hair appointment I've been dying to get to for ages. I wrote the evening yoga class on my husband's calendar so he's got the heads up. You're on Parenting Duty that night. Mom's out.
The key is to coach myself the way I would a kid. To set myself up for small successes that add up to a healthier, happier, life. If I treated myself like I do my children—the way I used to—I think you'd recognize me anywhere.
Sound familiar? Join me and Denise Pastoor of Sunstone Wellness on Saturday, September 8 for a 3-hour energy-boosting workshop for busy moms like me who need a break! Denise will teach holistic self-care tools in mindfulness, meditation, and yoga flow. And I'll show simple on-the-go recipes to give you more energy (plus sleep better too!) Coffee, snacks and lunch are all provided. Register now!