I've made this easy one-pot meal twice in the last two weeks.
Because I love Chili-Roni. And so do the kids.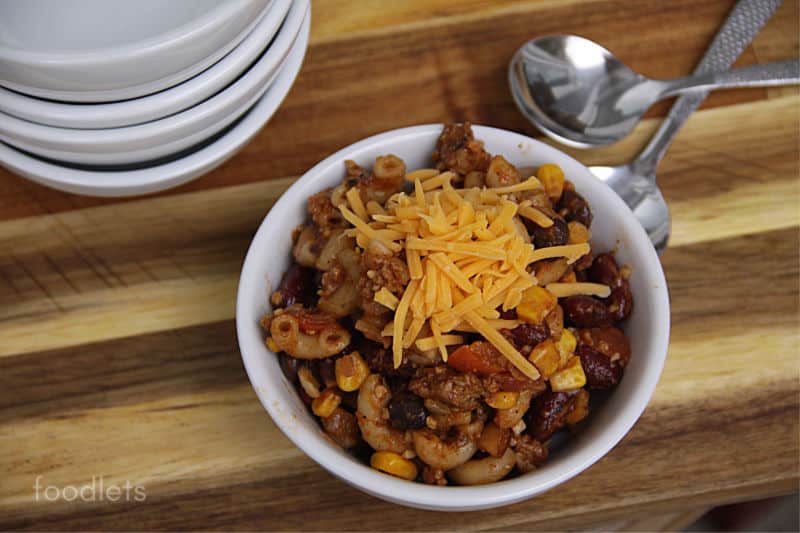 If you're looking for a fast and easy meal your whole family will love, add Chili-Roni to your list. Because:
That means the smallest amount of cleanup possible.
It's fast.
The whole thing comes together in 30 minutes.
*The one that taught our kids to be salad believers.
This recipe feeds a crowd.
You'll have plenty to save for another dinner or share with someone in need.
Everyone loves this dinner.
It's a four-thumbs-up crowd pleaser.
Foodlets Review
Phoebe (9): "Can I stand on my chair? I'm trying to get as tall as I can so my thumbs can get higher!"
Here's how you can make our new family favorite:
Print
One-Pot Turkey Chili Macaroni
Author:
Prep Time:

10 mins

Cook Time:

20 mins

Total Time:

30 mins

Yield:

8
Ingredients
2 tablespoons olive oil
2 bell peppers, chopped
1 sweet onion, chopped 
1 pound ground turkey
2 teaspoons chili powder
1 teaspoon salt
1 teaspoon cumin
1 teaspoon dried oregano
12-ounce can diced tomatoes
12-ounce can black beans, rinsed
12-ounce can low-sodium chicken broth
2 tablespoons tomato paste
2 cups uncooked pasta (elbow is our favorite)
2 cups frozen sweet corn
shredded cheddar cheese for garnish
Instructions
In a Dutch Oven, combine the turkey, pepper and onions with olive oil over medium heat. Cook until the turkey is browned and the veggies are soft.
Add spices and stir.
Add tomatoes, drained beans, chicken broth and tomato paste. Stir and raise heat to high. Bring to a boil.
Add macaroni, reduce heat to medium. Cover and cook 10 minutes until pasta is tender.
Stir in corn and serve with a generous heap of cheese on top (or on the bottom AND on top!)
p.s. This delicious one-pot dinner is full of healthy ingredients but if you're looking for more great ideas, don't miss The Healthiest Foods for Kids, as per the smartest nutritionist I know! Plus, 10 Ways to Get Kids to Eat Healthy Food, the updates we made a couple of years ago that changed our lives forever.