THIS WAS A SURPRISE TO ME. Toddlers love eggs. Scrambled eggs. Green eggs and ham. Even baked eggs with a crispy crust and tons of tasty fillings. Served hot or room temperature, it's also as easy to eat like a pizza as it is with a knife and fork. And that's just the beginning.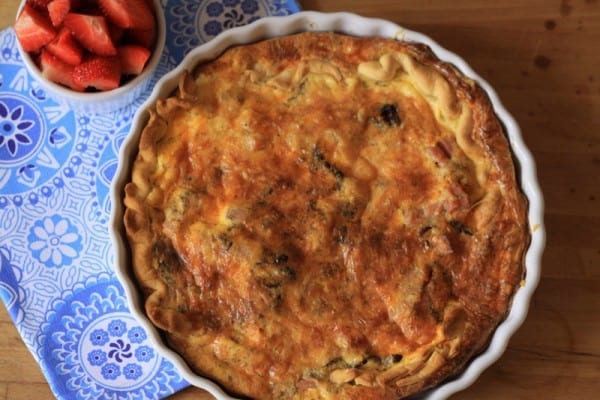 Our Sunday brunch version included cheddar cheese, cubed ham and pickled onions that I'd made for dinner a couple of nights before. But I've done this dish with every combination of spinach, peppers, asparagus, smoked salmon, bacon, pancetta and that's not even counting the cheeses.
The beauty of this kind of thing is just how versatile it really is: fill it with anything you and your family likes…or whatever you can find in the fridge. Hopefully there's a bit of overlap there. In fact, this is a good time to sneak in a few new flavors. Just cut everything up into very small pieces and go light on strong flavors like red peppers.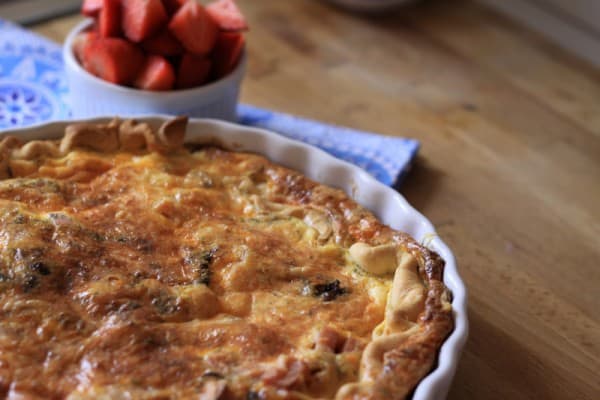 Print
easy ham & cheese quiche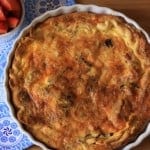 Author:
Yield:

4-6 portions
Ingredients
5 eggs
5 tablespoons milk
1 teaspoon salt
1/2 teaspoon pepper
1 teaspoon dill
1/3 cup pickled onions (optional)
3/4 cup cheddar cheese shredded or 4 slices
1/2 cup cooked ham
1 store bought crust, pastry dough or puff pastry
Instructions
Follow instructions for your store-bought pie crust. You'll want to "blind bake" it, meaning cook it in your tart or pie pan without any filling first. This probably means baking at 400 degrees F) and arranging the pastry with edges reaching up the side of the pan. Use your thumb and forefinger to crimp the edges. Prick with a fork and bake for approximately 15 minutes.
Meanwhile, combine eggs and milk in a large bowl and whisk for 3-5 minutes; the eggs should be fluffy. Add salt, pepper and dill. Stir briefly then add your remaining ingredients (onions, cheese, ham).
Bring pastry out of oven and pour in egg mixture. Reduce temperature to 375 degrees F and return quiche to the oven for 25-30 minutes.
Allow to cool for 5 minutes; serve warm or room temperature.
Like this one? Be sure to LIKE FOODLETS ON FACEBOOK so you'll never miss a new idea or tip.