LIKE THE STATUE OF LIBERTY, we can thank the French for this one.
Karen Le Billon, inspiring writer and author of my new fantasy lifestyle manual favorite book "French Kids Eat Everything", introduced this endive kiwi salad to our household.
And hold on to your hats because the kids ate it. Salad. One toddler, one preschooler, eating salad. C'est tres magnifique!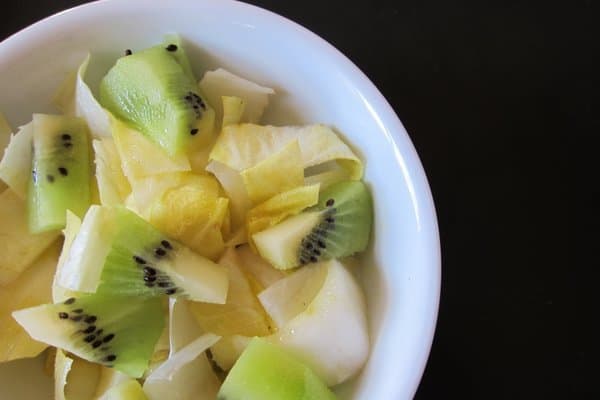 This kid-friendly salad was actually part of a multi-course meal at our place.
Further inspired by her tales of lovely family interaction over three courses, I decided to try it out.
Here's the verdict: we might wait until the kids are older. The idea of spreading out a meal, giving yourself ample time to digest (and realize when you've had enough), plus talk, laugh and share stories about the day is one of my biggest goals for our family.
But I don't think we're quite there yet.
Especially since two out of our three kids don't know how to talk yet. Not a lot of anecdotes to share there… For now, it was too much jumping up from the table, trying to go get the next thing, which was counterproductive to a harmonious experience.
But the kids still ate salad. Let's just celebrate that idea for a minute. Or more!
The secret of this salad's success was twofold:
Kiwi, a known and beloved item around here
And also a sweet orange vinaigrette
Here it is as part of a post about her grated carrot salad, which was also a hit at our house when we paired it with stuffed tomatoes.
Eating in courses also worked better for us on that night, so who knows. Maybe we'll try it again and the third time will work. Good things do seem to come in threes for us!

Endive kiwi salad, a recipe from "French Kids Eat Everything"
Ingredients
2 endive
2 kiwi
2 oranges, zested
2 small oranges, juiced or 1 large orange, juiced
2 tablespoons balsamic vinegar
2 tablespoons honey
1 clove garlic, peeled (optional -- and be careful because this may be spicy)
¾ teaspoon salt
¾ teaspoon freshly ground black pepper
¾ cup extra-virgin olive oil
Instructions
Chop the endive into bite-size pieces. Peel and chop the kiwi into similar sized pieces.
Prepare the dressing: Combine the orange zest and juice with balsamic vinegar, honey, garlic (if using), salt, pepper and oil. Stir until well incorporated. (I like to use a mini whisk and a large glass measuring cup.)
Drizzle over the salad, and toss to combine, just before serving.
PLUS: