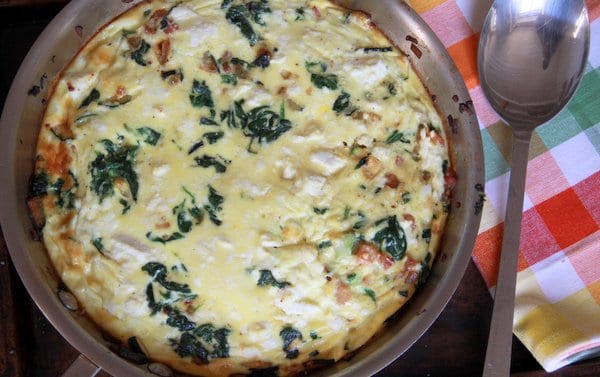 MY BIG INDULGENCE IN ITALY, other than one trip to the Gucci outlet and one million bowls of gelato (which was probably more expensive in the long run!), has been an international subscription to the Food Network magazine. I've definitely learned a lot from Italians when it comes to food, family and the combination of both. But its such a treat to see what's cooking back in the States–especially when it's not pasta! So, when Ina Garten's version of this frittata graced the cover recently, I had to recreate one of my own…with updates to make it easier and yes, a bit more Italian.
Ina's original was a roasted vegetable frittata, which seems delicious but too time consuming to roast the veggies first. To me, an egg dish must be easy and certainly not require more than one pan.  To start every frittata (or scramble for that matter) I always throw in a bit of bacon or, in this Italian version, cubes of pancetta, in a hot pan with a dash of olive oil. Next come the onions (diced finely or grated so they're not detected by pint-size palettes) and they all sizzle for a few minutes until the fat renders out and the meat becomes crispy. My spinach is almost always frozen in little cubes so I add them after a couple of minutes buy valtrex america too, allowing them to thaw in the pan while everything else cooks.
Our kids call this Green Eggs and Ham, and they eat it every time.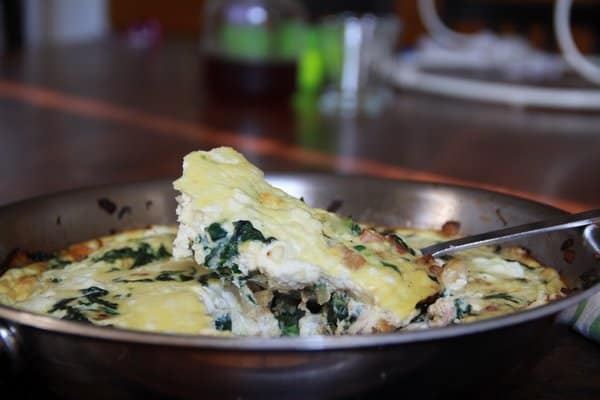 SPINACH, PANCETTA & RICOTTA FRITTATA (A BAREFOOT CONTESSA MAKEOVER)
ingredients
2 tablespoons olive oil
1/2 cup cubed pancetta (or bacon cut into strips)
1/2 onion finely diced or grated
1 cup frozen spinach
6 eggs
6 tablespoons whole milk
3/4 cup ricotta cheese
salt & pepper
instructions
Preheat oven to 425.
Use an oven-safe skillet (no plastic handles) on a burner at medium-high. Heat the oil then add pancetta. Cook for 2 minutes, stirring a couple times in the beginning so it doesn't stick. Add onion. Cook for 2 minutes then add frozen spinach (if thawed, let the pancetta and onion cook for 3 more minutes before adding.)
Meanwhile, whisk the eggs and milk in a separate bowl for at least 2 minutes so they're fluffy. Add a teaspoon of salt and 1/2 teaspoon pepper and mix thoroughly.
Back to the hot pan. Stir everything around so it's evenly distributed then pour egg mixture right on top. DON'T STIR. Drop teaspoons of ricotta throughout the pan. Sprinkle with a touch more salt and pepper (half as much as before) and transfer to the oven. Bake for about 15 minutes, until it's firm and cooked all the way through.
And just for fun, in honor of this semi-Italian dish, a few recent shots from Rome.