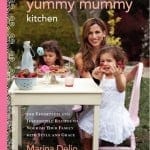 I NEED ALL THE HELP I CAN GET. Which is why I love grilling other parents who are in the trenches as well. Marina Delio's new cookbook, "The Yummy Mummy Kitchen", is so beautiful and full of fresh ideas, I knew she'd have a few tricks up her sleeves for feeding kids. From Brussels sprouts to handling a five-year-old with a cheese aversion, here are her best tips.
Which dishes from the book do your kids like best?
My kids really love the quiche and frittata recipes in the book. My 5 year old often asks for quiche in her lunchbox. I change up the veggies depending on the season. My girls also really love the Spaghetti with Butternut Squash and Peas. You can hear my five-year-old saying, "More please! I told you I loved it!" in our video trailer for the book, which was completely unscripted.
What kind of cooking tasks do your kids help with?
The kids' cooking tasks have evolved as they have gotten older. When they were one and two-years-old I would have them play or dance in the kitchen with me and do more pretend cooking than real cooking–whisking in an empty bowl, lining a muffin tin with liners, etc. They are now three and five and can do everything from washing produce to measuring and dumping ingredients to cracking eggs. But let me assure you, it is not without mess! One of the food tasks that we all really love is having the girls run out to the chicken coop to collect eggs or grab some rosemary from the garden. They feel so proud and are fascinated to cook with ingredients straight from their natural source.
Do you have any food rules at your house?
My biggest rule is that "Mom makes one dinner". I have to say, I am shocked when I hear parents say they make separate meals for their kids. Once kids realize you're not going to make something else when they say, "I don't like this," they won't ask you to. We are also working on table manners right now, but three and five-year-olds are not the best at staying still for long. I know these things will get easier with time, so I'm sticking to them because I know how important family mealtime is.
Is there one ingredient that you've ever had a hard time getting the kids to eat? And what (if anything, so far) made them believers?
My littlest will eat anything and has a very easygoing personality in general. My oldest, on the other hand, is another story. She has decided that she does not like cheese. I'm not pushing her to eat it because I know my strong-willed girl will push back even harder. Slowly she's started to try some cheeses on her own, like fresh mozzarella on pizza, and a particular cheddar with carmelized onions in it (she loves onions!) but still won't come near any other cheese. My bet is that she won't go into adulthood with a cheese aversion. When my girls don't want to try an ingredient I don't force them to eat it, but I do continue putting in their dinners so that it becomes more familiar to them. I can't remember when they realized they LOVE roasted Brussels sprouts, but it was not the first time I put them on their plates.
What's your best time-saving secret for preparing fresh meals like these?
My best time-saving advice is to keep it simple and focus on one-dish dinners. Making a main dish AND side dishes is just too much work for me two little ones during the week. I focus on one plant-based dish that has veggies, protein, and carbs in it. Some examples that are often on our table are: soups and stews, frittatas, stir fry, pastas with lots of vegetables in them, and big dinner salads. Keep lots of fresh produce around and know a few basic recipes that can be made with most any vegetables you have on hand, like the ones mentioned above. Fresh herbs can quickly spruce up a dish, so I like to keep some potted on my windowsill or planter box.
Sounds delicious. A few recipes to get started, right here on Foodlets: