THESE MUFFINS STARTED IT ALL. The first time I made our pumpkin spice mini-muffins in Rome, I knew we were on to something because the kids liked them, but I loved them. Finally a decadent tasting baked good that I didn't have mixed feelings about. So we made spin-offs: carrot cake muffins, sweet potato muffins and more. But the original pumpkin muffins have been such a hit with so many kids in so many countries, I decided to give them a new makeover for fall. With less sugar, more honey and the addition of both flax and chia seeds, they might be our healthiest muffins yet. They're definitely some of the tastiest.
We made these on Phoebe's day to bring the snack at her preschool. It's a nut-free classroom and these complied easily. Since they're minis, I made enough for each child to have two plus a couple for the teachers. I also made another batch at home, freezing half immediately and using the others for everything from breakfast to snack to lunch side dish. Nothing puts a smile on a four-year-old's face like seeing a tiny muffin perched next to a cheesy quesadilla on her plate. And when it's something this simple, and so good for them, that makes me smile too. Until it's time to tackle the mountain of crumbs under George's highchair, but still…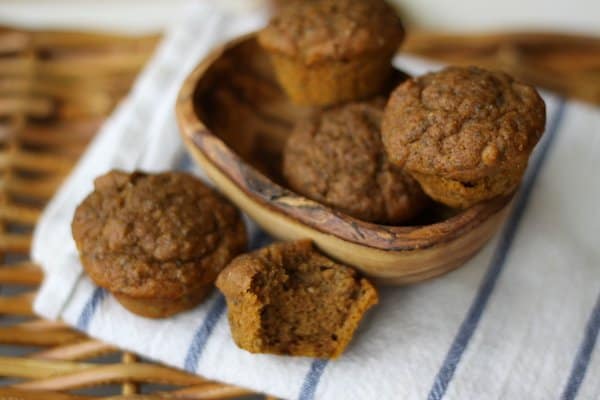 EVEN HEALTHIER PUMPKIN SPICE MINI MUFFINS
makes 48 mini muffins
ingredients
4 eggs
1 12 oz. can pumpkin
1/2 cup olive oil
1/2 cup applesauce
1/2 cup honey
1/2 cup sugar
1 1/2 cup whole wheat flour
1/2 cup flax meal (ground flax seed)
1/4 cup chia seeds
3 teaspoons cinnamon
1 teaspoon ginger
1/2 teaspoon nutmeg
2 teaspoons baking powder
1 teaspoon salt
1 teaspoon baking soda
instructions
Preheat oven to 400 degrees F. Prepare mini muffin pan with a non-stick spray or muffin liners.
In a large mixing bowl, combine the wet ingredients–eggs through honey–and whisk together. Add the sugar and stir. Put a sifter over the mixing bowl and add the dry ingredients–flour through baking soda. Sift into the bowl then stir together, breaking up clumps but don't over-mix. Fill pans almost full and bake for 10 minutes. The muffin tops should spring back when you touch them.