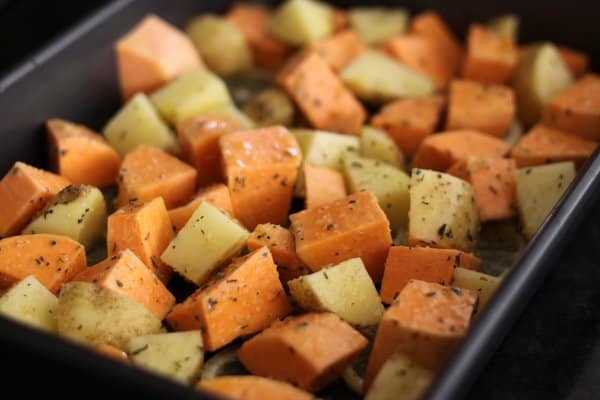 WE ALREADY KNOW THE KIDS LIKE ROASTED POTATOES. But spuds, full of potassium as they are, still don't have the nutritional punch as some of their neighbors in the produce section. Here's the solution. I'll use the proven potatoes as a starting point then slip in some sweet potatoes (or carrots) just to add color, and a bit more nutrition. Will there be squawking? Yes! Will they all try it? Yeah, probably.
Our four-year-old is actually the best turn-coat of the bunch. She'll tell me how she definitely doesn't like something that she has never tried (apples come to mind) only to finally take the one bite she knows we ask of her and…grins.   
Roasted Potatoes & Sweet Potatoes
ingredients
1 medium sweet potato peeled
2-3 medium yukon gold potatoes
3 tablespoons olive oil
1 teaspoon salt
Choose what flavor(s) work at your house: dried buy valtrex 1000 mg oregano, fresh rosemary, dried thyme, garlic powder
instructions
Preheat the oven to 425 degrees F.
Peel the sweet potatoe (you can leave the yukons' skin on) and cut all the potatoes into bite-size chunks. Assemble the chunks on a parchment lined baking sheet (for easier cleanup) or just a regular baking sheet. Slather on the olive oil then sprinkle salt and herbs. There's nothing exact or precise. Just load it all up and use your hands to work the oil and herbs onto the potatoes. Spread them all out into a single layer and try not to let any of them touch. They'll cook better.
Cook for 25 minutes, flipping at the 20 minute mark.
Taste one piece as it cools and add more salt as needed. (I usually only add a little salt to the adults' portions. We're lost causes.)