MY MOTHER-IN-LAW is a very good cook, and this easy egg dish, like zucchini lasagna, whole wheat jam tarts and these good-for-you cookies, is one we learned from her. With three grown kids and six grandchildren of her own, she knows all about cooking for a brood. She made it for us on a recent visit to Florida and I wasn't surprised at all when the kids actually clapped as I served it to them at home. They remembered how rich and satisfying it was, and I'll tell you this. It didn't hurt me one bit to to see such happy faces across the table.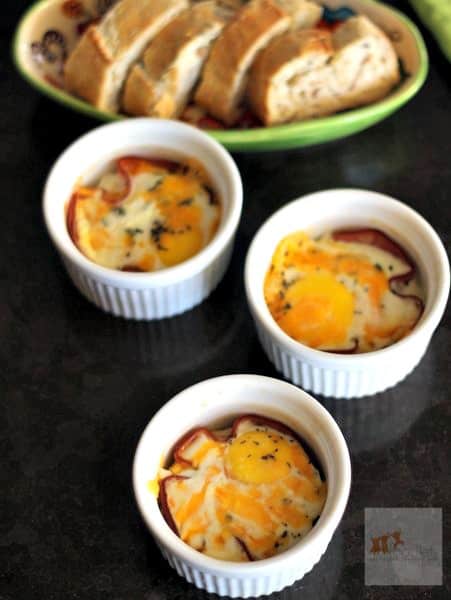 The benefits of this recipe are huge: it's inexpensive, easy to make and cooks pretty quickly. In fact, you probably have almost everything in your fridge right now. I don't usually have cream or half & half, so that was the one thing I picked up at the store. Plus a loaf of crusty bread but otherwise, it's a great dinner to make when you don't feel like making dinner (though I'm sure that never happens to you). Serve it with salad or a couple of bowls full of things like cherry tomatoes, mini sweet peppers and sliced cucumbers and just let the kids help themselves.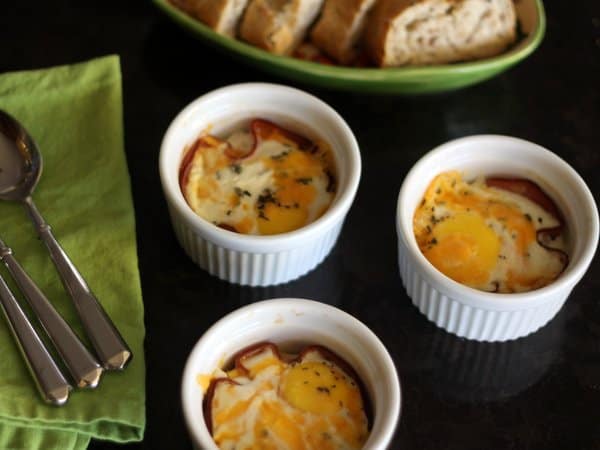 Simple Baked Eggs
This is the kind of recipe that you assemble one "kit" for each person, so adjust your quantities accordingly.
Use a small ramekin or baking dish for kids, and a slightly larger one for adult portions.
ingredients
butter
1 piece of sliced deli ham per bowl (I like the kind with no nitrates)
1 slice of Swiss cheese per bowl
1 egg per child, 2 eggs per adult (we used 7 eggs for our family of 5)
1 teaspoon half & half or cream per bowl
salt, pepper and any other herbs your family likes
instructions
Preheat oven to 375 degrees F.
Butter ramekins then layer ham and cheese, pressing along the edges of the bowl so there's room to crack the egg in the bowl. Add one egg for each child's portion and two for adults'. Add a splash of cream then sprinkle with salt, pepper and any other herbs your crew likes.
Place ramekins on a deep baking sheet or rectangle cake pan and bake for about 10-12 minutes. The smaller ramekins will bake faster; take them out and allow to start cooling while the adult portions finish cooking. Optional: remove the kids' baked eggs and serve them on a plate which won't be hot at all.