IT'S NOT THE MOST IMPORTANT HOLIDAY, BUT ST. PATRICK'S DAY can be really fun. Especially if you're four, three or even one–and there's special food on the menu.
Bonus, these mini reuben sandwiches aren't limited to leprechaun season so you can make them, and kids will love them, any time.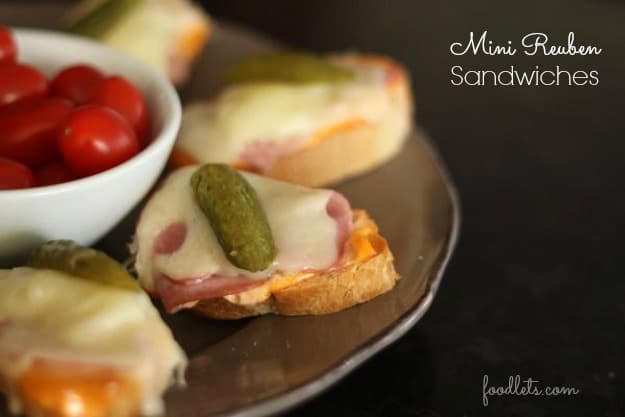 The ingredients might surprise you, especially the sauerkraut, especially the fact that our kids ate them, but we've got a lot of Irish blood running through this crew. Plus, they're actually really tasty.
First you mix together ketchup and mayo unless you have Thousand Island dressing on hand (and since this isn't 1982, I'm guessing you don't). Cut up a loaf of bread and arrange the slices on a lined baking sheet.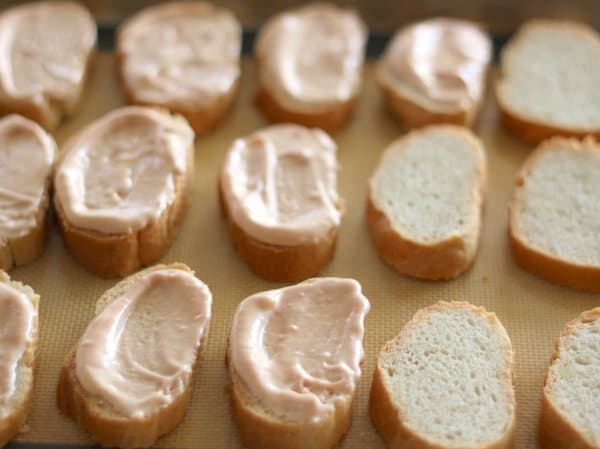 Slather.
Then layer on a piece of thinly sliced ham. Use deli ham (I like the kind without nitrates, dyes or added water) or any bits of leftover ham you happen to have from a recent (and particularly decadent) dinner.
Now comes the sauerkraut. It's pickled cabbage and somehow it just works for this recipe. Plus, cabbage is a power food and a good habit to get the kids into if you can.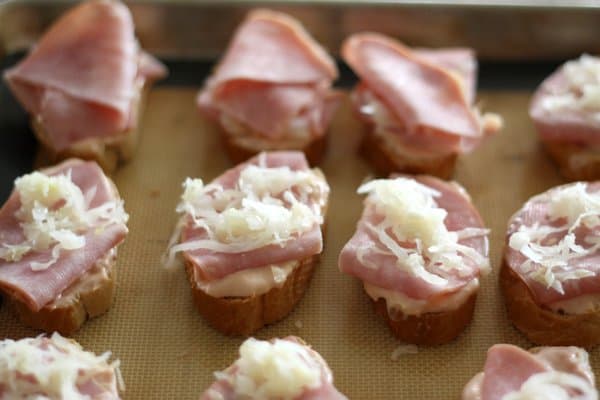 Here comes the Swiss cheese! You might think your kids won't like it but don't mention that it's a "new" cheese. (If they ask you, I say tell them that it's Swiss; I'm not into deception, just not calling attention to potential pitfalls). Our kids have always liked it, since it was readily available in Rome. It's actually cheddar cheese that's taken some getting used to as we continue to get settled here in the U.S. And also, if your toddler doesn't spill pickle juice all over your cheese, yours will look even better than this.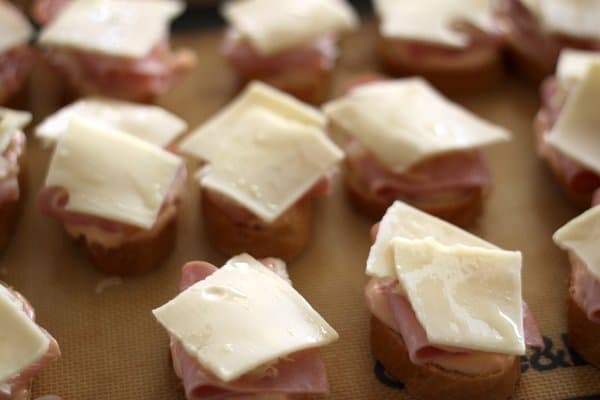 One sliced pickle on top. Or not. We are big pickle fans, and the flavor goes well. If your kids don't like pickles, it's an easy skip. And don't worry, they don't get weird during the cooking.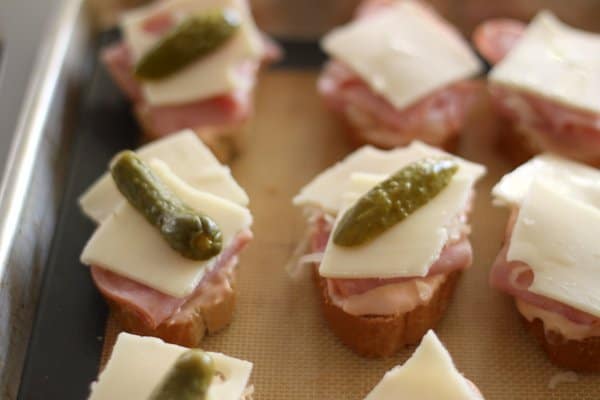 Roast in the oven at 400 for about 5 minutes. I like serving this kind of hot sandwich with lots of bright veggies. These greenhouse tomatoes were a huge hit the week we made these and an easy sell. Even better than fruit, I try to ply these guys with raw veggies during the day so there's not so much pressure at dinner time to eat your vegetables.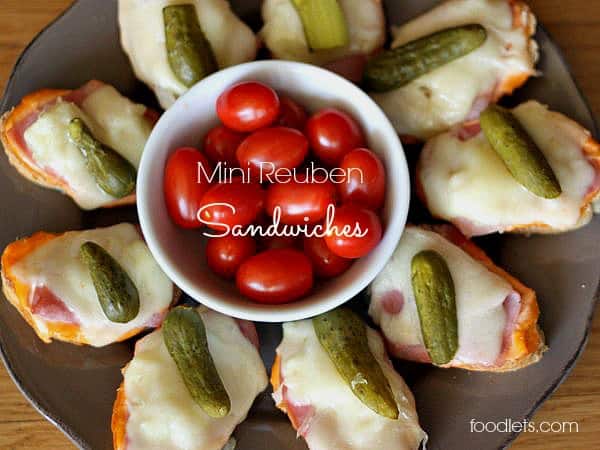 kid-friendly mini reuben sandwiches
makes about 20 open faced sandwiches, which fed our family of 5 for dinner easily (but 3 of those people are under age 5 so adjust accordingly)
Ingredients
thinly sliced baguette or cocktail bread (white, wheat, rye, whatever your kids will enjoy)
2 tablespoons ketchup
⅓ cup mayonnaise
10 slices ham, sliced thinly
1 cup sauerkraut (ours was in the bacon section of the grocery store but they have canned too)
5 slices Swiss cheese, cut in quarters
optional: 10 small dill pickles cut lengthwise
Instructions
Preheat oven to 400 degrees F.
Prepare baking sheet with silicone liner or parchment to avoid crusty cheese baking on. Cut the bread and layer ingredients: may + ketchup, ham, sauerkraut, cheese and if using pickle. Cook for about 5 minutes until cheese is just melted.