AS PART OF OUR SEMI-DELUDED PLAN to have friends over this weekend, we served homemade rolls along with two pastas, including this one that I learned how to make when we lived in Italy.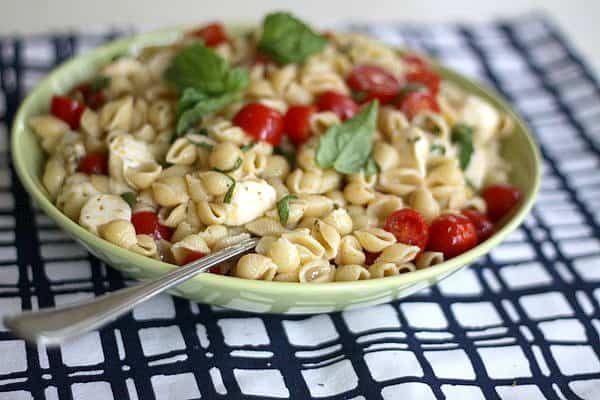 Our wonderful guests brought veggies and desserts including a chocolate layer caked called "Tall, Dark and Handsome". And yes, we're inviting them back again ASAP.
But back to this recipe, one that's so simple it's really a technique — and the simplest, tastiest way to welcome our newfound sunshine for spring.
Also, kids like it too.
In fact, if kids DON'T like everything in their bowls with this dinner, they can just yank out the offending items, set 'em aside and carry on with dropping half their dinners on the floor one forkful at a time. Business as usual.
Part 1: The Strategy
What if Your Kids Don't Like Tomatoes?
We've been working with the kids lately on what to do when such a situation arises.
Let's say someone sets a plate full of pasta in front of you and it's plumb with juicy cherry tomatoes…and you don't like tomatoes. What are your options?
1. TRY IT. Here's what that might look like:
Take a bite. Try it because what if this is different from something you've had before?
If you still don't like it, just stop eating that ingredient. Try the other stuff.
No need to start shouting, "BUT I DON'T LIKE TOMATOES!"
When your host is ready for your critique, give it a thumbs up, middle or down.
Say "thank you" anyway.
There have been times when at least two tots at our table were the ones shouting, "BUT I DON'T LIKE TOMATOES!" But we're working on them.
2. Alternatively, just give your kids a VERY SMALL PORTION. This is really about 2 bites. They'll eat that, then decide whether they want more. If you do this, serve something else like
raw carrots with dip
or a nice loaf of crusty bread so everyone fills up in the end.
Part 2: The Recipe
Now for the how-tos.
There are only a few ingredients and because it's such a spartan spread, everything has to be really tasty. Or as my beloved Ina Garten says, "really good". This is not the time to skimp on the special olive oil.
What's involved: cherry tomatoes, fresh basil, pasta, bocconcini (small mozzarella balls), salt, pepper and lots of the best extra virgin olive oil you can get your hands on. My friend Giuseppe lives in Rome and actually grows glorious rows of olives at his country villa…where his family produces their own olive oil. You don't have to do that, but you can get yourself a bottle (or 3) here and even though it's expensive, it's the most delicious money you'll spend all spring.
Either way, you just toss it all together, allowing the heat of the pasta to wilt the basil and tomatoes, and gently start melting the cheese. Drizzle on that EVOO, sprinkle with salt and a pinch of pepper and just dig in.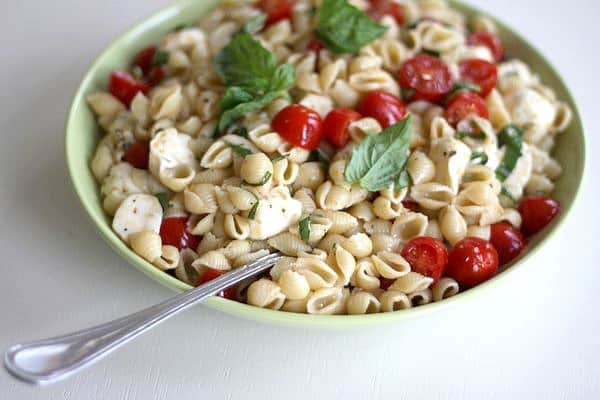 Simple Spring Pasta with Cherry Tomatoes, Basil & Mozzarella 
 ingredients
1/2 box of any small pasta such as shells, penne, and so on (whole-wheat blend or plain)
1 pint very sweet cherry tomatoes, cut in half
1/2 cup fresh basil torn or sliced into ribbons
1 cup mini mozzarella balls or bocconcini, cut in half
3-4 tablespoons extra virgin olive oil
1 teaspoon salt (or more to taste)
1/4 teaspoon pepper
instructions
Cook the pasta according to instructions, keeping it al dente. I usually undercook by 1-2 minutes from what the instructions say. Toss all the remaining ingredients together and serve.
If you liked this recipe, take a look at all of our pasta & rice dinners!
And don't forget to like Foodlets on Facebook and sign up for our newsletter (at the top of this page) where you'll find tons of kid-tested recipes and all the practical advice & encouragement you need to pull it off.