"IF YOU GUYS WILL TRY COUS COUS TONIGHT," I heard myself bargaining, "I'll make you pumpkin muffins for breakfast." And with three nods we had a deal.
I was desperate.
I already had this delicious pot of meatballs simmering on the stove when I realized I'd need something to serve with them, something starchy to soak up all that amazing smelling broth. Pasta would work but the thought of washing another pan made me want to cry tired. Rice was possible but takes so long to make. That's when I spotted this box of long-forgotten cous cous in the back of the shelf. Just add water, the directions said. Now that's a deal.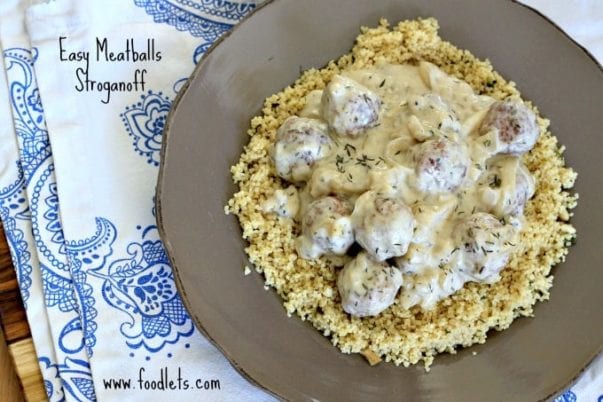 Version 1: Meatballs & Gravy. There are many things to love about these meatballs. Admittedly I didn't make them from scratch this time, though I have. (We love these turkey meatballs but they're definitely a nap time project.) This was a simple meal made with frozen turkey meatballs plus freshly sliced onions sweetened right in my skillet. Next came cream, wine and a touch of something from the seventies: Worcestershire sauce. Believe it. I LOVE this stuff, and more importantly for peace at dinnertime, the kids do too. I put it in burgers and meat loaf, religiously. It even makes stock and soup richer in flavor. I add a few drops every time. Ina Garten does and you know that's good enough for me.
Version 2: Whole Food Hamburger Helper. Instead of meatballs, just brown up a pound of ground beef, turkey or even sausage. The flavors will be the same, delicious.

1 Recipe 2 Ways: Easy Meatballs & Gravy Stroganoff or Whole Food Hamburger Helper
No meatballs on hand? Just use a pound of ground beef. Give the onions a head start by about 2-3 minutes, then add your ground beef to the pan and follow the rest of our instructions from there.
Ingredients
olive oil
2 sweet onions thinly sliced
¼ cup wine (or ¼ cup water plus juice of one lemon)
½ teaspoon salt
¼ teaspoon freshly cracked pepper
1 teaspoon dried thyme
1 12-ounce can reduced sodium chicken stock
1 tablespoon Worcestershire sauce
¼ cup half & half
2 teaspoons cornstarch
1 pound frozen meatballs (about 22 small meatballs)
Instructions
In a large skillet heat olive oil then add onions. Cook on medium-low for 10 minutes, until the onions start to get brown.
Turn the heat up to medium and add wine. Let the wine bubble off for about 2 minutes.
Add salt, pepper, thyme, stock, Worcestershire sauce and half & half. Bring to a low simmer and drop in the meatballs. Let cook for 10 minutes, coating (and warming) the meatballs. If you're not ready for dinner yet, turn it off, put a lid on the pan and let sit until you want it.
Note: For thicker sauce, take about ½ a cup of liquid out of the pan and put it in a cup. Add 2 teaspoons of cornstarch. Stir until the cornstarch has dissolved and put it all BACK in the pan. Bring the pan to a boil for a minute or so, until it starts to thicken.
Serve over noodles, rice or cous cous.