There are many things to love about this spinach recipe.
As the mom of four small kids, we're big on simple spinach recipes of almost any kind but this is is my go-to spinach recipe. Especially when I'm in a hurry or exhausted, two states that often come as a pair.
This spinach only requires a few ingredients, all of which are easy to keep on hand at any time. And it's vaguely Italian, which reminds me of our best times living in Rome, where three of our four  were born.
But let me tell you one thing.
I use wine in this dish too.
It is not required, though I think it's delicious and so do our kids. If you feel weird about cooking with wine for kids, or you already drank all the wine, you don't need it. Use water, use lemon juice or use 1/2 cup of chicken stock. The garlic powder and olive oil, however, are not negotiable. Do not make this without them. (And if you do, do not mention my name.)
Do give it a try though. In 10 minutes, you'll have a great little side dish you can make once a week. Believe me. I've fed it to four kids many times.
And I'll do it again!
Print
Simple Sides: Frozen Spinach + Garlic Powder & Olive Oil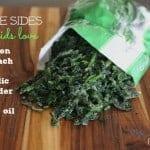 Author:
Cook Time:

10 mins

Total Time:

10 mins
Ingredients
3 tablespoons olive oil
1 16-ounce bag frozen chopped spinach (but 10 ounces will do, just use less liquid)
2 teaspoons garlic powder
1/2 cup white wine, chicken broth or water plus juice of a lemon
1/2 teaspoon salt
3-4 cracks of fresh pepper
Instructions
Heat olive oil in a large skillet, then add spinach and garlic powder. Stir for 2 minutes, then add your liquid of choice.
Add salt and pepper then bring to a simmer and allow liquid to evaporate a bit, about 5 minutes.
Serve when you're ready. This one can wait a while on the stove, and even be made ahead of time and warmed in the microwave.
Too much liquid? Just drain it off OR sprinkle with 2 tablespoons of breadcrumbs plus a bit of cream cheese for a rich variation: creamed spinach in minutes!
Don't forget to like Foodlets on Facebook and sign up for our newsletter (at the top of this page) so you'll never miss a simple recipe or tip.
And if you've tested out this recipe, what do you think? Let us know! I'd love all the details too:
How many kids do you have? 
How easy was this dish to prepare? 
What did the kids say? Thumbs Up, Middle, or Down?
Would you make it again?
Want more easy veggie dishes kids love?
Try a few of our rascals' favorites or browse all of our vegetable recipes here!