THERE WERE TWO STOPLIGHTS in the town where I grew up. And in between them was Rome Pizza. I told you about how much I loved their Hawaiian pizza when I was a kid but they also made something so mouthwatering I still remember it, all these years later. Grinders.
But here's the thing: I only got a bite of one, once.
Here is what I remember: a dark pizzeria, red leather booths, video games and a bite of my dad's sandwich that blew my mind. It was hot AND cold and dripping with vinegar dressing so tangy that yes. I still remember it. To be more accurate, I can't forget it.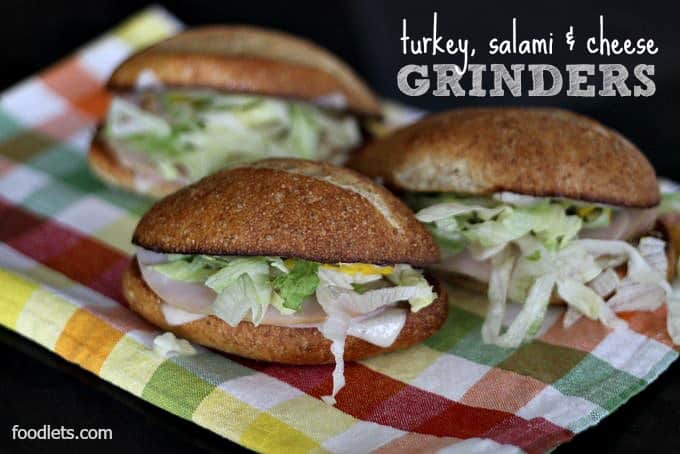 My version is done with whole wheat rolls, small enough for small hands and perfect for Make Your Own Sandwich night. That's one of my favorite nights around here and luckily, the kids love it too. Especially when these are on the menu.
2 WAYS TO LET THEM HELP: Choose one or both, according to the ages of your kids and the amount of patience you have at the time.
Let them assemble the meat & cheese before you toast the sandwiches in the broiler.
Have them heap on (or leave generic valtrex usa off) the cold stuff: lettuce, mustard and Italian dressing.
You know how sometimes you put the food down and everyone just STARTS EATING? They don't whine, they don't ask you to cut it. They just eat? That's the kind of meal this is.
The Foodlets' Rating
3/3 Thumbs Up
Phoebe (5) – Thumbs Up
Estelle (3) – Thumbs Up
George (2) – Thumbs Up
Print
Toasted Turkey, Salami & Cheese Sandwiches: Homemade Mini-Grinders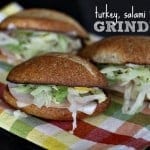 Depending on how many people are eating, you'll want to multiply the supplies below. A hungry adult will eat two sandwiches. Our small kids couldn't quite finish one.
Author:
Prep Time:

10 mins

Cook Time:

5 mins

Total Time:

15 mins
Ingredients
Small whole wheat baguette rolls
Sliced turkey lunchmeat
Sliced salami
Provolone cheese
Shredded iceberg lettuce
Mustard
Mayonnaise
Italian dressing (make your own with oil + vinegar) or just use your favorite from the store
Instructions
Preheat broiler.
Slice open your rolls and place them on a baking sheet, cut side up. Toast for about 1 minute but NO LONGER.
Pull the rolls out and layer on the fillings: salami, turkey then cheese on top. Toast again for about 2 minutes, until the cheese is hot and melty but NO LONGER.
Add shredded lettuce, mustard, mayo and/or Italian dressing and eat immediately.