I THOUGHT I NAILED IT with our 15-minute homemade mac & cheese.
Then I heard something mind-blowing. You can make one-pot pasta. With almost anything.
Now I just walk around saying, "Wait, what?!? WHY haven't we been doing this all along? Why have I been washing all these pans? Is this some sort of joint conspiracy fueled by the people at Mrs. Meyers and the hand lotion companies?" Things like that.
For some reason it's been hard for me to find new friends in North Carolina but I'm pretty sure that muttering about pasta water and extra pots, as though I'm starring in a playground production of Conspiracy Theory has nothing to do with it.
Nothing.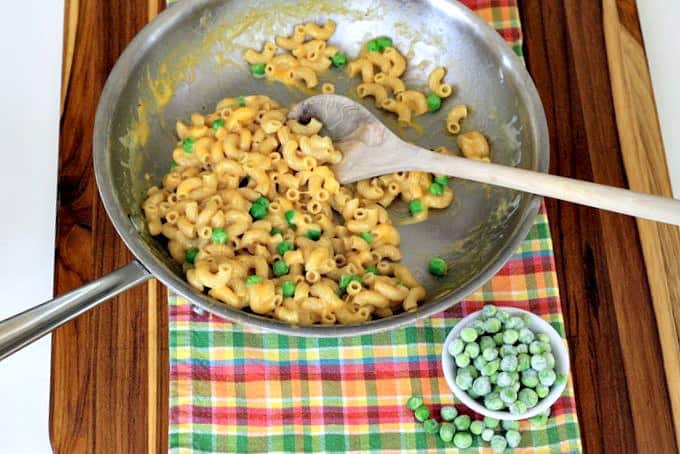 Anyway. Like our 15-minute homemade mac & cheese, this is VERY simple to make and full of fresh ingredients. Nary a powdered pack of cheese in sight.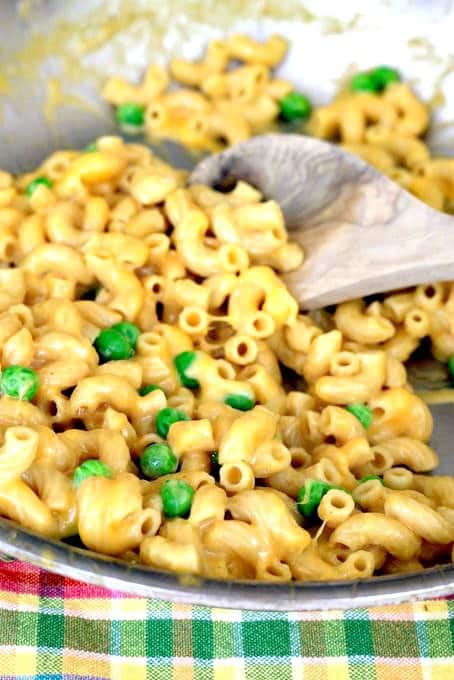 Both involve peas. And mustard. But this one doesn't even need an egg. And it's still ooey-gooey good.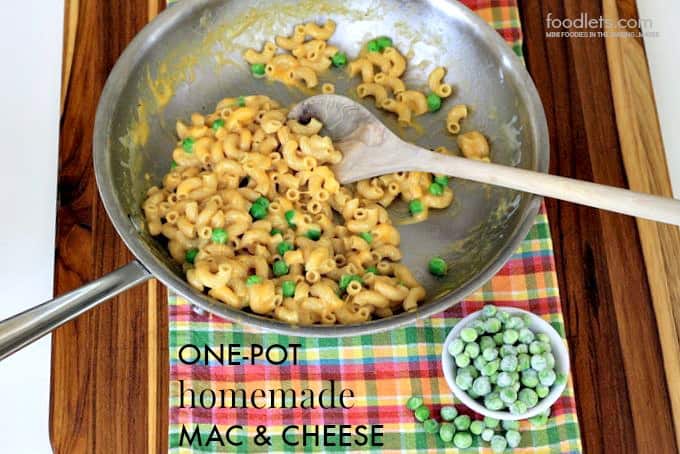 one-pot homemade mac & cheese
This recipe makes enough for 4 small kids. Double for a family meal.
Ingredients
1 cup whole grain elbow pasta
2 cups chicken broth
½ cup milk
½ teaspoon garlic powder
½ teaspoon salt
2 cracks of fresh pepper
1 teaspoon mustard (any kind)
¾ cup freshly grated extra sharp cheddar cheese
1 cup frozen peas
Instructions
Combine the pasta, broth, milk, garlic powder, salt, pepper and mustard in a skillet and bring to a boil.
Turn heat to low and simmer for about 12-15 minutes, until all liquid has been absorbed. If the liquid is nearly gone but your noodles aren't tender, add ¼ cup of water.
Once the noodles are soft and the liquid has soaked in, add the cheese and stir. (I like freshly grated because it has more flavor than the bagged kind.)
Add the peas at the last second. They're a great tool for adding a little nutrition (and color) but they also cool the dish down fast!
LEFTOVERS IDEA: If you have any left, mix a couple of beaten eggs into the pasta mixture. Then line a muffin pan and cook at 350 degrees F for about 10 minutes. You'll have lunchbox-ready pasta cups that can be stored in the freezer, or fridge.
***
Don't forget to like Foodlets on Facebook and sign up for our newsletter (at the top of this page) so you'll never miss a simple recipe or tip.
And if you've tested out this recipe, what do you think? Let us know! I'd love all the details too:
How many kids do you have? 
How easy was this dish to prepare? 
What did the kids say? Thumbs Up, Middle, or Down?
Would you make it again?