WE'RE ON A BIT OF A ROLL with meals like this slow cooker rice, beef, beans and peppers.
There's been quinoa enchilada casserole, slow cooker shredded chicken Tex-Mex, and one-pot Mexican casserole–each one a total success with the munchins. I mean, I don't want to jinx it or anything. Because if there's a roll, I want to be on it.
This is a kid-friendly healthy dinner served with such minor effort that even a teething baby like Violet doesn't have a chance to make a desperate grab for my leg while I'm trying to get everything ready.
That's because what I love about this dish is simple (and as I've discovered, unusual): EVERYTHING cooks in the slow cooker. There's no separate browning of the beef. Nary an extra pan for rice. Nothing. Just a one-pot slow cooker meal.
And dinner is served.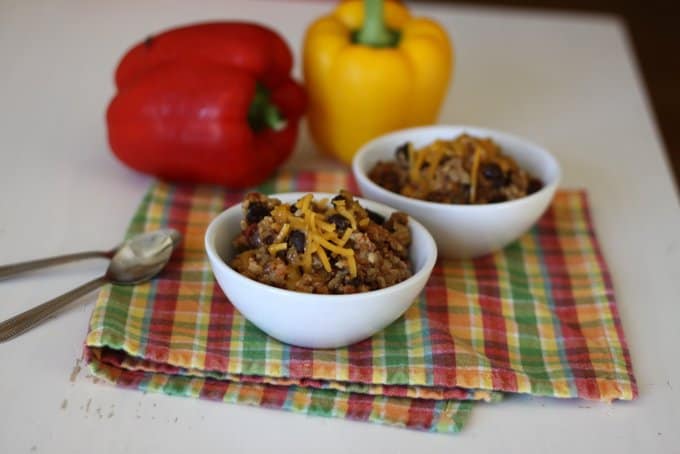 Each rascal can choose his or her own toppings. Things like cheddar cheese melt beautifully but these are also delicious options:
sour cream or plain yogurt
fresh lime wedges
tortilla chips
Slow Cooker Cheesy Rice with Beef & Beans
Don't cook the enchilada sauce (or second can of tomatoes) or the cheese in the slow cooker. Stir both of those ingredients in before you serve the dish. The cheese will melt and the sauce will come up to temperature immediately.
Ingredients
½ onion (red, sweet, white, any kind) diced
1 pound ground beef
2 bell peppers, medium dice
1 tablespoon garlic powder
2 teaspoons cumin
1 teaspoon salt
½ teaspoon pepper
1 14.5 ounce can black beans, drained and rinsed
1 14.5 ounce can fire roasted tomatoes, diced
1 14.5 ounce can low sodium chicken broth
2 cups uncooked brown rice
**1 can enchilada sauce (or another can of fire roasted tomatoes) **RESERVED
**1 cup shredded cheddar cheese ** RESERVED
sour cream (optional topping)
tortilla chips (optional topping)
avocados, diced (optional topping)
Instructions
Layer the ingredients in this order: onions, ground beef, peppers, spices, beans, spices, tomatoes, chicken broth, rice.
Cook on high for 4 hours.
Your rice should be fluffy by now. Add the second can of tomatoes or enchilada sauce. The contents of your slow cooker will be piping hot and should immediately bring the new liquid up to temperature. Add cheese, stirring in as well. The cheese will melt and become sticky, gooey and great.
Serve with toppings like extra cheese, sour cream, tortilla chips or avocados.