Well, something amazing happened.
Picture 5:30pm. On a bad day.
You know, when the kids are yelling and fussing, you're trying to get plates on the table and just as you do…everyone groans? Your husband is still at work and you're wondering why you even bother making fresh meals for a knee-high crowd who doesn't care?
Now consider the opposite.
Because last night was magical. Dinner got downright Lord of the Rings around here.
To be clear, I'm not sure how we got here. Has the constant barrage of healthy and varied meals finally started paying off? Possibly, but I'll just stick to the facts for now.
All four kids lined up for dinner like little soldiers. They jumped right into their chairs and when I explained this DIY bruschetta—Here's how dinner works. You take a piece of toast and ladle the juicy tomatoes right on top–they all said, "Okay!" No one complained. No one whined about not liking anything. They were totally game.
The rascals loved this one.
They loved the toast. They loved the tomatoes. Tomatoes with toast, tomatoes without toast, toast without tomatoes. When it comes to dinner, I care not about the configuration of each person's plate–only that there is a small person in front of it taking bites.
What else?
Lemon chicken fingers are always a huge hit but, I didn't have any lemons. So I grilled regular chicken fingers then whipped up some honey-mustard. By combining honey and mustard. Another runaway hit.
Seriously, they're still talking about our "homemade honey-mustard".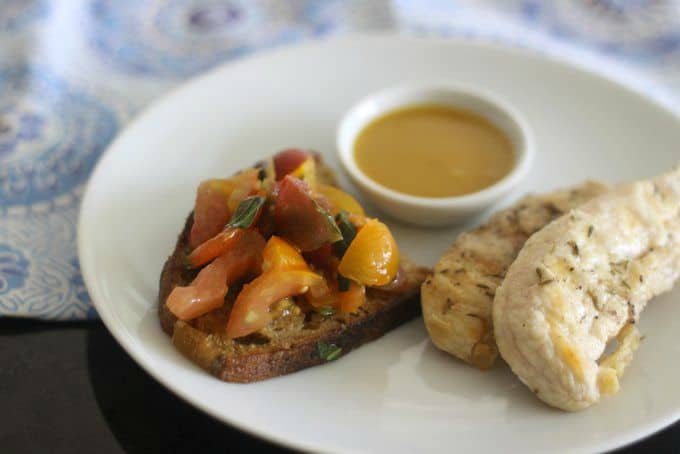 But back to the dinner.
Inspired by the bruschetta, one of the first dishes I ever learned to cook in Italy, I put on some music. Suddenly we were an episode of Portlandia. The bread we're serving tonight is sprouted sourdough from our local farmer's market. And those tomatoes? We grew them right outside. Same for the basil. As for the olive oil, it's imported from Italy where our friends grew and PRESSED the olives from their second generation villa outside of Rome.
I mean, how precious is this thing going to get?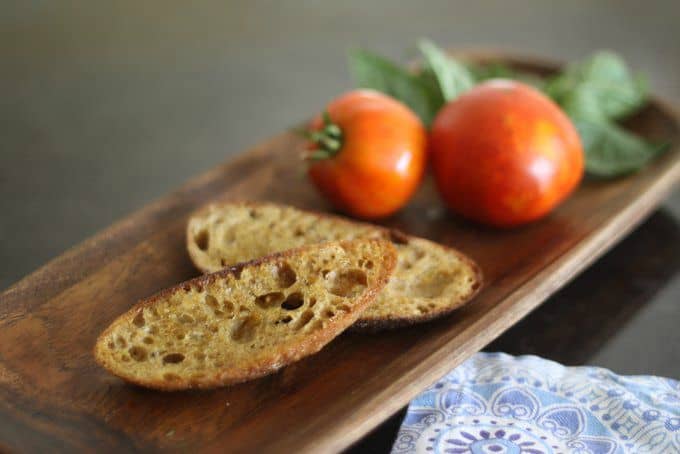 Not very. That's because the kids cared not about any details at all. They just enjoyed slurping up all those juices. They said things like, "Thank you so much for this dinner!" And, "Oh, I love this dinner!"
These are the same people who have also, once or twice, said things like, "No thanks for that." And, "Thaaaa-aaat? Ugh." Cue the dramatic draping of a six-year-old on top of our white kitchen table.
But no. None of that happened tonight.
Maybe it was the fun music. Maybe it was my good mood rubbing off on them. Maybe it was the DIY-ness of the meal.
Whatever it was, I'll take it. Savor it. And try for it again.
Food wins!
Print
DIY bruschetta kids love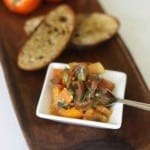 Ingredients
1 loaf whole grain bread
2 cups diced tomatoes
1/4 cup basil, cut into ribbons
1/4 cup of the best olive oil available (it really makes a difference here) + 2 tablespoons
1/2 teaspoon salt
optional: 1 garlic clove, minced or pressed OR rubbed onto the bread
Instructions
Combine the tomatoes, basil, olive oil, garlic (if using, and salt in a bowl and let the juices start to form.
Meanwhile turn on the broiler. Slice the bread and rub a bit of olive oil on both sides. Toast it in the broiler, flipping once, about 2 minutes. Optional: rub a clove of garlic on the crusty bread.
Let kids ladle the tomatoes onto their toast at the table.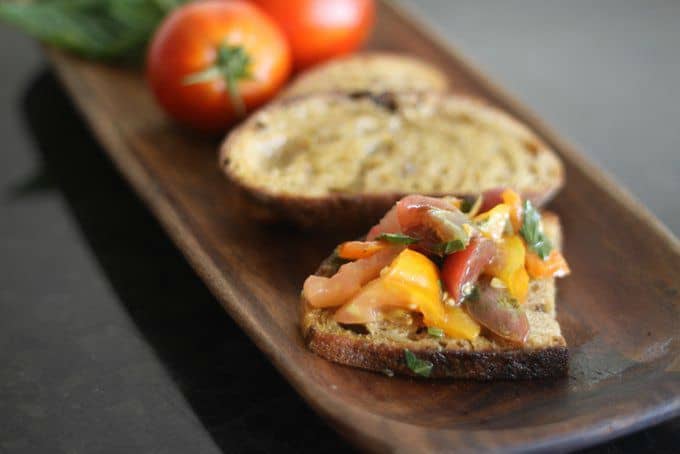 Sign up for the Foodlets newsletter (up at the top of this page) or like Foodlets on Facebook so you'll never miss a kid-friendly idea.