Does your child's lunchbox come home half eaten? Are you struggling to find the right balance between Nutritious Food to Keep Them Going and Stuff They'll Actually Eat? Me too.
But I've figured a few things out.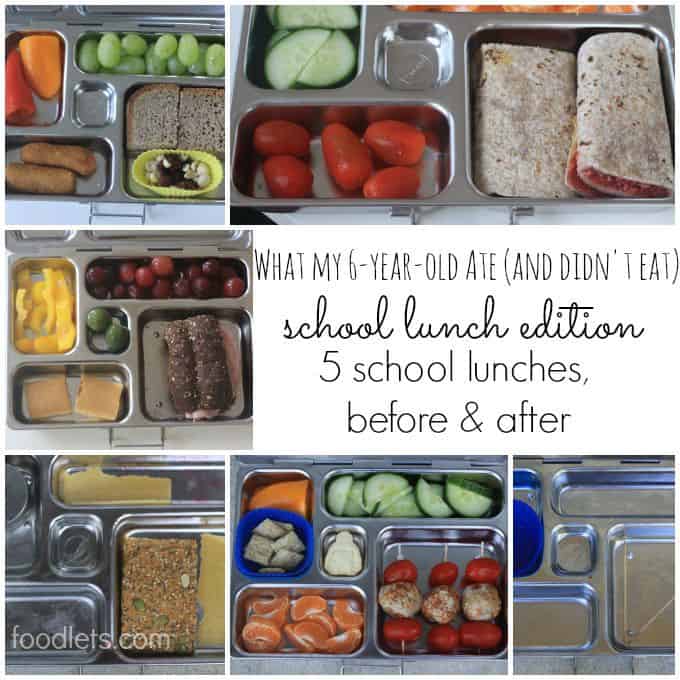 Since our goal at Foodlets is raising kids who love real food–and we're right in the thick of it with four small rascals at home–I'm sharing the straight scoop about school lunches, mom to mom, mom to dad and to the rest of you brave souls who pack lunches.
Here's a real look at a weeks' worth of school lunches I recently packed for my own 6-year-old–and what really got eaten. And how I've learned to pack the healthiest lunches possible with the least amount of effort and the most food actually eaten.
5 School Lunches, Before & After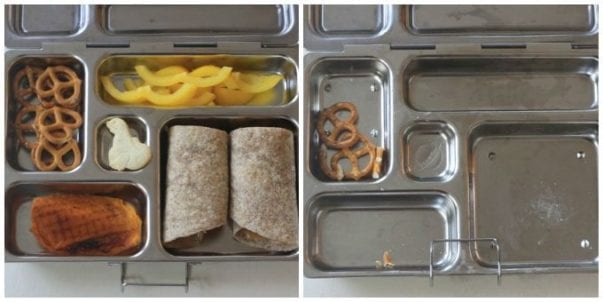 Lunch #1: Peanut butter & fresh raspberry wrap with a piece of dried mango, unsalted pretzels, sliced yellow bell peppers and one animal cracker.
Phoebe LOVES these dried mangos. The dentist says they're bad for teeth so we try not to indulge too often, and remember to floss that night. She also asked if we could get salted pretzels.
Lunch #2: Flatbread crackers (an experiment that totally failed!) + no-nitrate salami + gouda cheese. Sliced cucumbers, baby carrots with Goddess dressing in the tub and fresh raspberries.
The only way I've found to get this kid eating baby carrots is by adding dip. Any salad dressing will do but Goddess is her favorite.
Lunch #3: Ham sandwich on a sweet brown bread wheat dinner roll, Fig Newtons (a favorite), yellow peppers, red grapes, olives.
I love dinner rolls for sandwiches. They're just the right size and I can also store them in the freezer for easy access later on. You can see the olive pits here.
Lunch #4: Homemade bread slathered with our Slow Cooker Apple Butter. Unsalted peanuts + lower sugar dried cranberries, hush puppies (leftover from Sunday lunch at a local BBQ place), two mini bell peppers, green grapes.
I haven't found a great homemade bread recipe that uses the bread machine yet. This one is from 100 Days of Real Food and it's too hard on the edges, as you can see.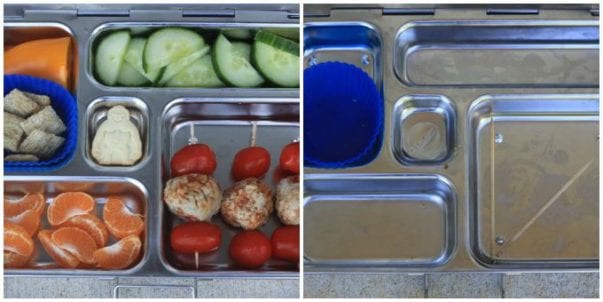 Lunch #5: Leftover meatballs (complete with a little tomato sauce on 'em still) made into skewers with cherry tomatoes. Orange segments, mini Triscuits, one small bell pepper, sliced cucumbers and one animal cracker.
I love Triscuits because they're made from 2 ingredients: wheat and salt. Overall, this one's a winner!
That's it. The true story of what happens when a well-meaning food blogger loads up the lunchbox…and what a 6-year-old really decides to eat.
Tricks I've Learned
Usually I ask Phoebe "how was lunch today?" as a way to start a conversation about her day. It's an easy entry that she can think about specifically without getting overwhelmed. This is also a good time for her to say things like, "Could you get me some salted pretzels?" without complaining.
You'll see that I repeat things over and over in the week. If I'm going to slice a bunch of peppers, they'll find their way into lunch several times that week. Ditto for grapes, melon, pineapple, and so on. It just makes packing lunches easier.
Load up on fruit & veggies as "sides". Many parents ask me for ideas on what to fill these bento-style boxes with. Keep it simple, easy on yourself and get your kids going on a habit for life by focusing on simple raw fruit & vegetables. (Want more ideas? Things like healthy muffins, homemade apple spice quick bread and no-bake chocolate-fruit & nut balls are also always a huge hit!)
Get more school lunch ideas here!
And sign up for the FREE Foodlets newsletter (at the top of this page) so you'll never miss a thing.