You'll never guess the hard-working ingredient in our creamy tomato soup…white beans.
Yep, a simple can of white beans brings protein to a meal that you wouldn't usually call hearty. But that's what this soup is. It's also delicious.
My first grader sure thinks so. I loaded her purple backpack with a Thermos full of warm tomato soup for lunch last week.
And not just once. That six-year-old asked for this soup THREE TIMES!
What You Need to Make Creamy Tomato Soup with White Beans
Like most of our kid-friendly homemade soups, the process is ridiculously simple.
Throw a bunch of pantry-friendly ingredients in a big pot:
Chicken stock
Onion
White beans
Olive oil
Tomatoes
Garlic & basil (mine are frozen into awesome little cubes)
You'll also want some kind of blender, food processor or immersion blender

, which is what I use.
Cook for a total of about 20 minutes and that's it! You're ready to blend up the best tomato soup you've had in years. In less than half an hour, dinner, lunch or lunch in a Thermos is ready.
Top it with sharp cheddar cheese or oyster crackers and serve the whole thing with crusty bread.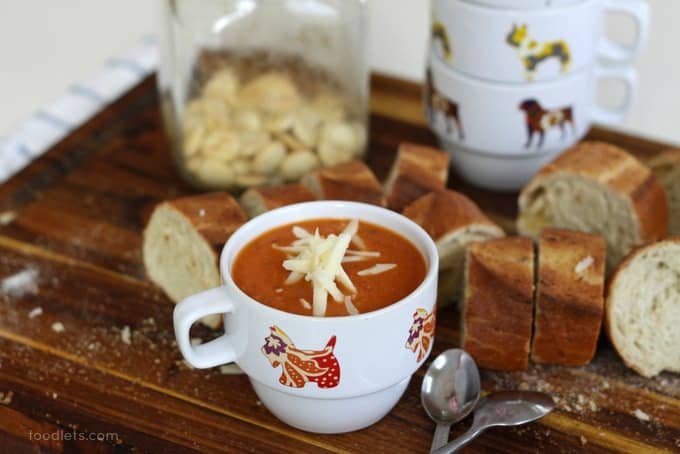 Cooks Fast, Freezes Beautifully
This homemade tomato soup is just another one of our fast weeknight dinners the kids actually love. One that's been in regular rotation for weeks.
Best of all, it freezes perfectly. Either fill a freezer-friendly zip-top bag or throw it into containers with lids. I like to add a "label" by tearing off a piece of painters' tape and writing with a Sharpie. "Tomato Soup March 2016".
Creamy Tomato Soup with White Beans
Serves a crowd: about 12 cups.
Ingredients
2 tablespoons olive oil
1 large sweet onion, diced
3 cloves garlic, minced
2 28-ounce cans tomatoes (try to find BPA-free)
1 15-ounce can white beans (any kind), drained and rinsed
1 28-ounce container chicken stock
1 teaspoon salt
½ teaspoon pepper
3-4 tablespoons basil (fresh or frozen) OR 1 tablespoon dried
Toppings: grated cheddar cheese, oyster crackers, drizzle of half & half
Instructions
In a large pot on low heat, add the oil and onion. Cook for about 7-9 minutes, stirring often, until the onion is soft. Add garlic and cook for another minute, stirring again.
Combine tomatoes, white beans, chicken stock, salt and pepper and bring to a boil. Lower to a simmer and allow to cook for about 10 minutes. In the last couple of minutes of cooking time, add the basil.
Using a food processor, blender or immersion blender, blend the soup until it's smooth.
Serve in cups or bowls along with DIY toppings and crusty bread.
Want more dinner ideas in a hurry? Try a couple of our new favorites:
Or the most popular dinners on the site:
For more ideas, inspiration and encouragement, please sign up for our mailing list at the top of this page and follow us on Facebook and Twitter. You'll never miss a thing.