It doesn't get much sweeter than these mummy fruit pies for Halloween!
With only a couple of ingredients, you can turn pie crust and fresh fruit into the breakfast, lunch or dessert of your kids' dreams.
Is it necessary to make special treats like this? Nope! But it's fun. For me, for the kids, and I hope it is for you too.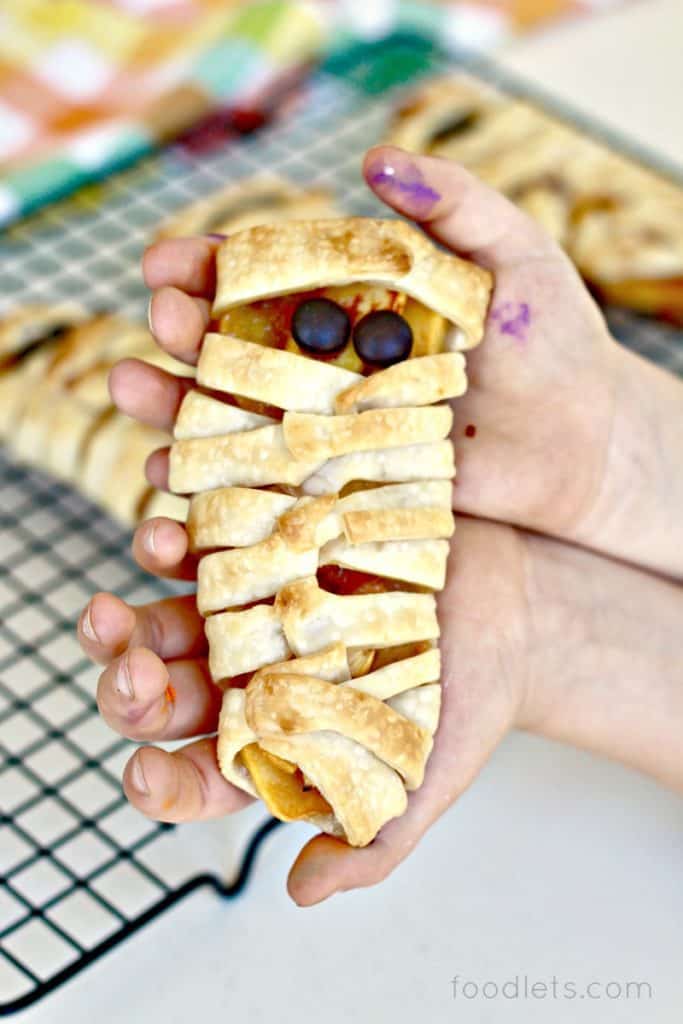 How to Make 4 Mummy Fruit Pies for Halloween
Slice up your favorite fruit (or defrost a cup or so of frozen). We used peaches but apples would also be wonderful. Sprinkle with a couple teaspoons of brown sugar and half a teaspoon of cinnamon, then just allow your fruit to rest (the juices will start to form!) while you get the pie crust ready.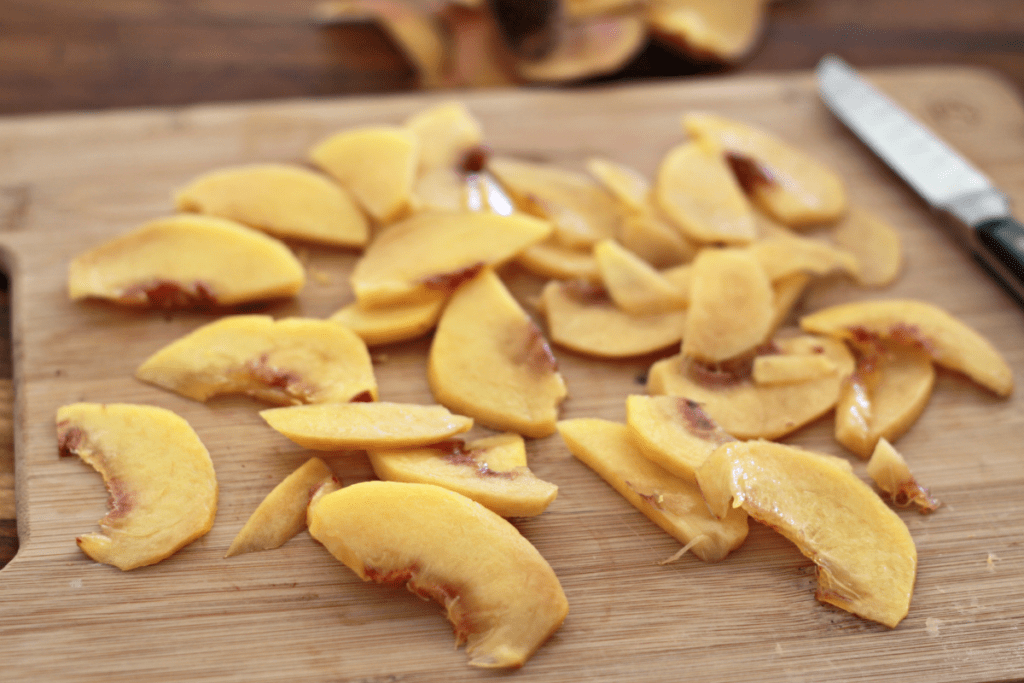 Start with one pie crust — either store bought or make your own. Cut into four pieces. Slice the edges of both sides, leaving the center intact. Fill with fruit. Wrap each side of fringe over the top of the fruit in an alternating pattern.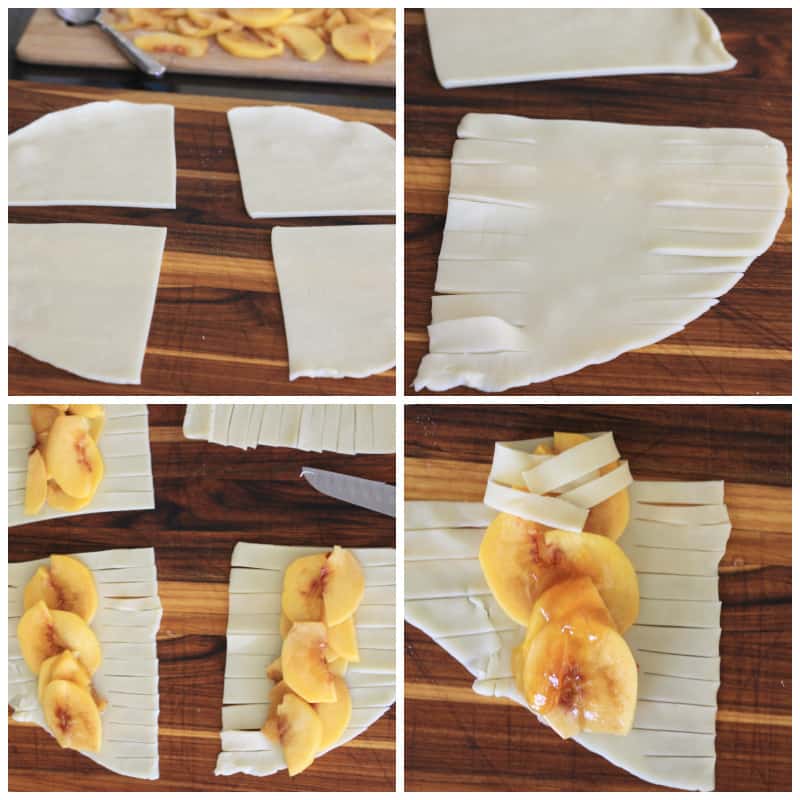 Tip: If your fruit isn't very ripe or juicy, try adding a teaspoon of apricot jam on top. 
Pinch the edges of the fringe together so they stay put during cooking.
Bake at 425 degrees F on a baking sheet topped with a non-stick liner for 15-17 minutes until brown and bubbly.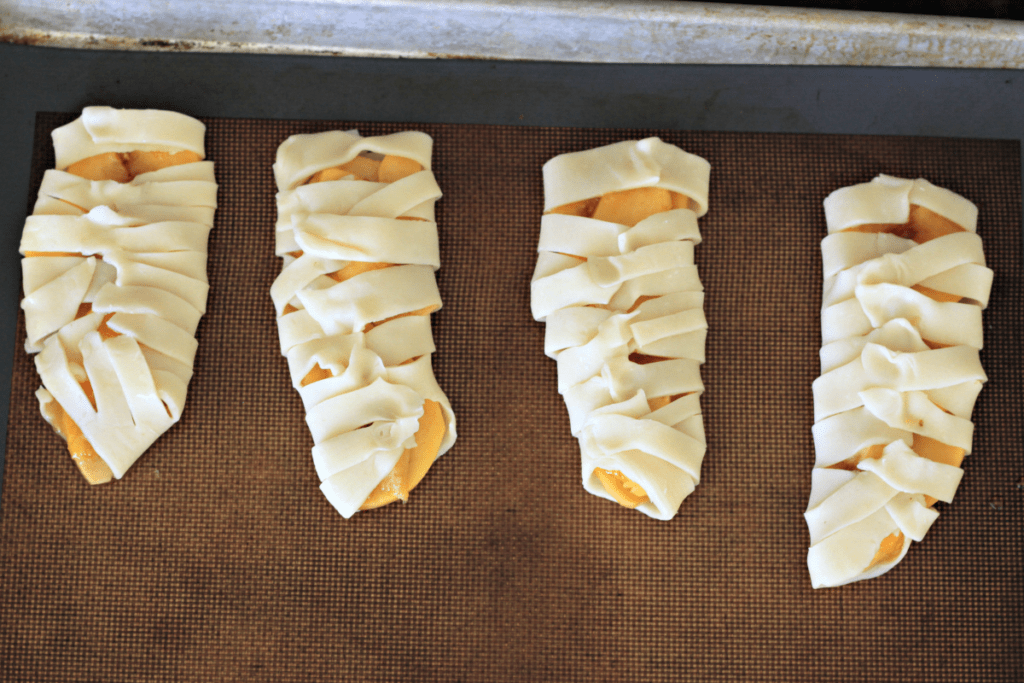 Add eyeballs (we used M&Ms but you could splurge on these adorable Wilton eyeballs) and serve on the spot because flaky crust always tastes better that way! But feel free to assemble the whole thing ahead of time and bake off when you're ready.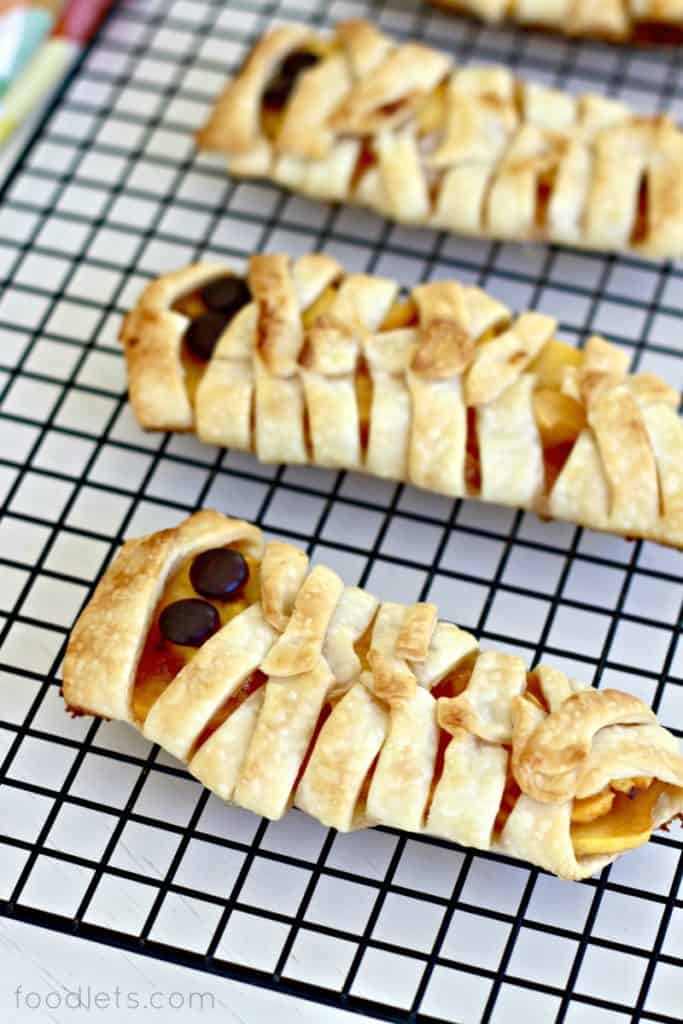 Happy Halloween!
Print
Mummy Fruit Pies for Halloween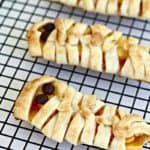 This recipe makes 4 mummy fruit pies. Double as needed.
Author:
Cook Time:

15 mins

Total Time:

15 mins

Yield:

4
Ingredients
2 sliced peaches or apples (or about 2 cups of frozen fruit thawed)
2 tablespoons brown sugar
1 teaspoon cinnamon
1 pie crust
Instructions
Sprinkle brown sugar and cinnamon on fruit.
Cut pie crust into four sections and fringe the edges (leaving the middle intact).
Fill center of each pie section with fruit.
Bring the fringed edges of each side over the top of fruit and pinch together.
Bake at 425 degrees F for about 15-17 minutes on a lined baking sheet, until edges are brown and fruit is bubbly.
Add eyes and serve.
ps. For more simple Halloween treat ideas for kids, try our Frozen Yogurt Banana Boo-Pops, Deviled Eggs with Olive Spiders on Top and String Cheese Witches' Brooms!