THIS IS MY SECOND FAVORITE PINTEREST IDEA, from our Healthy-ish Halloween Ideas for Kids board. Like the string cheese witches' brooms, they're absolutely adorable but also…shockingly easy.
My girls are egg people. They love eggs. Hard boiled eggs. Egg salad sandwiches. Scrambled eggs. So I knew this would be a hit. And it was. For one of them.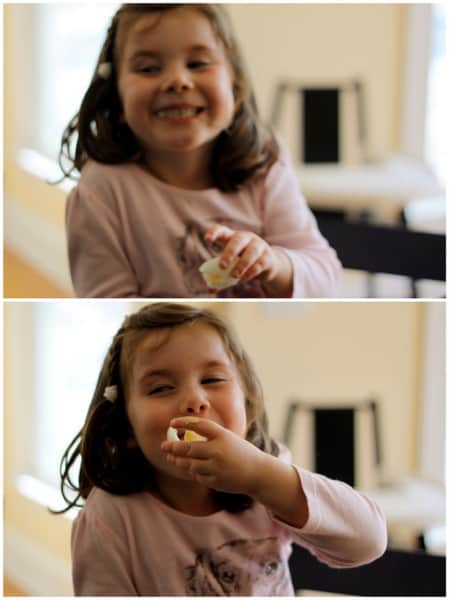 What I didn't factor in was something they don't love: spiders.
It seems to be spider season in North Carolina. There are tons of the hairy little guys everywhere. And Estelle, who now that I think about it, was so freaked out by the IDEA of spiders the other night that she bolted upright in her bed. "Mommy! Mommy! Piders!"  Stumbling down the hallway, I rushed into her room to find that there weren't any actual spiders in there. She just wanted me to double check. I gave any would-be guests a good talking to. "Spiders, you're not allowed to be in here so go home and go to bed. Please." Then I was able to go back to my own bed.
But because I have no short-term memory, that was long gone about two babies ago, here's how the spidery egg exchange went today.
Me (practically giddy with look-what-I-did-for-you excitement): What do you guys think of the spider eggs?
Phoebe (practically giddy with now-look-what-this-crazy-lady-did excitement): It's the best thing ever.
Estelle (totally horrified): Not good.
So there you go. You can boil organic cage-free eggs, whip in some gourmet mayo and a dab of Trader Joe's best mustard, slice olives with the precision of a sushi chef and still…have a failure.
But in case you're still willing to try–we did have a half success here–here's how you do it:
Make the Eggs
Put 2-6 eggs in a medium pot covered with 3 inches of cold tap water. Bring to a boil. Turn heat off. Cover. Set timer for 12 minutes. When timer goes off strain water and put eggs into an ice water bath to cool instantly. Peel.
Cut eggs in half. Scoop out yolks into a bowl. Set whites aside.
In yolk bowl, add 1 tablespoon mayonnaise for every 2 yolks plus 1/2 teaspoon mustard. Mix together.
Spoon a heaping dollop of yolk mixture back into each white whole.
Add Spiders
Using medium or large black olives (from a can) cut an olive ALMOST in half; use the larger piece as the spider body.
Slice another olive into 6-8 strips and simply attach to the egg yolk mixture, which becomes a delicious little glue.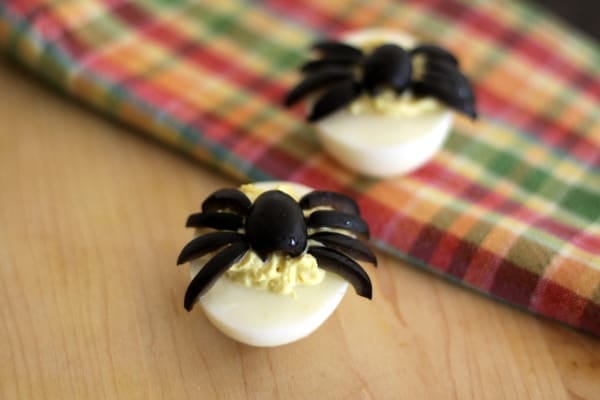 HEALTHY-ISH HALLOWEEN IDEAS, FROM PINTEREST TO MY OWN KITCHEN
Idea #3: Spidery Eggs
Doable? Yes, extremely easy. All you need is a sharp paring knife and pantry staples (more or less).
Worth it? Totally. Another non-sugary but super festive food for Halloween.
Did the kids eat them? 50/50. See photos above.