GOT PICKY EATERS? One of the (bazillion) lessons I've learned about feeding my tribe is about spin-offs. Keep your eyes open for flavors and ingredients the kids like, and make those things again. Differently.
Well, it turns out that a big part of teaching kids to love food, to be adventurous eaters who know how to nourish themselves and enjoy a meal with others, is introducing more variety. It's also good for hitting more of those vitamins and minerals kids need throughout the week. (Don't worry about every day, my pediatrician says. Focus on the week as a whole.)
That's where these cheeseburger hand pies come in. With layers of puff pastry, dinner is hardly "healthy" or even entirely homemade. But the point is offering a familiar set of ingredients–ground beef, cheddar cheese, even ketchup and mustard–in a new way. It's New Food practice. A low-stakes opportunity to broaden those sometimes stubborn horizons.
And it was Martha Stewart's idea.
But we've modified it a bit, and made it part of a 2-in-1 Dinner. Make the ground beef base, then use it for both this meal AND a Sweet Potato Cottage Pie later in the week. My kids ate both and I hope yours will too.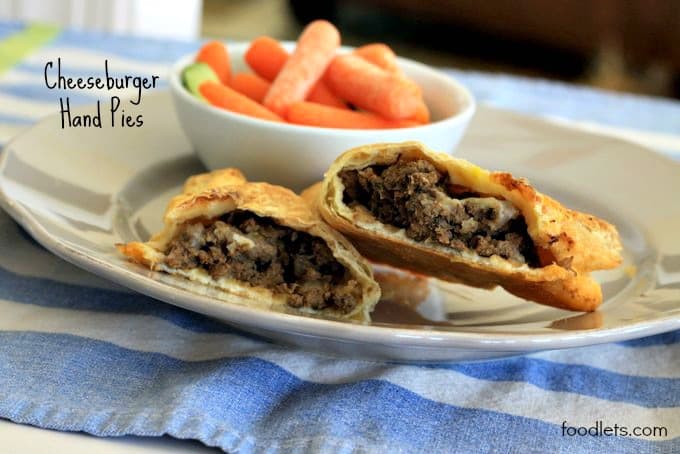 Start with an onion. Always start with an onion if you want a lot of flavor, and I've found that instead of watering down the flavors in a dish, my kids actually enjoy it more with the full amount of seasoning. Dice it finely if you'll be dining with people who say things like, "Onions? But I don't LIKE onions!" Or shred it.
Also, get your pastry out the moment you decide to make this recipe. It takes 40 minutes to thaw out, which is typically the amount of time I spend on making the whole meal, if that. So be warned. The pastry needs to be thawing ASAP.
Brown the meat and add all those flavors, the same ones you use for that Sweet Potato Cottage Pie: Worcestershire sauce, thyme, salt, pepper and tomato paste. Add your broth. Simmer. Reduce. Then comes the slathering. Today we're saying it with mustard.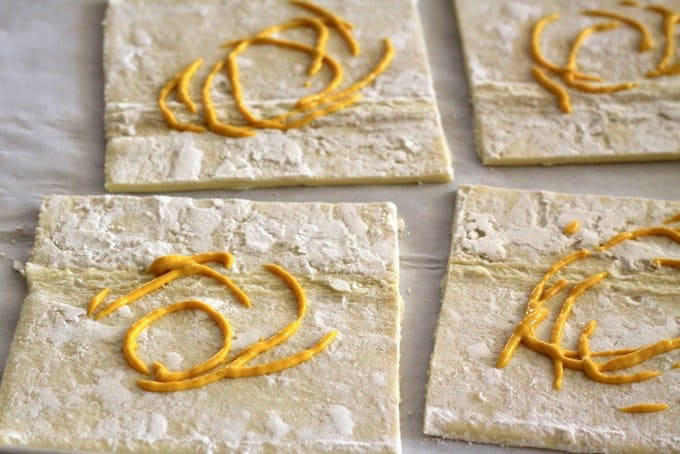 Load up each square, on one half.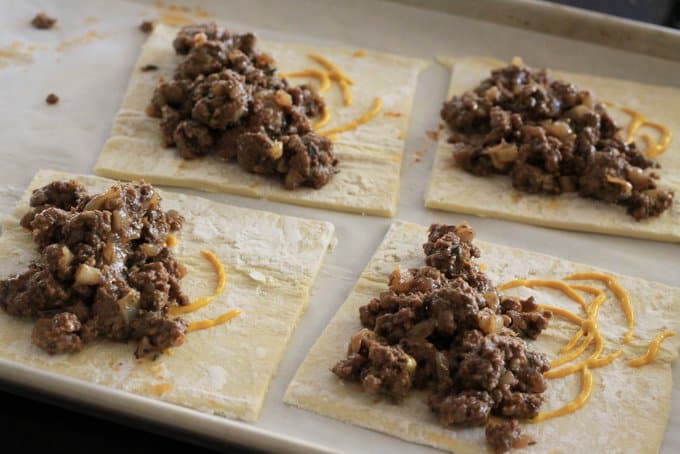 Use your finger to dab a bit of water along the entire edge of the square. Then STRETCH your pastry over the top. (Alternatively, roll out your dough in the first place. You won't need to stretch it.) Crimp the edges with a fork.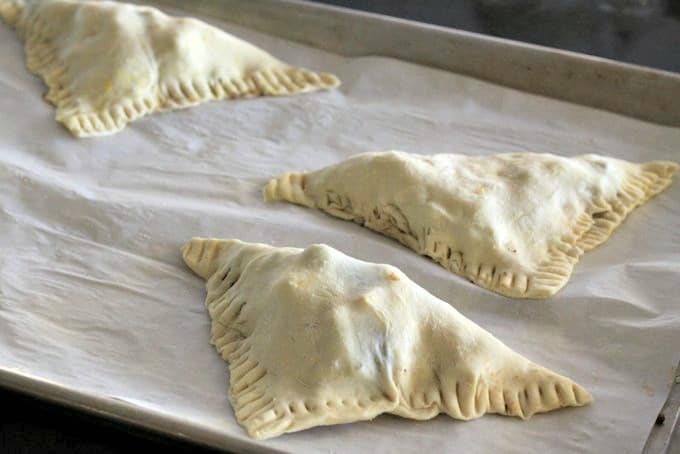 Bake on a parchment lined baking sheet.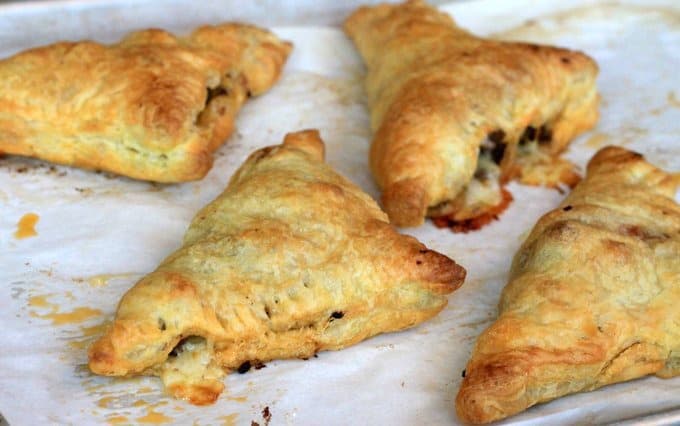 Enjoy.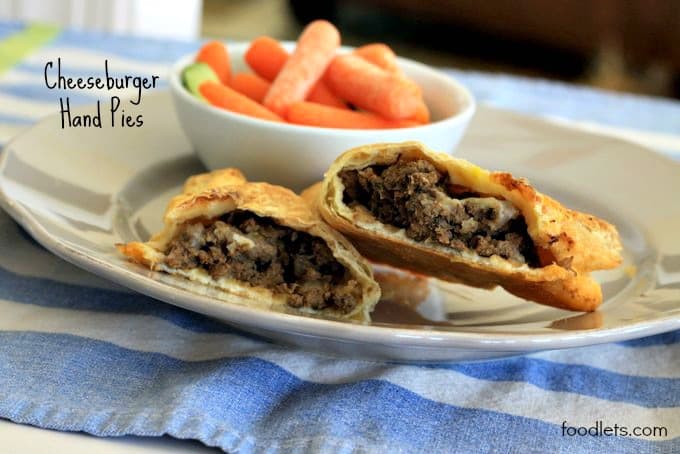 No-cook sides to go with:
Print
cheeseburger hand pies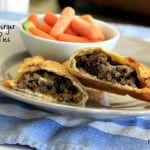 Double the ground beef mixture (all ingredients except the cheese, mustard and puff pastry) to make a 2-in-1 Dinner. The same base makes our Sweet Potato Cottage Pie. OR if you've already prepared a batch of ground beef, skip down to the puff pastry part below.
Author:
Prep Time:

20 mins

Cook Time:

15 mins

Total Time:

35 mins

Yield:

8 pies
Ingredients
2 tablespoons extra virgin olive oil
1 medium sweet onion, finely diced or shredded
2 cloves of garlic, minced
1 pound ground beef
2 tablespoons Worcestershire sauce
2 tablespoons of tomato paste (use ketchup in a pinch)
1 teaspoon salt
½ teaspoon pepper
½ teaspoon thyme
1/2 can beef stock or broth (14.5 ounce can)
1 package frozen puff pastry, thawed
1/2-3/4 cup extra sharp cheddar cheese, diced or shredded
3 tablespoons mustard (any kind)
Small bowl of water
Instructions
Set your oven to 400 degrees. If you haven't yet, pull out the puff pastry and set it on the counter to thaw.
In a large skillet cook the onions in oil for about 5 minutes. Add garlic and cook about 2 minutes. Add ground beef and brown, about 8 minutes. Combine Worcestershire sauce, tomato paste, salt, pepper, thyme AND stock. Bring to a boil and simmer for about 5 minutes until the sauce reduces. It should be very thick. If not, keep boiling.
Roll out your pastry dough on a floured surface and cut each piece into 4 squares. My package had 2 pieces and I made 8 squares. Slather each square with mustard. Then fill each square halfway with the ground beef mixture. Sprinkle the cheddar cheese on top. Dip your finger in the bowl of water and make a line all the way around each square, then STRETCH the pastry over the top, delicately. Crimp the edges with a fork.
Bake on a parchment lined sheet at 400 degrees F for 15 minutes. If you're doing 2 pans, rotate them halfway through.
This is a 2-in-1 Dinner! Double your ground beef mixture to have a base for Sweet Potato Cottage Pie later in the week.
What do you think? Did you like this recipe? Let us know! I'd love all the details too:
How many kids do you have? 
How easy was this dish to prepare? 
What did the kids say? Thumbs Up, Middle, or Down?
Would you make it again?