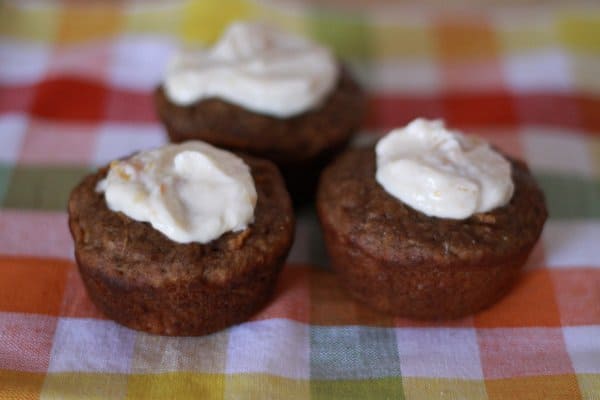 THERE'S NO BETTER TIME FOR PEACHES than the last weeks of warm weather. (Ditto for tomatoes!) Inspired by all the juicy looking fruit overflowing on our supermarket shelves, Phoebe and I set out to make a new muffin: peach spice muffins.
Meanwhile we have an extra little helper in the kitchen these days. (Estelle was very busy playing with daddy.) George hangs out in his blue bouncy chair until someone gets him sticky with little fingers coated in honey, peaches or any other tasty ingredient of the moment. Or until he gets tired. Or hungry. Or…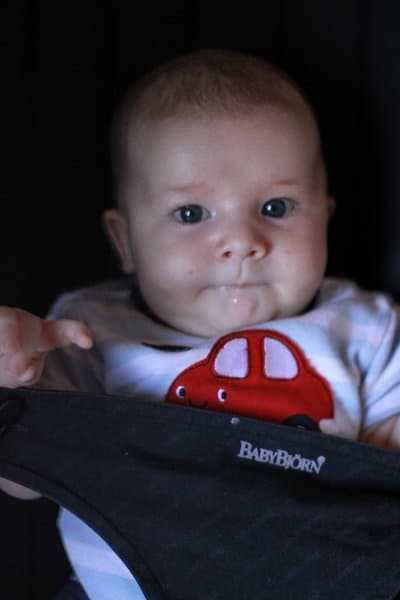 But back to the muffins.
A spin-off of our favorite muffins around here, pumpkin spice muffins, this recipe includes lots of eggs (protein), wheat germ (fiber), and of course peaches (deliciousness). I added a dollop of cream cheese whipped with peach jam on top but the kids prefer theirs plain. Alternatively, I think these would be wonderful with a little filling; either cream cheese, jam or a combo like I've got above. But when they're plain they freeze beautifully, which is key for me. Right now we've got three kinds of muffins in our tiny little Euro-fridge. Anything to make mornings go (a little more) smoothly is okay with me.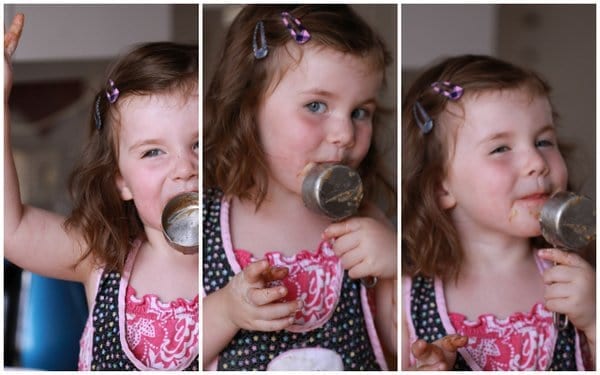 FRESH PEACH & CINNAMON MUFFINS
ingredients
4 peaches, peeled and roughly chopped
4 eggs
1/4 cup butter, melted
1/4 cup cream cheese, room temperature
1 teaspoon vanilla
1/2 cup brown sugar, packed lightly
1 1/2 cup whole wheat flour
1/2 cup wheat germ
1 teaspoon cinnamon
2 teaspoons baking powder
1 teaspoon baking soda
1/2 teaspoon salt
instructions
Preheat oven to 375 degrees. Butter muffin pans or use liners (I prefer to butter them so you don't loose any muffin in the liners). Tip: Put the butter in one of the muffin cups and throw it in the oven for a minute or two as it heats up. This will melt your butter quickly and give you a head start on greasing the pan.
In a large mixing bowl, mash peaches with a potato masher. Then use a handheld beater to incorporate the rest of your wet ingredients: eggs, melted butter, cream cheese and vanilla. Add brown sugar and mix. Put a sifter over the mixing bowl and add the flour, wheat germ, cinnamon, baking powder, salt and soda. Stir together until just blended. Fill muffin cups nearly to the top.
Bake for 12-15 minutes, until you can press the top of the muffin and it springs right back.
Optional: sprinkle tops with cinnamon sugar just before putting in the oven.