BAKED ZITI. I USED TO BABYSIT TWINS IN NEW YORK who ate two things for dinner: baked ziti and chicken nuggets, end of list. So I know kids love the stuff. The only thing is, plain pasta not that great for you.
So I tried something.
We combined spaghetti squash with whole wheat penne pasta, then threw in the usual suspects. It was healthy, gooey and I'll tell you what, delicious.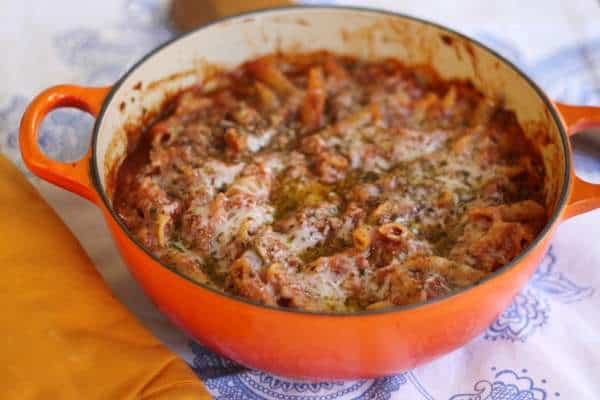 Here's how you can make it too. And if you haven't cooked with spaghetti squash a lot, The Kitchn has a great 101 on the good stuff here.
Print
baked pasta with spaghetti squash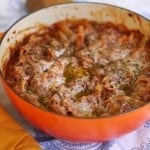 Ingredients
2 cups spaghetti squash pulp (about 1/2 of a large squash); see instructions below
1/2 box whole wheat penne
2 tablespoons salt
3 cups spaghetti sauce, or 1 jar of your favorite kind
1 teaspoon dried basil or 2 teaspoons fresh, chopped
1 /2 teaspoon dried oregano
1/2 cup shredded mozzarella cheese
1 cup ricotta cheese
1/2 cup parmesan cheese
2 tablespoons extra virgin olive oil
salt & pepper
Instructions
Prepare the spaghetti squash: Heat oven to 400 degrees F. Cut the squash in half, lengthwise (from the longest end to end). Use a sturdy spoon to scoop out the seeds. Place squash halves cut side down on a baking sheet and add about 1/4 cup water. Cook 30-45 minutes, depending on the size of your squash. Let cool enough to handle and use a fork to fluff out the squash.
Meanwhile, cook the pasta. Add half a box of penne to a large pot of boiling water, add salt and cook for 5 minutes. Drain. Return pasta to pot then add spaghetti sauce, squash, herbs and mozzarella then stir.
Now, assemble and bake. Lower the oven to 350. Butter a large casserole pan. Add pasta and sauce mixture, then drop in ricotta by the large spoonful, distributing throughout the pan. Sprinkle parmesan cheese on top and drizzle oil over it. Sprinkle with salt and pepper and bake for 35 minutes until gold and bubbly.
Allow to sit for 10 minutes before serving. The pasta will cool and firm up a bit too.
Like this recipe? Be sure to LIKE FOODLETS ON FACEBOOK so you'll never miss a new idea or tip.